Brought to you by Samsung. Click here to learn more about Samsung Home Appliances.
Wednesday night was SO fun. Samsung is hosting a showhouse on West Broadway and Broome here in New York and they invited me to swing by for a cocktail party to see and report on their new appliances, and also to meet up with the designer of the show house, Hilary Farr, from HGTV's Love It or List It. (geek out!)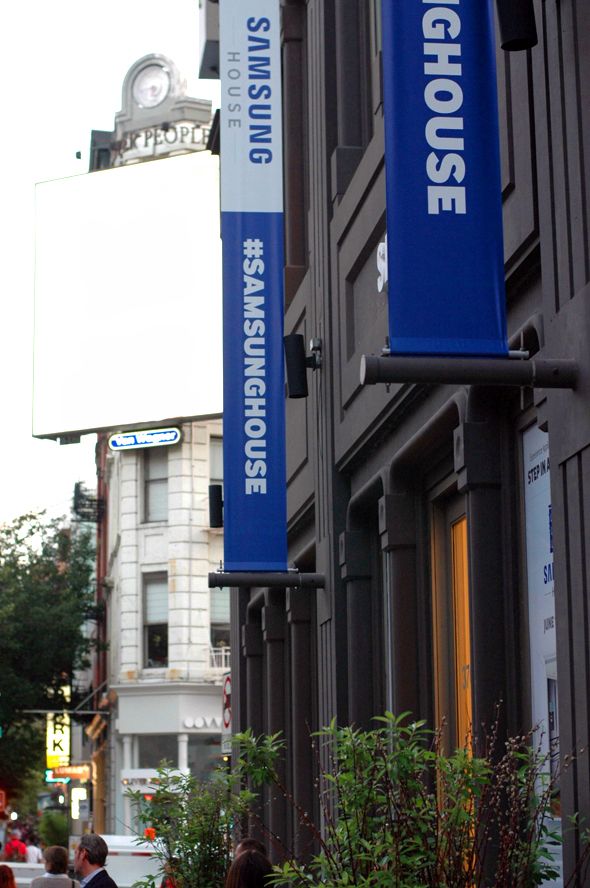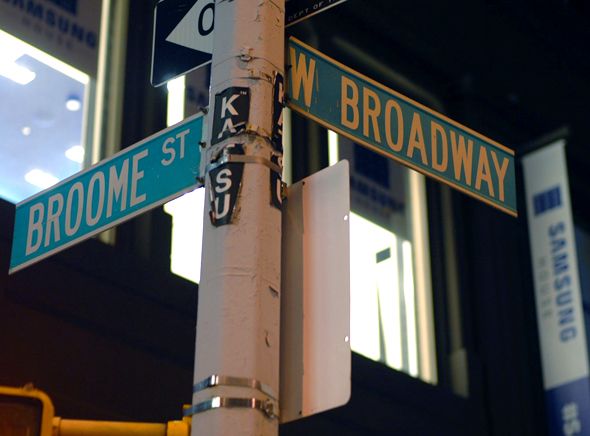 (Hilary is the queen of cool – how could she not be with that beautiful accent!? And me, well, this is my signature "straight from the airport" hair and "just finishing an awkward joke" smile)
Check out what a beautiful job Hilary and her team did with the giant show house. They miraculously turned a cold white box of a retail space into a modern, fresh, homey space.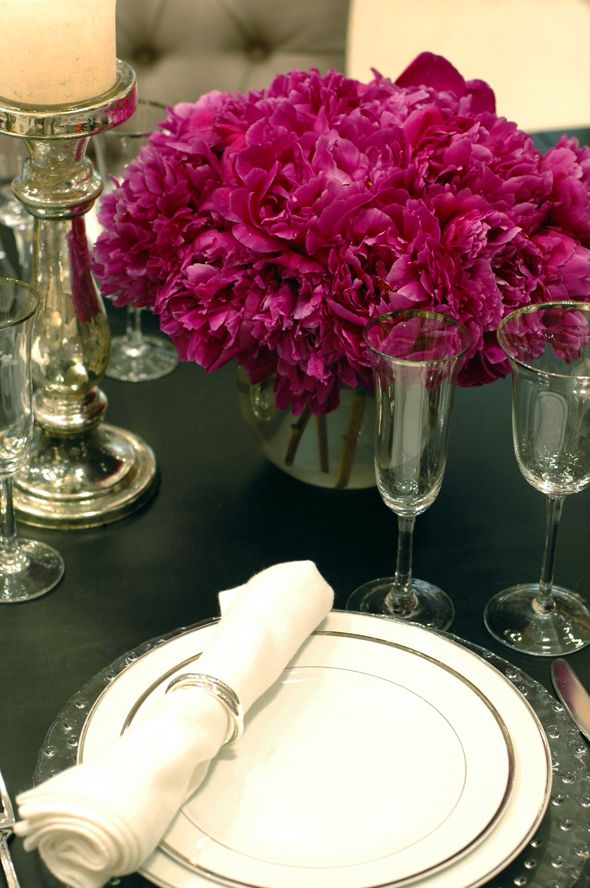 There was some serious moulding action happening and I was inspired.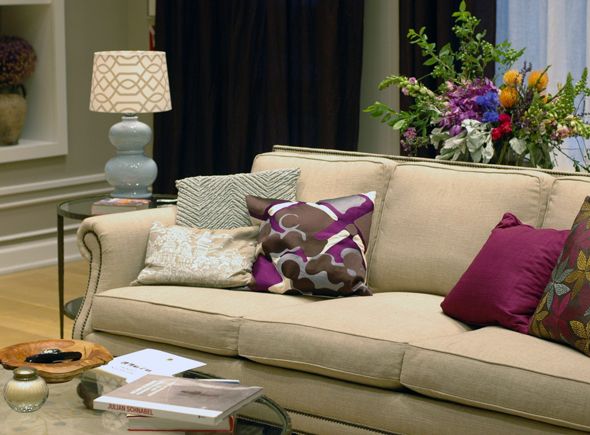 At the beginning of the evening Hilary talked about how investing in pretty appliances makes it easier to live in more open-concept spaces. Plus, seriously, who wouldn't want to do more household chores when your kitchen and laundry rooms are sleek and modern?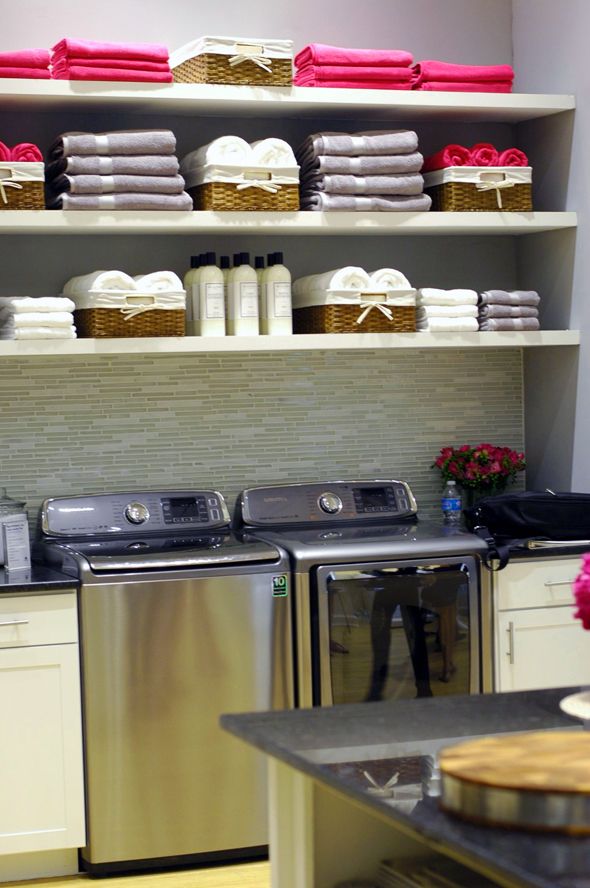 I agreed with Hilary when she talked about how the kitchen is the heart of the home and that appliances, in both form and function, matter more than ever. She said that what she loves most about Samsung's appliances is they are (literally) state of the art, but they're also very affordable when compared to other high end appliances. I loved this new range below. It's the Slide-in Flex Duo Oven Electric Range with no back panel – so no more covering up all that beautiful backsplash tile!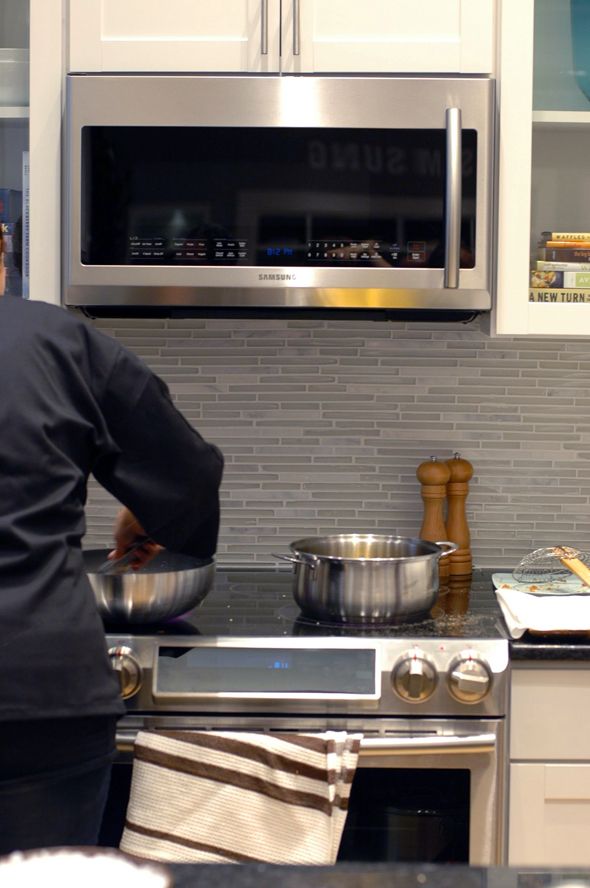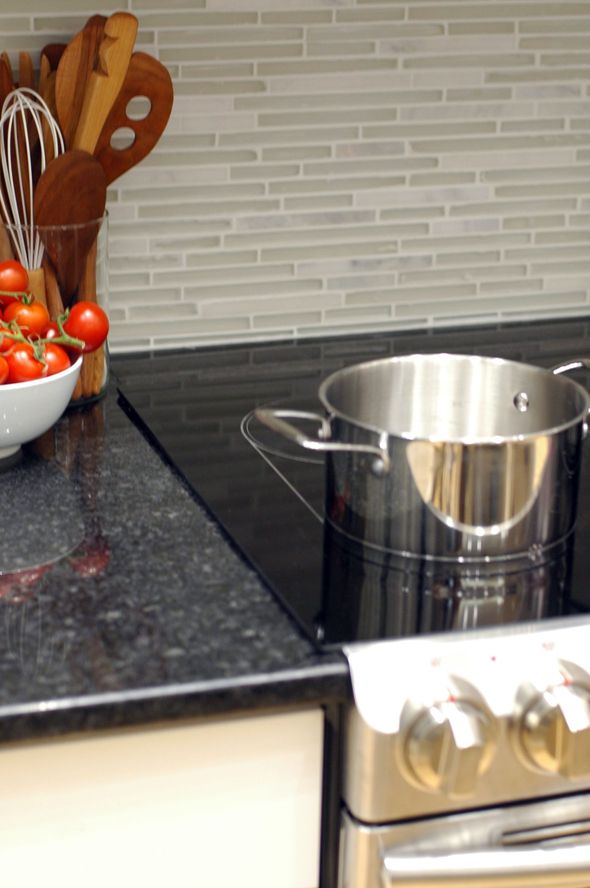 Also, that oven? They invented this sort of slide in shield called a Smart Divider that makes this a double oven! Like, you can operate it at two different temperatures above and below the shield! I thought that was so smart.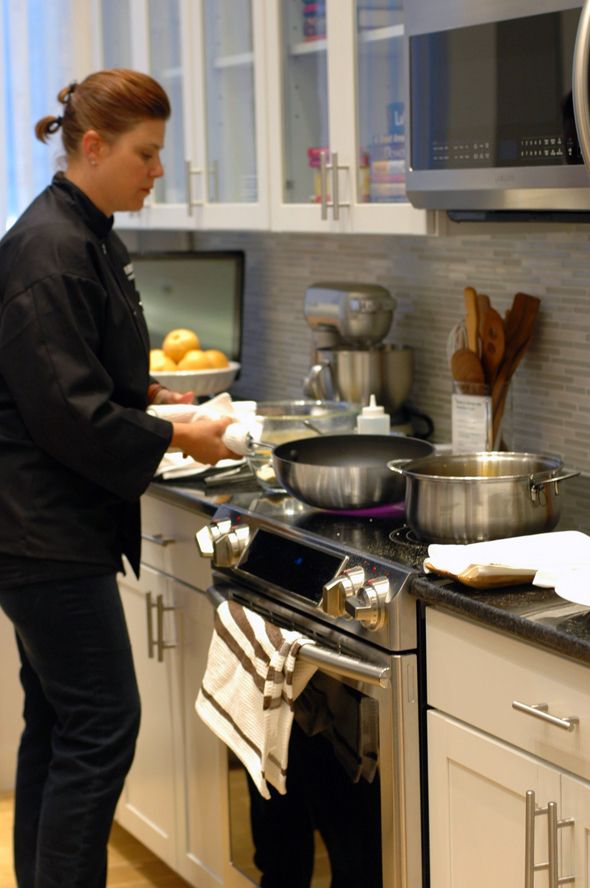 Upstairs in the showroom, I got to see firsthand how well-designed these appliances are. I admit that I wasn't totally up to speed on refrigerator technology until last night, but seriously, these new models are down right amazing. Everything that sort of bugged me about my past refrigerators, they're solving it at Samsung. They have separate cooling systems for the fridge and the freezer sections, it's called Twin Cooling Plus technology, which means the produce stays fresher longer and the frozen foods don't get a bit of freezer burn. Also no more freezer-smelling air in the fridge with the separate air systems. (yes and YES!)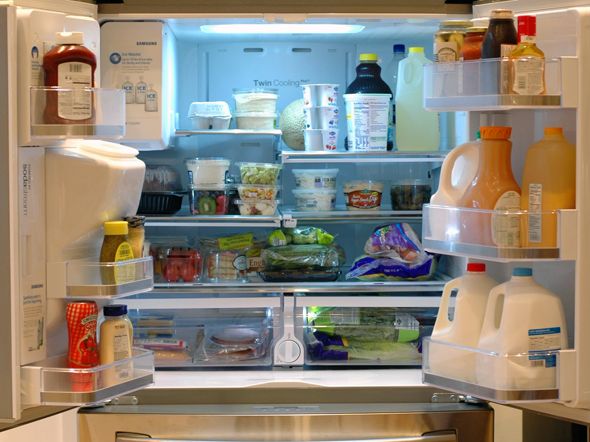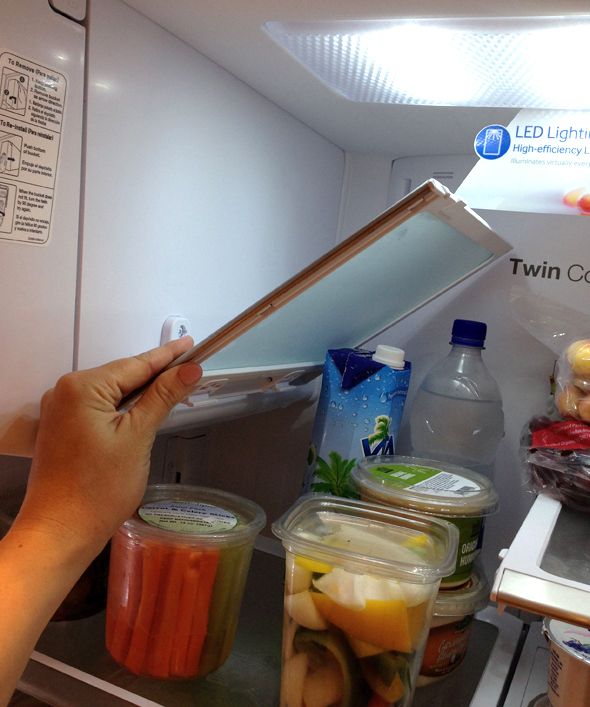 This four door has a built-in sparkling water dispenser!! What the what!? Also, it makes up to 10 pounds of ice a day. I'm a beverage-lover and a party-thrower, so this fridge was absolutely whispering my name.
Also just under the french door sits this genius drawer that's perfectly sized and placed for kid snacks.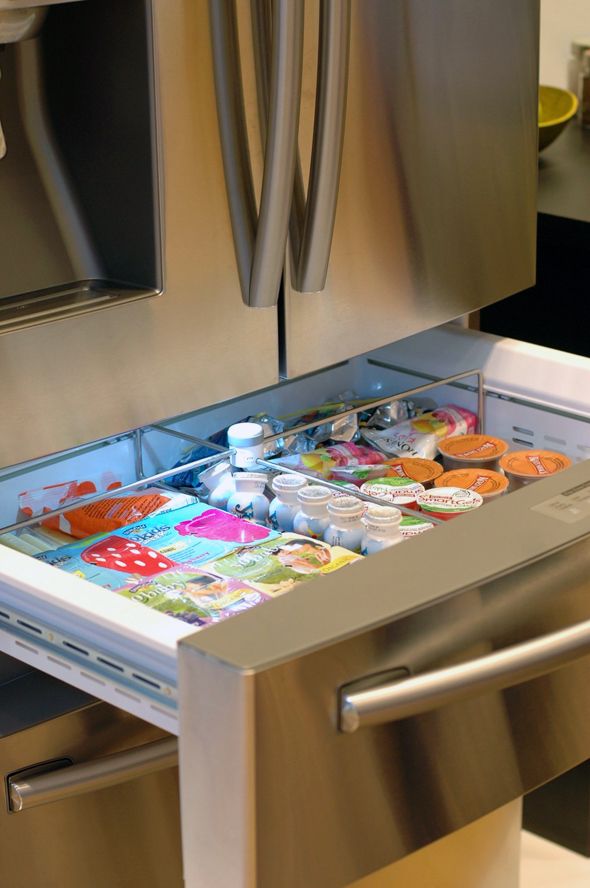 The other fridge I was completely drooling over was the T9000, Samsung's Convertible French Door Refridgerator. Check out those super sleek handles on the four doors. Almost an Art Deco look to them, right? Right on trend with the Gatsby craze.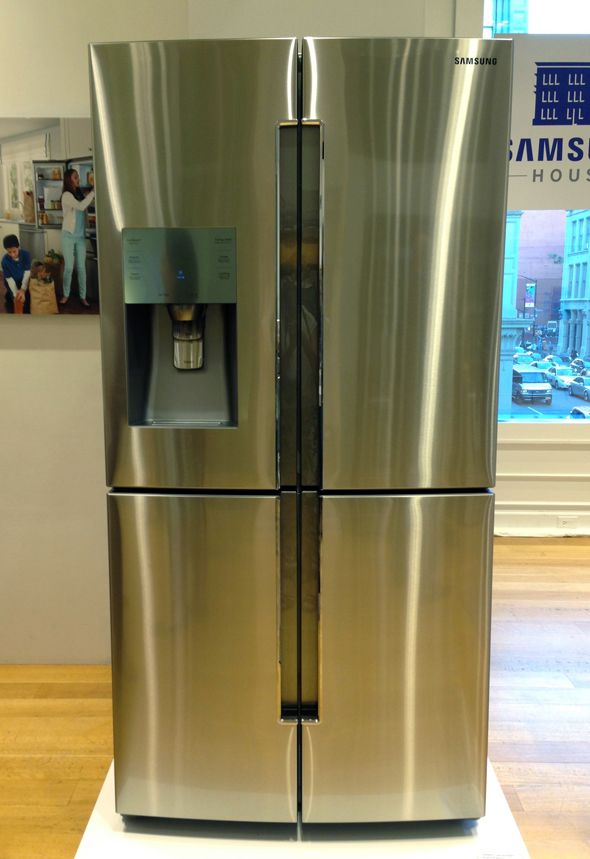 But beyond the beautiful look, this fridge has some serious technology to back it up. You can reconfigure each side of the bottom doors. So if you want two sides to be at freezer temp, or if you want to use the space to chill beverages for a party, or if you have a big family and you want all four compartments to be fridge space, you can change the settings on the digital screen in about five seconds flat.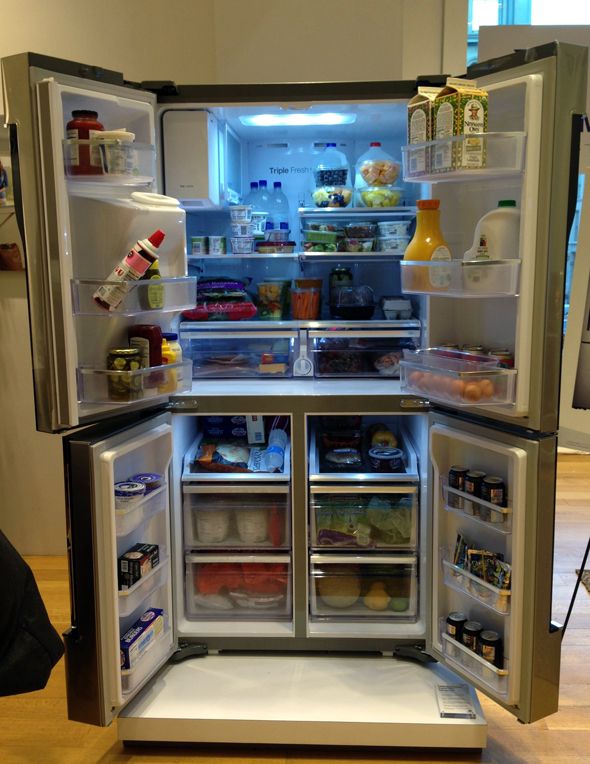 They really have thought of everything. The seller of our house in Arizona just recently put in new appliances, but now I'm thinking about selling at least the fridge to get my hands on one of these new beauties. I might not be able to go another day without that sparkling water dispenser! :)