There's been some craziness in the Komenda household the past couple of weeks. It feels SO good to finally get to share some news with you all. We're leaving New York this month and moving back to Arizona.
I'm sure you can imagine our mix of feelings about the move. I keep telling people that we're 50% devastated and 50% ecstatic. Part of me thought we would make New York our forever home. We've loved it SO much, despite it being expensive and a somewhat tricky place to raise kids. But Arizona is home for both me and Michael, so when he was offered a complete dream job a few weeks ago, we felt like we couldn't walk away. I wish we could have waited a year or two longer, but after lots of long talks, lists and contemplating, we know this is the right time for us to move and put down roots.
This is actually a great time for me to move my business too. I've recently wrapped up a few long term projects and I think I'll probably take some time off client work for the rest of the summer while we get settled. (If you're looking for an interiors job in the Phoenix area though, I'm hiring – email me).
And in the VERY exciting news category: We bought a house! I've been waiting eight years to say that again, and it feels so, so good. Being both a DIY blogger and a renter has been a little tricky to say the least. And now, no more landlords! Hallelujah.
We found a perfect-for-us house with lots of potential. It has just the right layout and is in a great neighborhood with really great schools and a short commute for Michael. The exterior of the house is pretty strange (especially for Arizona) with its shake roof and gingerbread mouldings. It's an understatement to say this house needs work, but that just happens to be my speciality. She'll be pretty inside and out when we're done with her. And there's at least a decent chance I'll be bringing my Dremel saw with me to the closing so there won't be any time wasted with those gingerbread details. Yuck.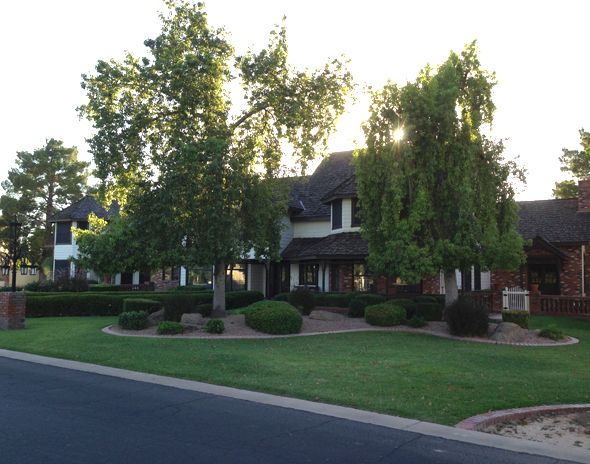 Anyway, crazy right!? There are lots of high emotions about buying (and renovating) a big house, leaving New York and all our friends here, starting all over again with new jobs and new schools… but at my core, I feel peaceful about it all, which helps me feel like this is right for us. Thanks for continuing to follow along on this next chapter. Pretty weird to think this will be the fifth house I'll decorate and share with you on LGN. Hopefully there won't be another one for a good long while. :)