I can't believe I haven't shared these chairs with you guys yet. My babies! My pride and joy!
About a year ago I saw an ad on craigslist for vintage office furniture from an old publishing company that was going out of business in New Jersey. Vintage office furniture is usually great stuff, and the photos in the ad looked promising, so I hopped in the car (actually last year, I would have had to rent a zipcar, so this was a really risky venture – I'm glad it paid off!).
I was rewarded with a pair of Eames Soft Pad chairs from the Management line. These chairs are normally astronomically expensive, especially when they have five wheels and are upholstered in leather. My chairs only had four legs since they were made in the late 70s/early 80s, and they were upholstered in a rose pink upholstery that was stained and not in great shape. But they were $150 for the pair, so I snatched them up fast as lighting. All the while thinking of Ames Ingrams' reupholstered Management chair that I blogged about here, years ago.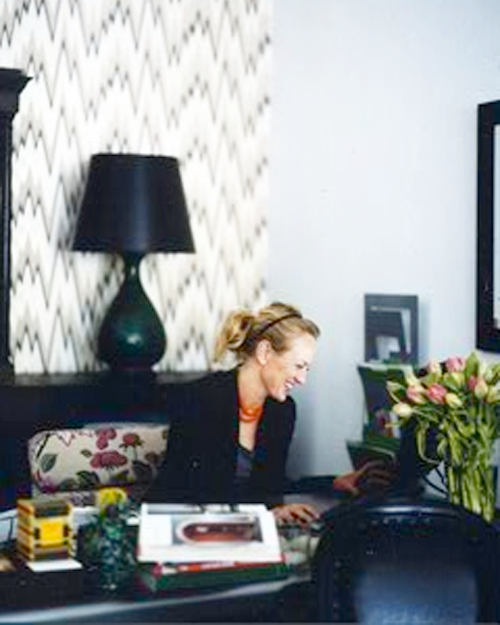 That exact same, very lucky day I was online looking for some interesting fabric to reupholster the chairs in, and I stumbled across an auction for four yards of Scalamandre's Leopardo silk velvet on eBay. You guys, this stuff is
INSANELY
expensive – like, $1000 a yard expensive (you can usually find it for about
$300 a yard online
though). I got the four yards for $200 total and it was worth every single penny.
The silk velvet is smooth as buttah and I love the little bits of green strie in the gold background.
As far as the upholstery goes, this was definitely NOT a DIY job. I had my upholsterer here in the city do these and I heard more than a few curse words come out of his mouth at one point when he called me about the chairs. Apparently they were not easy to take apart. :/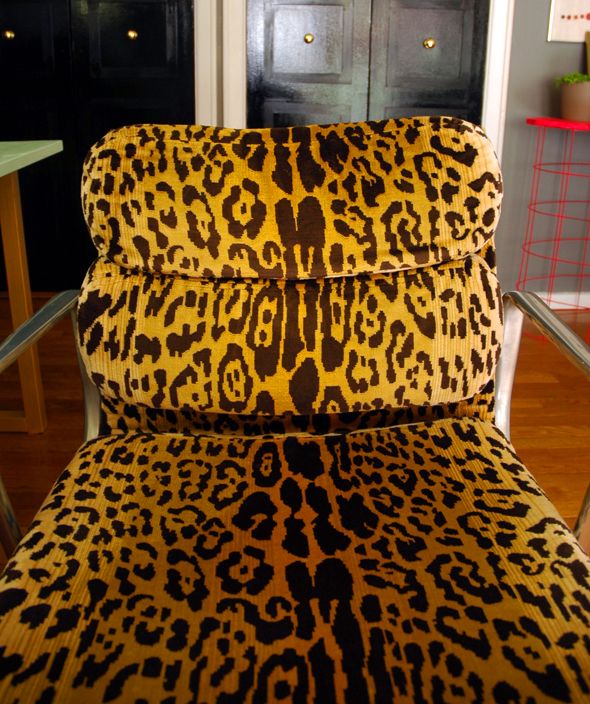 But a year later, I'm still loving them (such a testament coming from me) and even Michael doesn't mind them, you know, for leopard print office chairs. :) I'm of the "good animal print is a neutral" school of thought though, so I might be a little biased.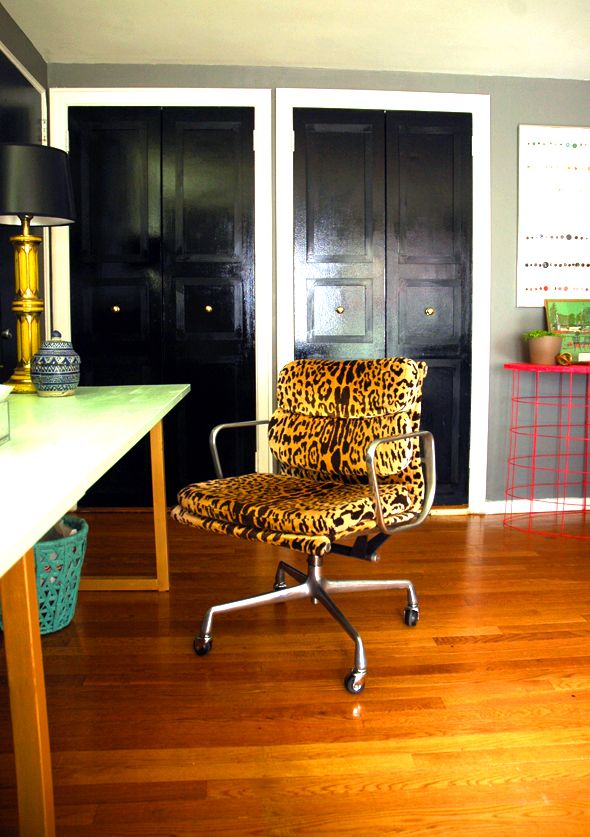 Oh! I thought I would mention that, while the silk velvet is absolutely fabulous and if you can spring for it you should, there is a great alternative for those of us living in realm of budgets, other than just lucking out on eBay like I did. The actual pattern of the leopard is an open-source pattern (I think) because a few other fabric lines use it as a printed cotton velvet. I know Duralee (Braemore maybe?) sells it to the trade and
Calico Corners
sells that retail for about $30 a yard (and they make this pretty X bench below!). The fabric pattern is called Jamil Natural and you can usually find a few yards for much less if you dig around the interwebs a bit. It's no where near as soft or as pretty in person I think as the silk, but the look is very similar from afar. And why not save $970 per yard? :)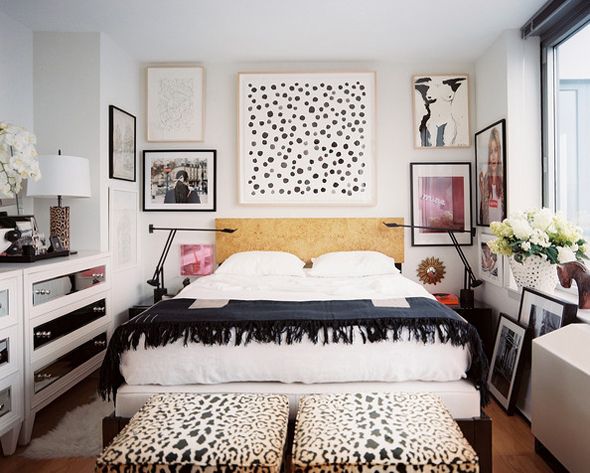 And here are a couple more rooms featuring the leopardo pattern. In photographs you usually can't really tell which is which, but I'm guessing most of these are the real-deal silk velvet.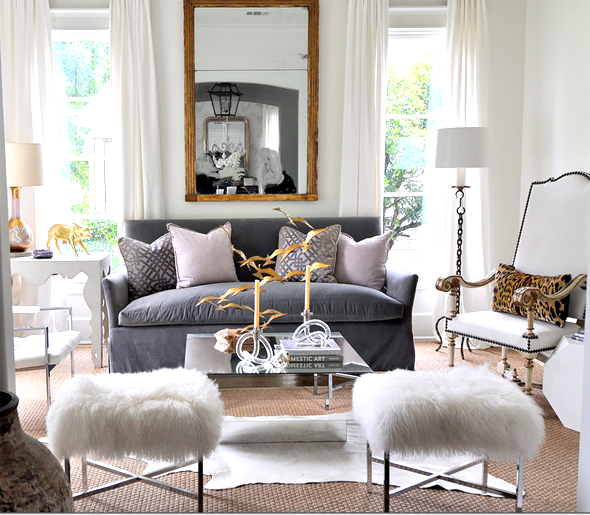 Sally Wheat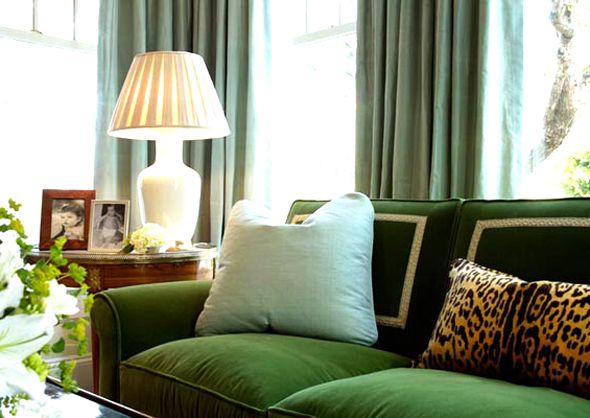 Palmer Weiss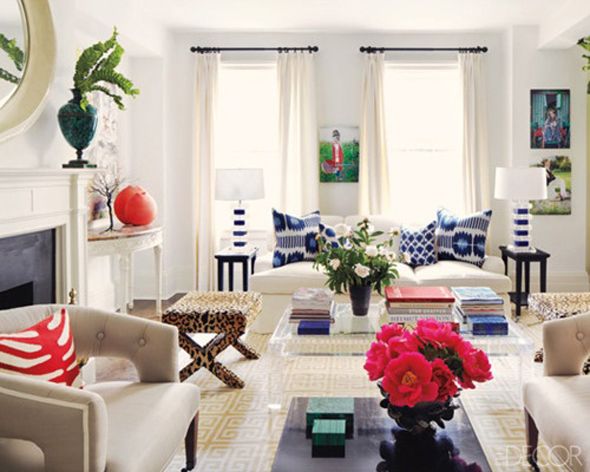 Elle Decor