In the past, I've always tried to recycle, but that usually meant just sorting the obvious things – plastic bottles and cardboard boxes. We were never all that diligent about sorting… until we moved to Brooklyn Heights. People really care about recycling here (including and maybe especially the people that live next to us). :) There might have been a situation where they tattled on us for not sorting good enough (whoopsies).
I have to say though, I'm actually sort of grateful we got busted. We were pushed to figure out a solution where we carved out some space to quickly and easily sort out our plastics, glass and paper. And now, recycling is a breeze, truly, and I feel less guilt-ridden. Like we are doing our part.
Here's how we did it: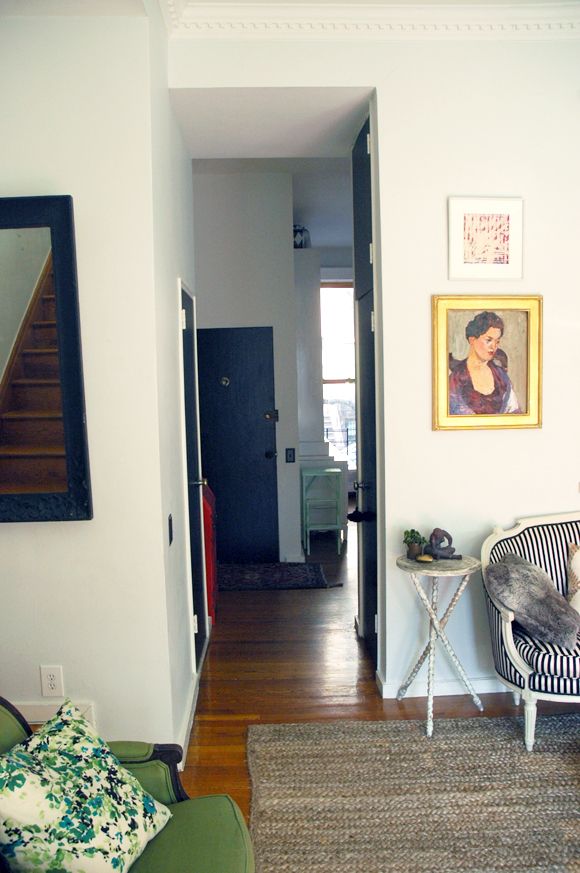 We have a little closet right by the front door on the parlor level. It's across from the powder bath and around the corner from the kitchen. I think it was meant to be a coat closet or maybe even a pantry at one time. Mostly it was just disgusting. (seriously)
The painters the landlord hired to paint the brownstone before we moved in did a pretty shoddy job. They didn't paint the insides of any of the closets. I mean, what? Weird. So slowly I've been tackling one closet at a time to fix the situation, but I hadn't had a chance to do the recycling closet until recently. See that gross cream color? That was the color of the entire house before we moved in and it just looked dirty. (doesn't the Cabbage White look much more fresh?)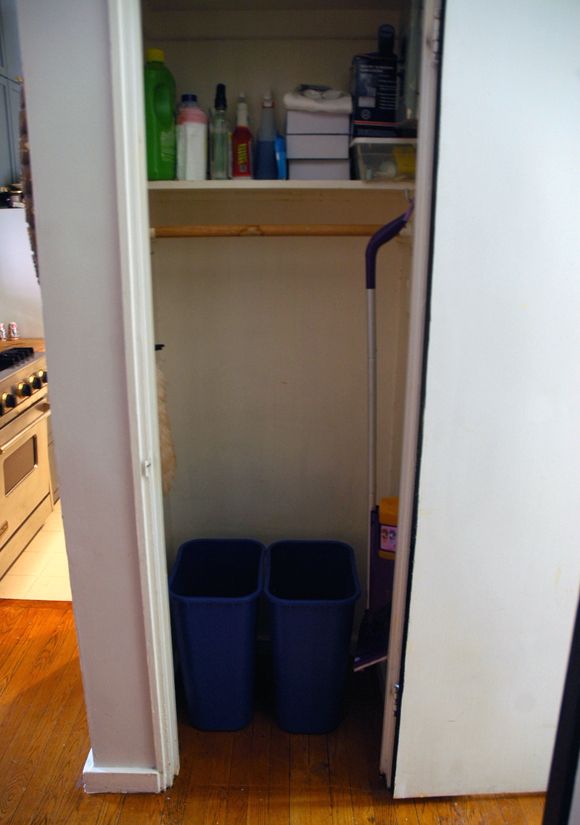 Gross. I'm am totally disgusted by the state of this closet and I live here. Apologies. No wonder I was no good at recycling! Who would want to open the door for this view: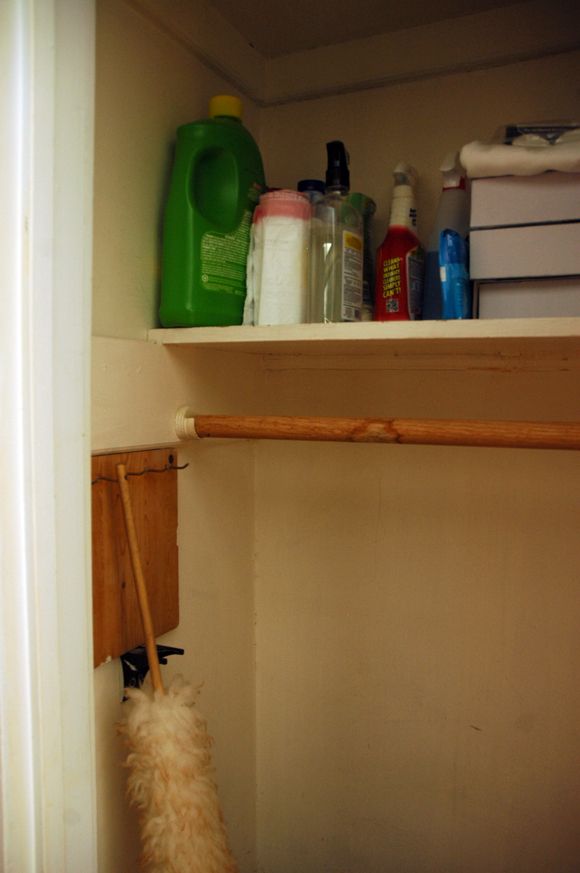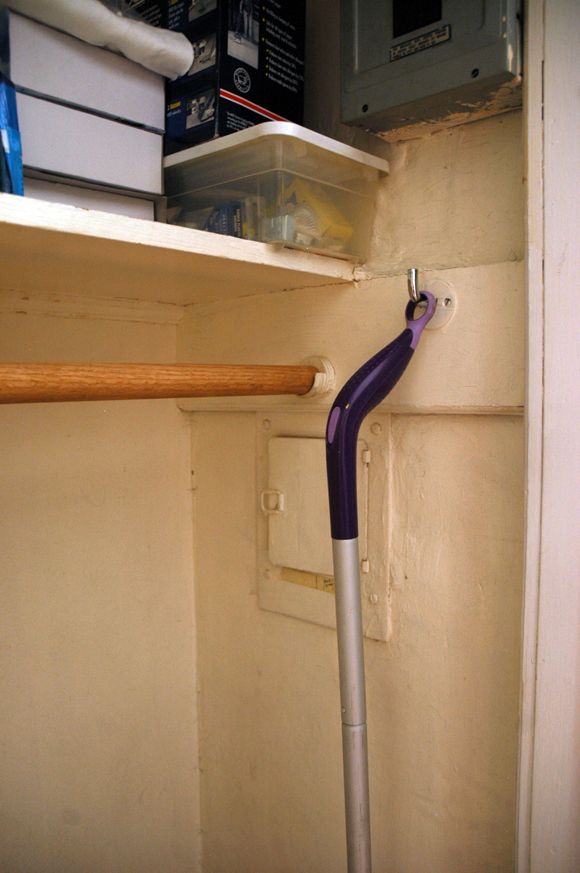 30+ years of cream paint in a garbage closet is bound to look bad, even after a few scrubbings! So a new coat of paint in the closet was added to the to-do list. But probably the biggest issue we've had with the recycling situation is the girls had trouble figuring out how to sort items in the identical bins we had in the closet.
So on the fly I primed and painted just the outsides of the bins with chalkboard paint. Then I went outside to the recycling bins in front of our house and snapped photos of the two sorting guides.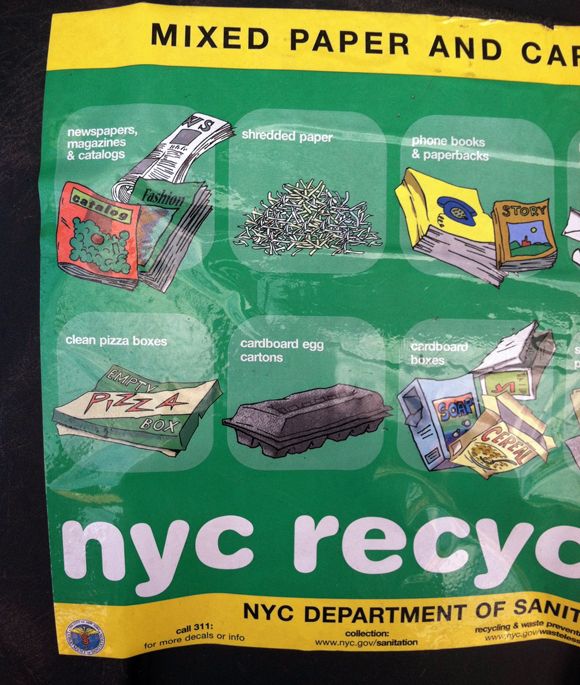 I'd been dying to put my chalkboard pen to use again (they are so cool – totally recommend picking one up at an art supply store or you can buy one here). Gracie and I chose a couple of items to display on each of the bins and talked about layout and then she got to work with the chalkboard pen.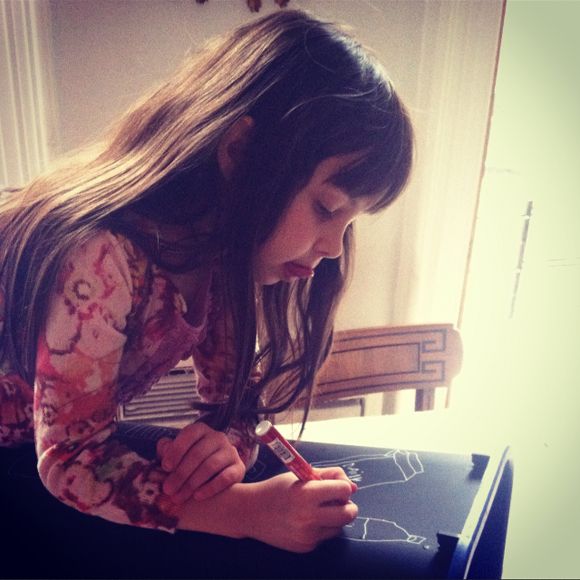 Claire was a little bummed she missed out on the illustrating action this time, but that's the good news about chalkboard (pen) recycling bins – the pen wipes off with a wet rag, so she can have a turn as often as she likes. Whatever helps them to learn their sorting, right? :)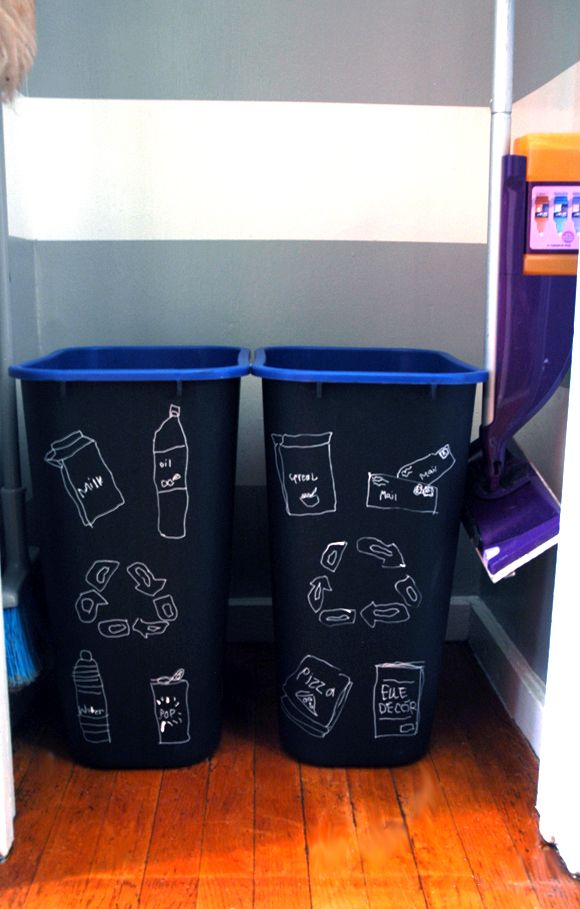 Also, don't the walls look about a million times better? They got a fresh coat of white paint, which was a huge improvement on its own, but horizontal stripes make every space more fun. Especially in tiny little secret spaces, where the stripes surprise you every time you need the broom or go to throw away an empty olive oil bottle.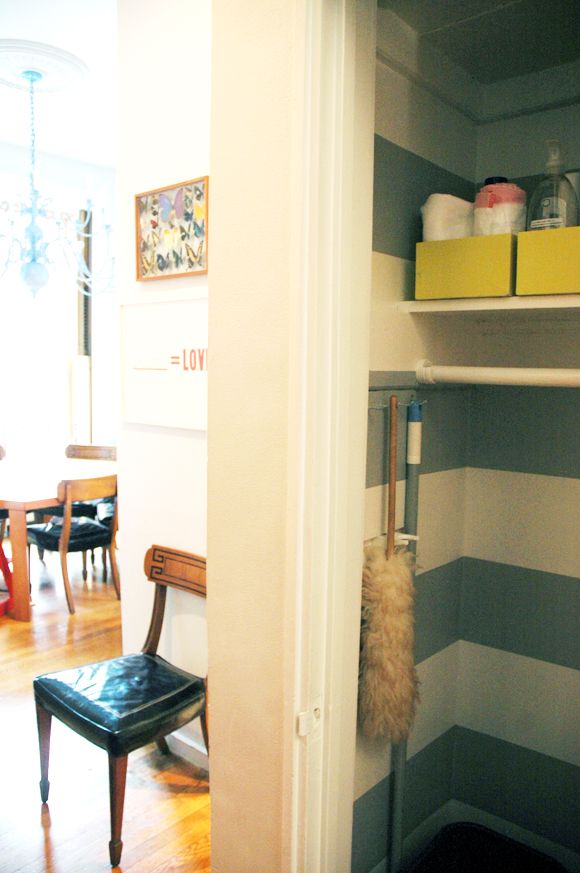 And I'm happy to report that the mini-makeover and the new recycling bins have totally improved our recycling habits, and by a lot. The girls are just about pro-level recyclers now and it's so cool to see them excitedly taking ownership over what used to be a chore for us all.
I'd love to hear what you guys do to make recycling (or anything to live a more green lifestyle) an easy habit for you and your family. I'm working on adding more eco-friendly cleaning products into my housekeeping routine. My sister in law is a budgeting super-star and an all-around phenomenal housekeeper. When I mentioned this post to her, she says she uses and completely loves
Green Works
, and I'm excited to take her word for it and try it myself.


This post is sponsored by Green Works. You don't have to compromise to be clean when you use hard working, plant-based cleaners by The Clorox Company.


Check out this quick video to learn more. :)