Did I tell you we bought a dining table?? Remember I was in love with this octagonal Widdicomb table? Well, I thought long and hard about making my own version. I priced out the right wood and brainstormed how I would do it. Ultimately I decided it was too risky. The wood alone was going to cost hundreds of dollars and I wasn't sure that it would look perfect in the end. We needed a table we could use all day long, everyday. I think that sometimes, especially with the bigger stuff, it's best to buy, not DIY.
Luckily, I was doing some shopping for a client that week and had to stop in to Two Jakes in Williamsburg. I rounded the corner and saw this:
I loved the color of the wood and the shape reminded me so much of the Gibbings table, but I didn't really think more about it since it was just a desk.
Then I made my way to the back of the store, and BAM! Another desk! Now, two desks do not always a table make, so I asked the nice and vey knowledgable owner (who I assume is named Jake?) about the desks and he told me he has TWELVE of them and that they were mid-century, and designed to be configured in multiples for your needs. They can be placed long-way to make a massive conference table, or just used as a single desk. OR used in a pair as a hexagonal dining table that comfortably seats six!? Yes!
Since they had so many of the table sections available, I did the patient, responsible thing (don't worry, that doesn't happen too often), and took the measurements home to triple check that the table would fit.
I use graph paper a lot to map out furniture for my own home (the computer programs we use pretty much kill my creativity). But even when you have a perfect floor plan, it can be hard to really feel what how the furniture will sit a room. This is where painter's tape comes in. It works fine to map out furniture on the floor, but if you place the tape on furniture that is roughly the same height/scale as the new piece, that will help a lot for visualizing and there will be less surprises later.
I mapped out the hexagonal table on my old, ill-fitting table, and put the chairs where they would belong at the new table to verify they could be pulled out far enough, etc.
It ended up being a really good thing I taped out the table. I found out the table would fit well, but that the armoire I had found on craigslist (to go to the bottom right of the table in the photo) was completely too big for the space, even though it made sense on my floor plan.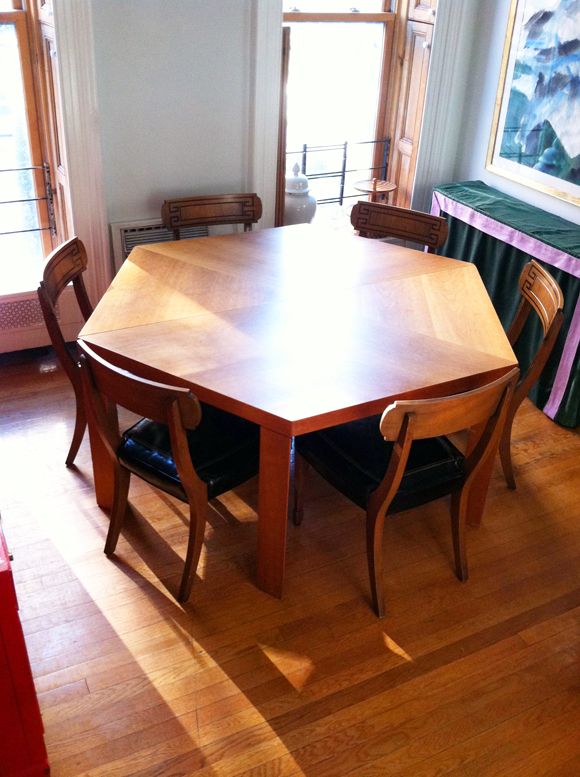 The table is in and we love it. And I've moved to Plan B for the armoire, so now we have plenty of room and storage space. More photos coming up (including the step-by-step for painting the giant chandelier!).
Also, I still love the Widdicomb table and hope that maybe someday one will fall into my lap. But I'm thinking maybe this simpler design is a better fit for our small dining room? All those arches might have been a little intense. Plus, there's no way I would have been able to get the finishing the way I'd want it to be. Like how the grain changes direction in the inlay here? Love it.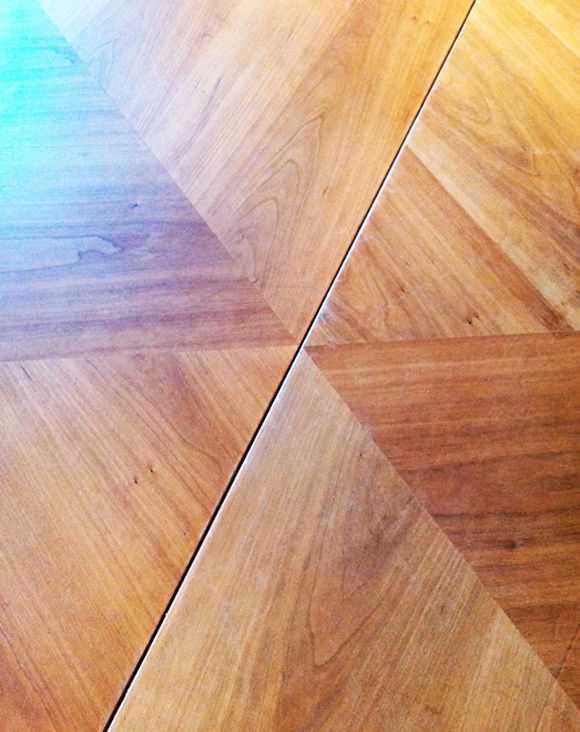 I even sort of like my old chairs with the table. I might keep it this way for a while longer, though I'd still love a set of
straight-back louis chairs
in a pretty leather with white frames. Would it be sacrilege to paint my chair frames here white? Or to whitewash them so some of the greek key shows though? Hmmm…