I am so excited about today's room tour! Reader Anne enlisted the help of my lovely and super-talented friend Lauren (who is due with her third baby any second now!) for some eDecorating advice. I LOVE how these two collaborated to make Anne's home bright and cheery and polished. It's a nice mix of modern and traditional and I think they did a beautiful job of putting money where it counted. Here's Anne…
Being a graphic designer is a blessing when it comes to creating a look on paper, but translating our style into home decor proved to be, well, challenging.
So when I stumbled across Lauren Liess from
Pure Style Home
, I knew I wanted her to help me. With a brief over-the-phone consultation, she was able to give me direction on the larger paralyzing decisions…like "Buy something modern for the second buffet," or "Fill this wall to the ceiling with art." She's a genius!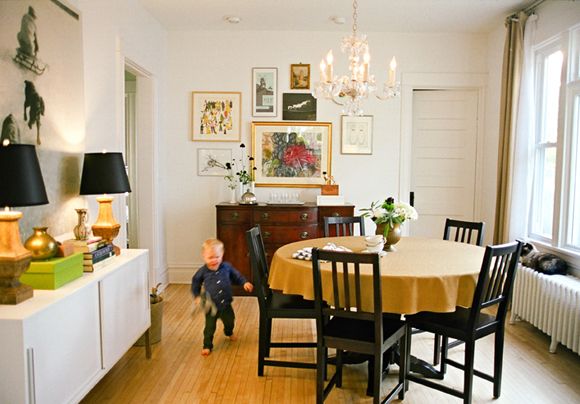 I then spent the next ten months collecting furniture and art (Lauren also helped us with our master bedroom) and putting the pieces together to create a look that truly reflected our style. My husband is traditional and I like a bit of quirk. Voila!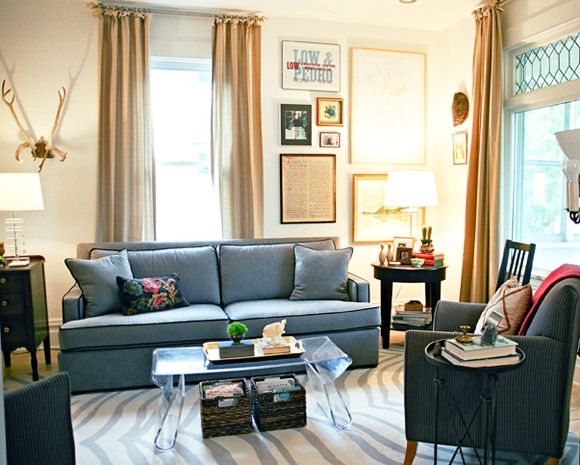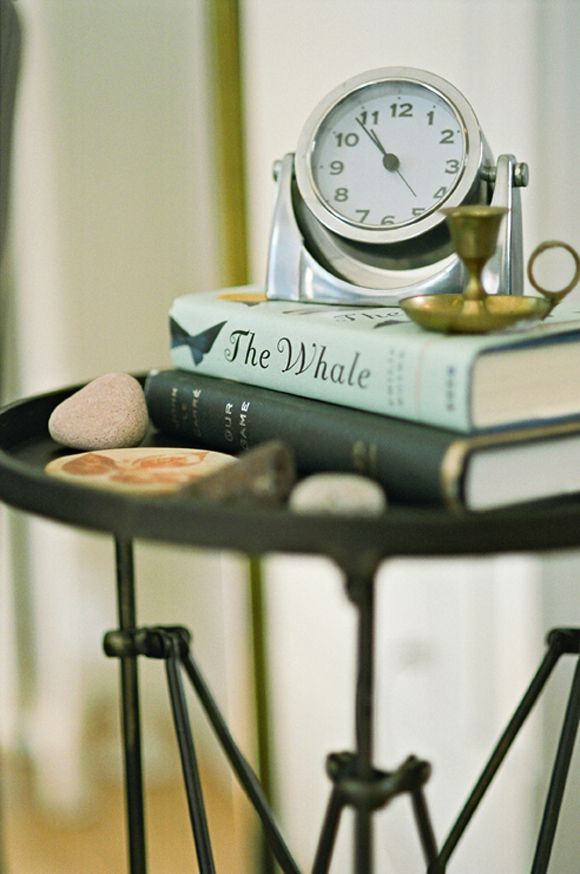 When we started this transformation, many of the larger items were in place, but the rooms felt unfinished and off balance. Lauren's advice to create symmetry (around the picture window and couch) and filling the space with 'pretties' proved to be the key to making it feel cozy and inviting.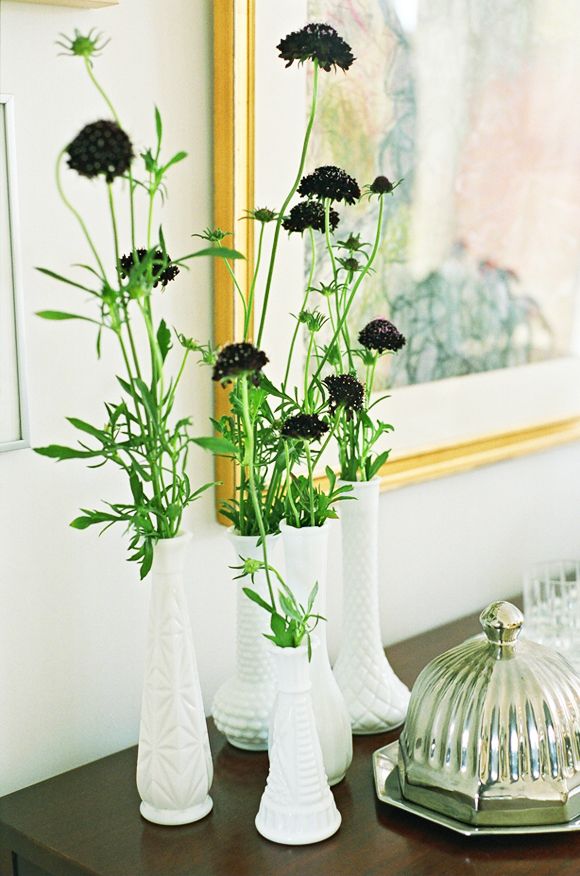 My husband was afraid that filling the walls with art would make the space feel smaller, but in fact your eye is now drawn up and around the rooms, creating the illusion of more space.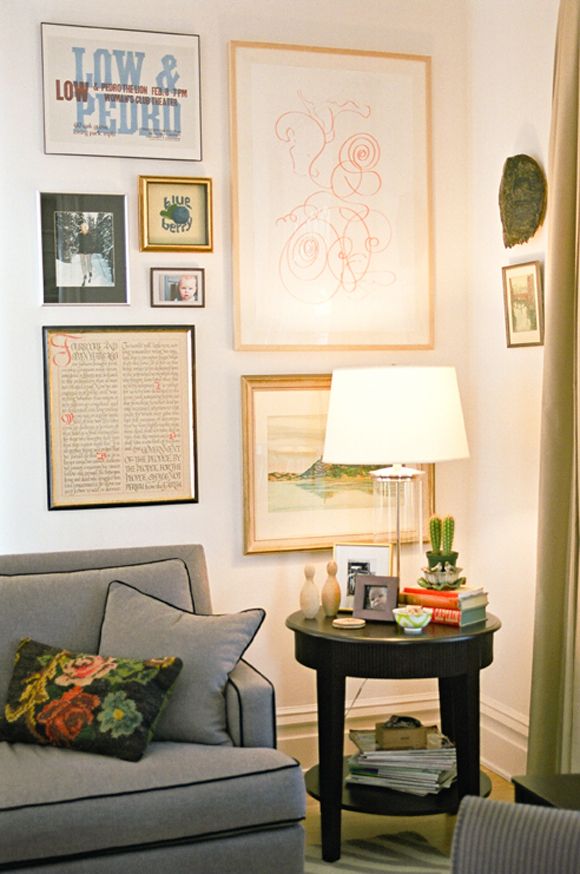 And adopting the mindset that 'it might get broken, but it's worth having out and not hidden for the next ten years' helped with creating table tops suitable for a toddler (we have since moved the cactus-ha!). As long as we have a few things out that our two year old son can touch, he is happy to leave the breakables alone.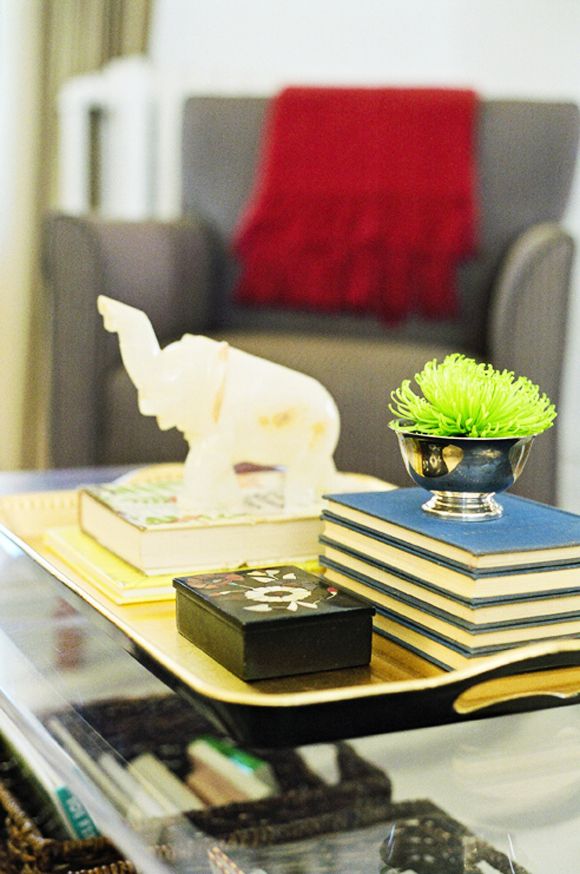 Another key piece to pulling things together was a color 'theme'. I wanted the rooms to connect, but I didn't want to be matchy-matchy. The pillow on the sofa (which I just LOVE) was a gift from missionary friends in Bosnia and it became my 'go to' when I was tempted to purchase something. If it didn't jive with the pillow … I had to pass.
The conversation starter in the room is definitely the large black and white image in the dining room. It's an image of my dad as a boy and we just love it! I sat for months on the couch wondering what do with that space and now having it filled with a little piece of family history is a treat.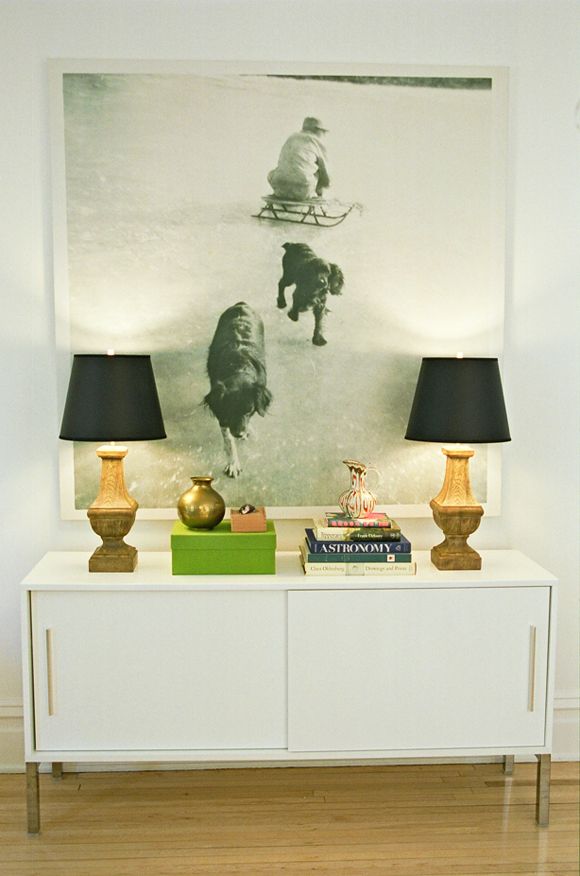 In fact, if you look around, animals play a theme in most of the vignettes. A happy accident I guess, but we love the subtle 'lodge' feel.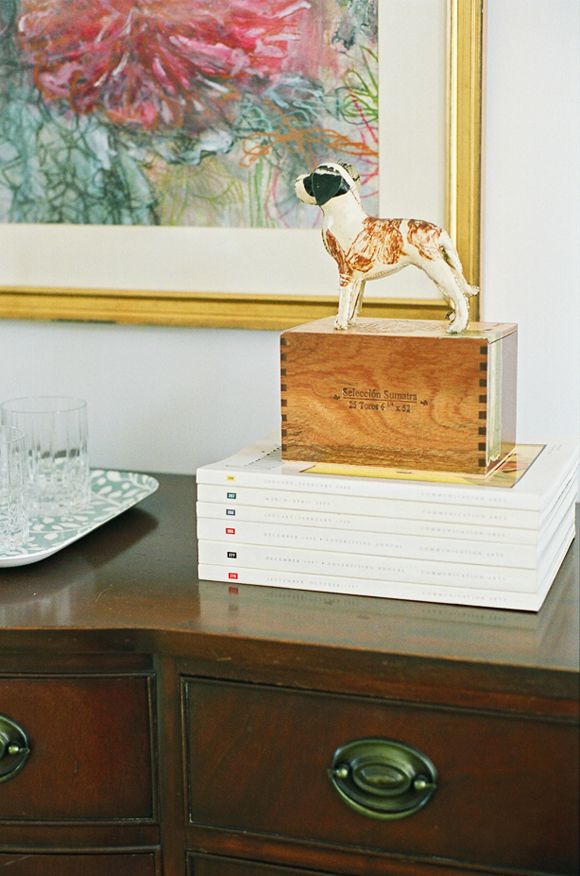 Well, there you have it. Our living and dining rooms. Thanks for looking!
I will list sources below.
P.S. I added a photo of our nursery here too. It was finished when I spoke with Lauren and I told her 'THIS is our style'. Amazing how nesting will kick you into gear to get a nursery ready while the rest of the house sits undone. :)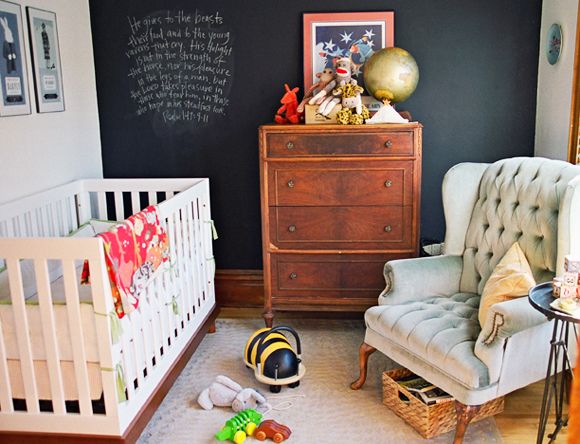 Resources:
Sofa – Ethan Allen
Rug – West Elm
Drapery – JCPenny
Club Chairs – Thrifted
Round End Table – Overstock
Campaign Side Table – Urban Outfitters
Three Drawer End Table – Antique
Coffee Table – Overstock
Lamps – Target/JCPenny
Living Room Art – Collected over the years
Sofa Pillow – Bosnian rug turned pillow (gift)
Pink Throws – West Elm
Coffee Table Baskets – Target
Coffee Table Tray – Target
Elephant – Thrifted
Floor Lamp – Antique
Chandelier – Antique
Dining Table – Thrifted
Dining Chairs – Ikea
Wood Buffet – Antique
White Buffet – Ikea
Buffet Lamps – JCPenny base with Target shades
Books – Thrifted
Art – Collected over the years
Large Print – Photo printed at Canvas On Demand
Vases – Thrifted
Dog – Thrifted
Buffet Tray – Target
Bar Glasses – Williams-Sonoma
Silver Cheese Server – Thrifted
Cigar Boxes – Local Cigar Shop