Colleen, who is
offering eDecorating services now
(!!), is back for another stunning Copy Cat post. This photo of the Oly Studio showroom at High Point was plastered allllll over Pinterest this week. Wouldn't you love to call this room yours? Here's Colleen: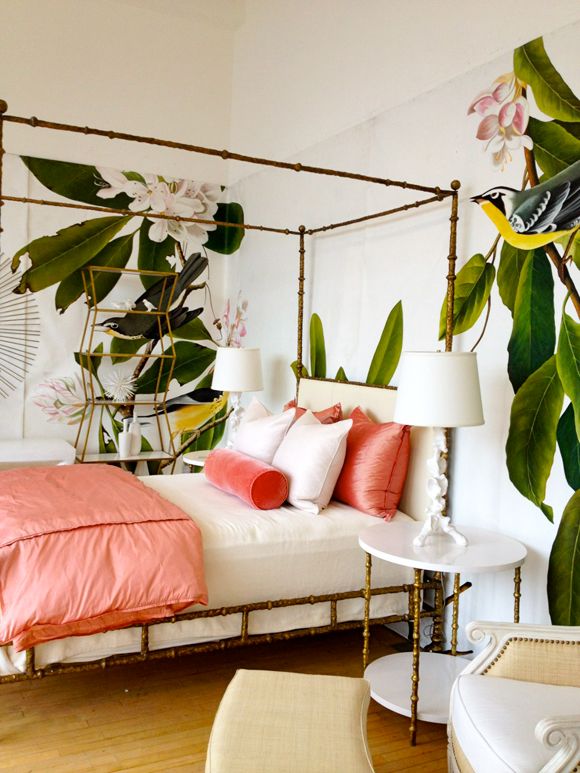 Here's a
showroom
that made the rounds after High Point, and for good reason: it's spectacularly pretty!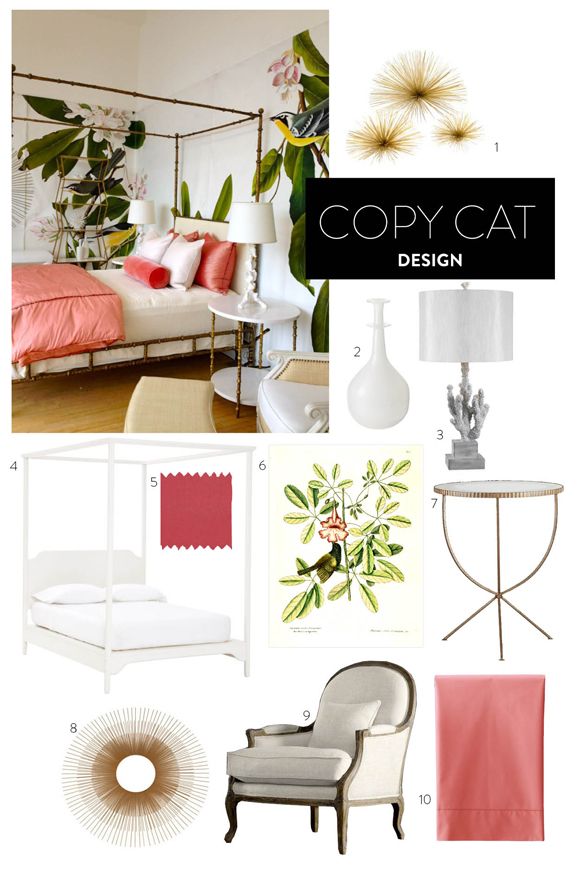 Since our interpretation doesn't include a stunning brass bed, bring in some brass accents for extra sparkle. I love these urchins because the echo the shape of the sunburst mirror in the space.
A few coral peonies in this milky-white vase would be plenty pretty on a nightstand.
Coral lamps fit right in with the tropical thrust of the room.
Not quite a showstopping brass canopy, but the lines are clean. Ikea used to carry a similar (and cheaper) canopy, so it might be worth tracking down on Craigslist.
A luxurious velvet for a bolster or euro shams.
Illustrations in the public domain are an excellent source for decorating, and this bird print works so well here! You can even enlarge the illustration with
Wizard Prints
.
It's a bit of a challenge finding new gold-toned furniture, so I love these feminine tables.
A spindly starburst mirror adds some needed texture.
A pretty, cozy chair in a natural linen rounds out the furniture. (ed note: This chairs is super comfy and an unbelievably great price!!)
Add some color to the bed with a coral pink duvet or quilt!