Kristin has a lovely home in Florida with gorgeous beamed ceilings. She emailed me recently asking for advice on a chandelier and whether or not I thought my sputnik DIY would work in her space, with her wood beams. I suggested going with a white versions and I'm so thrilled with Kristin's results. Don't the white florets look like milk glass? Love!
Here are some photos of her living room (and one of her breakfast nook – so cute!). Sources listed at the bottom.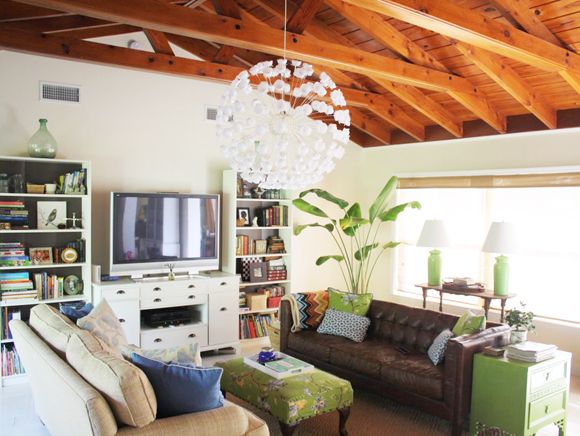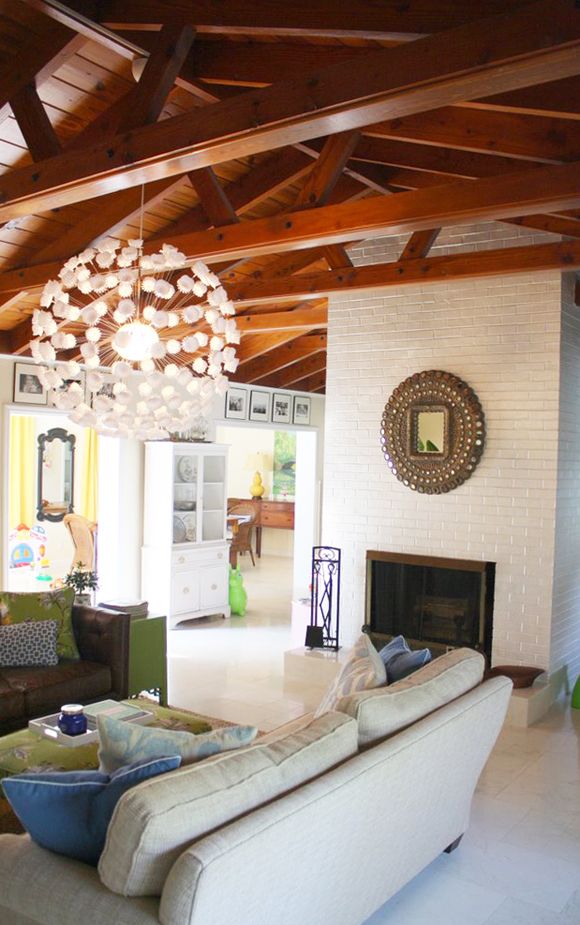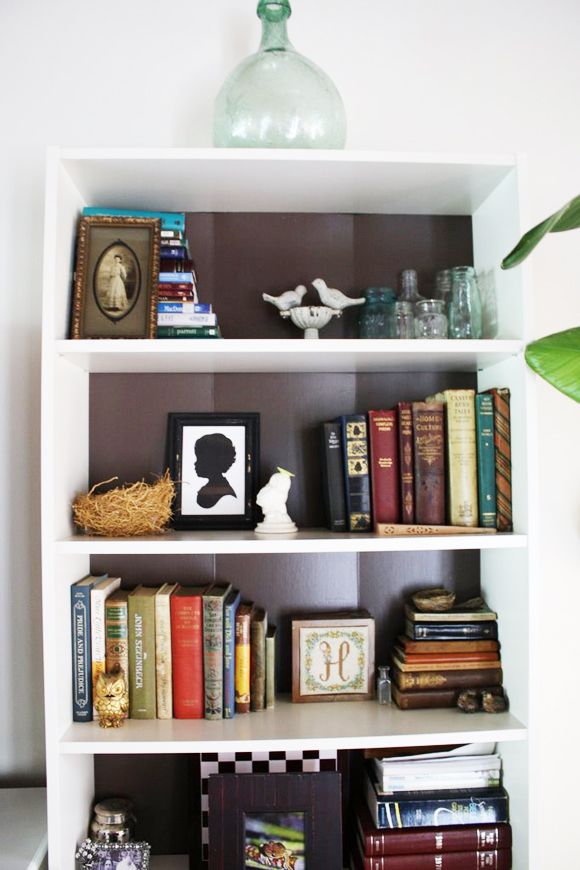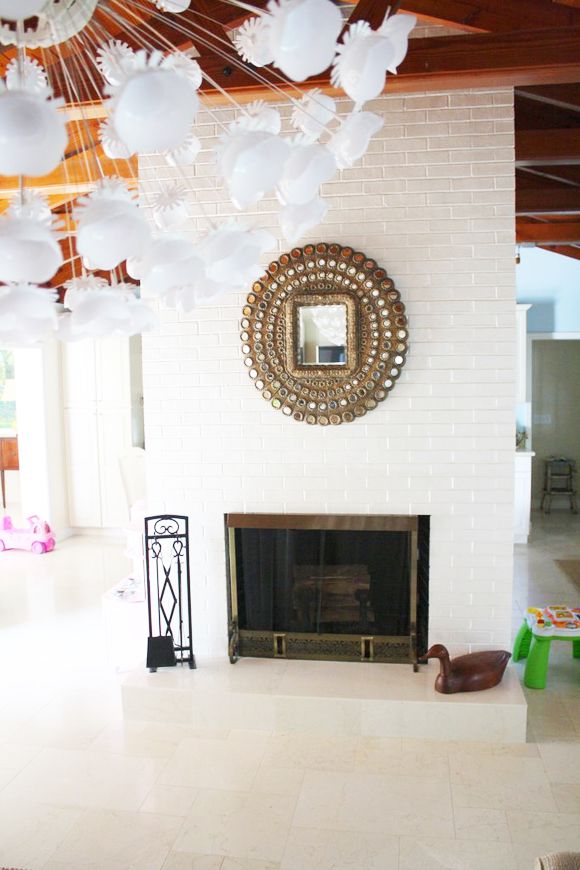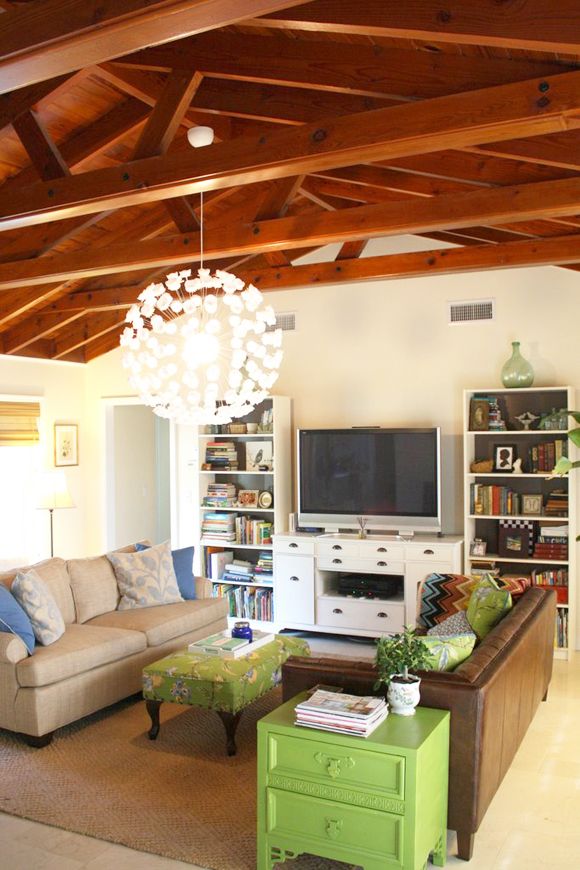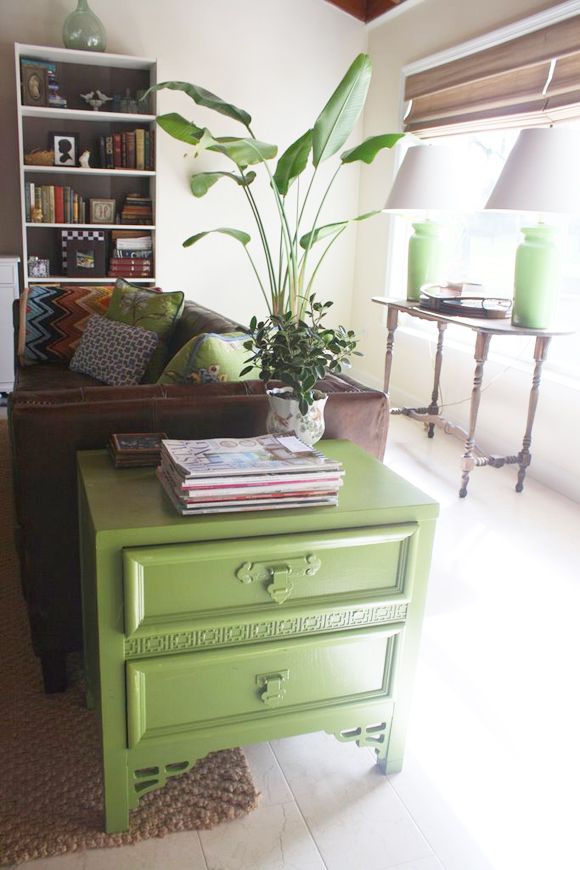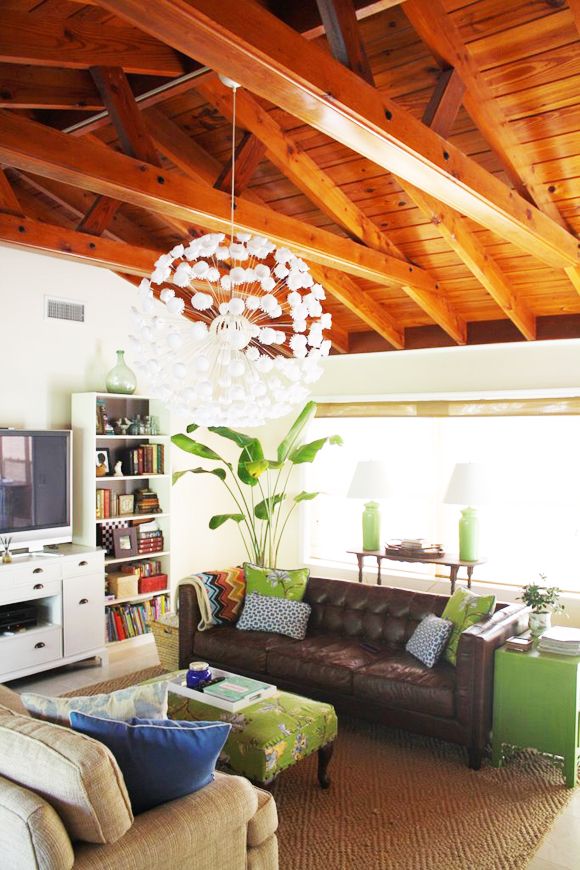 sofa table – antique
woven tray on table – a gift from a shop in our town called Decorative Arts
green lamps – one of my favorite vintage finds
green end table – purchased for $8.00 from the Salvation Army and painted! I love the greek key detailing
small chinoisserie planter – found at an antique store
chinoisserie bird coasters – purchased years ago at Anthropologie
brown leather tufted couch – the company is four hands but I purchased from Decorative Arts (this couch and I were love at first sight! :))
throw pillows on both couches – feather pillow same from T.J. Maxx and were recovered with fabric from Calico Corners
throw blanket – Missoni for Target (I was one of those crazy people that were lined up early in the morning at my local Target) :)
Ottoman – purchased at Home Goods, and reupholstered by my amazing friend Cori who first introduced me to LGN! (fabric from Calico Corners)
white mirrored tray on ottoman – Target and then we repainted it white
tweed couch – company unknown. Purchased at a boutique home store in Tampa, Fl called Magnolia
Bookshelves – Billy Book cases of course! Inspired by Jenny, we bought the white bookcases and then painted the backs in a dark brown color. We then styled them with sentimental objects such as vintage books passed down from family, photos, a painting my husband made for me, silhouette of my son Hudson, etc…
T.V. stand in the middle of the bookshelves – we scored this piece at a garage sale… It was formerly a buffet. We repainted it off white to match the bookshelves, took one drawer out to accomodate the electronics and replaced the hardware.
little glass bottle with scent diffuser – Anthropologie
Large green glass jars on top of bookshelves – Decorative Arts
Area Rug – Diamond Jute from Pottery Barn
Children's chairs – Pottery Barn Kids in Sherpa ( I think I sent you a picture of Harper enjoying it! )
Small table in between children's chairs – a vintage find
Entry mahogony table – found this years ago at an antique store with knob and all!
lamp on table – vintage ginger jar lamp; shade from decorative arts
small dragonfly tray on entry table – John Derian tray
potted plant – Anthropologie
floor lamp next to children's chairs – Pottery Barn
bird pictures on wall near children's chairs – these are antique audobon prints. I repainted the frames gold.
large wooden basket under entry table – antique basket found years ago at the Rennigars Antique show in Mt. Dora, Fl
the window woven roman shades throughout the room – custom made from Levelor.
Mirror on fireplace – Honeycomb Mirror from Pier 1 (inspired by Jenny and February's Southern Living). I think that this mirror is even more gorgeous in person. It's beautiful!
Wooden duck on hearth – carved by my grandfather when I was a child
Chandelier – Ikea Maskros DIY (courtesy of Jenny and Little Green Notebook!) She recommended to keep the chandelier white and use the white fleur cups. I love, love, love this light fixture!