Jenna from JWK Style submitted today's room tour. I LOVE her idea of over-dyeing toile prints with a bright color! Such an expensive look for not a lot of money! Thanks for joining us today, Jenna!
******
When we moved into our rent house, the master bedroom was incredibly dark and depressing. After we painted I wanted to keep it as bright and fresh as possible. I was hoping for a completely different look than our previous bedroom, but I couldn't justify buying all new curtain fabric and bedding.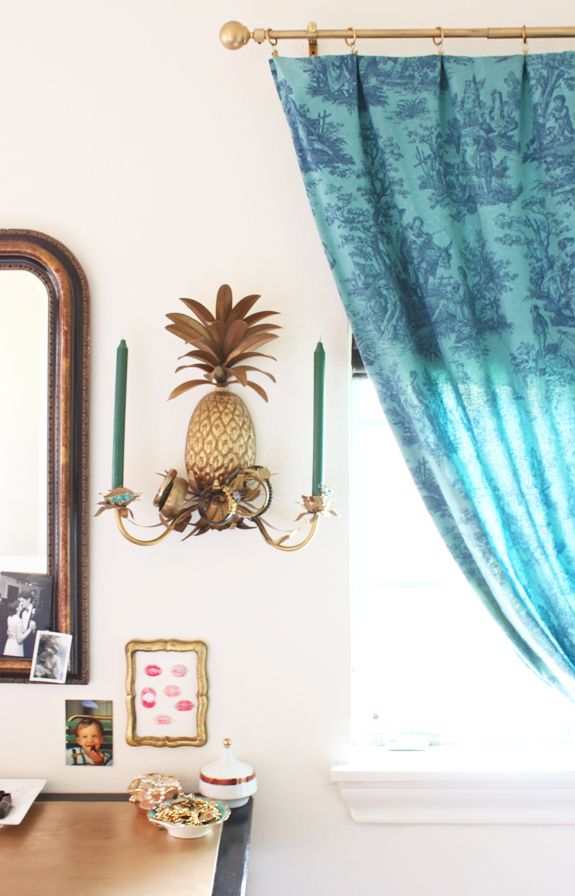 I love the bold toiles by
Manuel Canovas
so I attempted a similar look with
teal RIT dye
using our traditional blue and white toile. I played around with scraps to find the right shade and used about 1 bottle of dye per curtain panel in the washing machine. Luckily there was enough fabric leftover to sew a bedskirt, so I was able to pull off a whole new color scheme for our bedroom for next to nothing!
This was our bedroom before we moved in. We replaced the mini-blinds with inexpensive roman shades from the hardware store and hung our own curtain rods. I couldn't find curtain hardware I liked so I bought the 'antique brass' finish and spray painted the rods, clips, and rings with metallic gold Valspar. To prevent scratching, I used 2 coats of Polyurethane Gloss. So far so good!
Above the bed I hung an oil painting I found at Salvation Army a few years ago. Since there was so much color on the walls I decided on all-white bedding. I made the throw pillow out of silk ikat and the white duvet cover is an inexpensive one from Bed Bath & Beyond. I replaced the basic pillow cases with monogrammed shams from Pottery Barn and the ones behind them are from Target.
Most of our bedroom furniture was (very graciously) handed down to us but it was a mismatched mess. I wanted everything to coordinate so I painted everything myself to save money. The wicker chest (that doubles as my accessory closet) was a traditional white one that I spray painted. I replaced the wicker knobs with beaded ones from Anthropologie but eventually all the embellished parts popped off.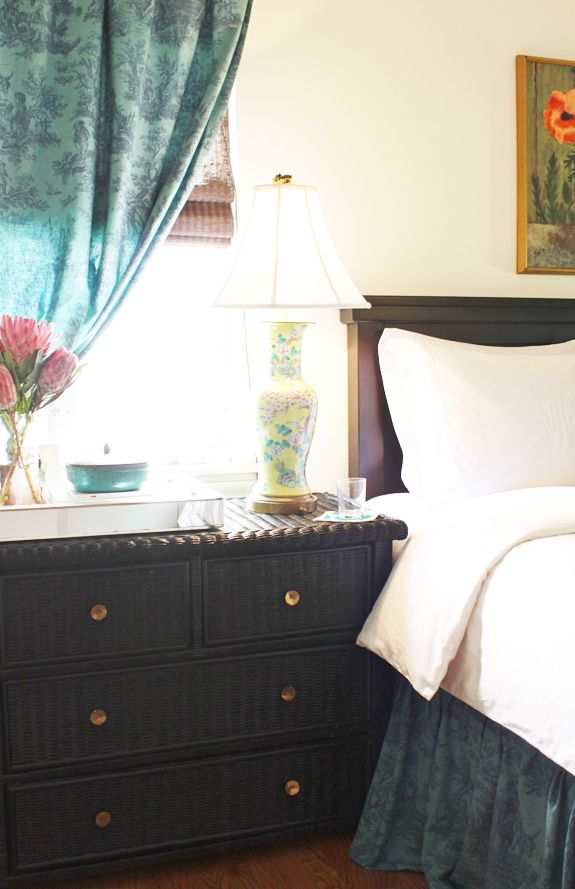 The gold backs stayed on the dresser and I reused the beaded pieces as lamp finials for our bedside lamps. (They remind me of the ones by Hillary Thomas Designs.)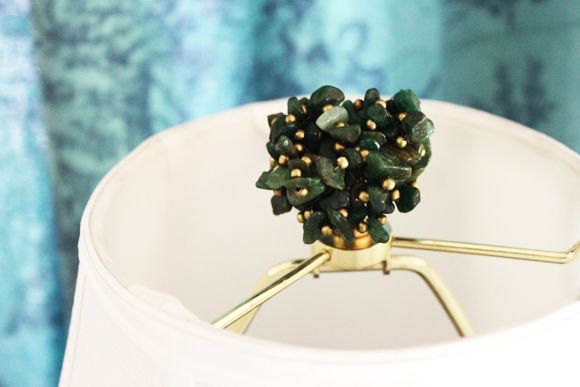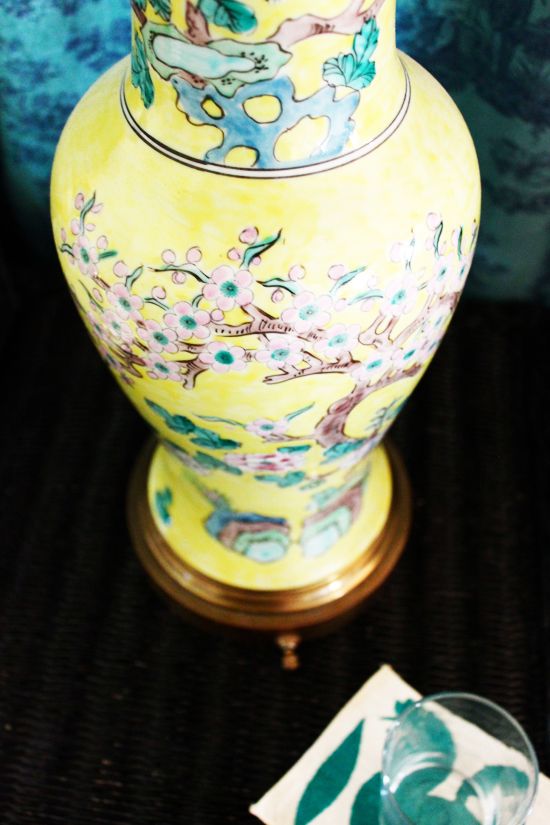 The antique ginger jar lamps are from one of my favorite stores in San Antonio, Pagoda. The other bedside table used to be dark mahogany and I just painted around the existing handles.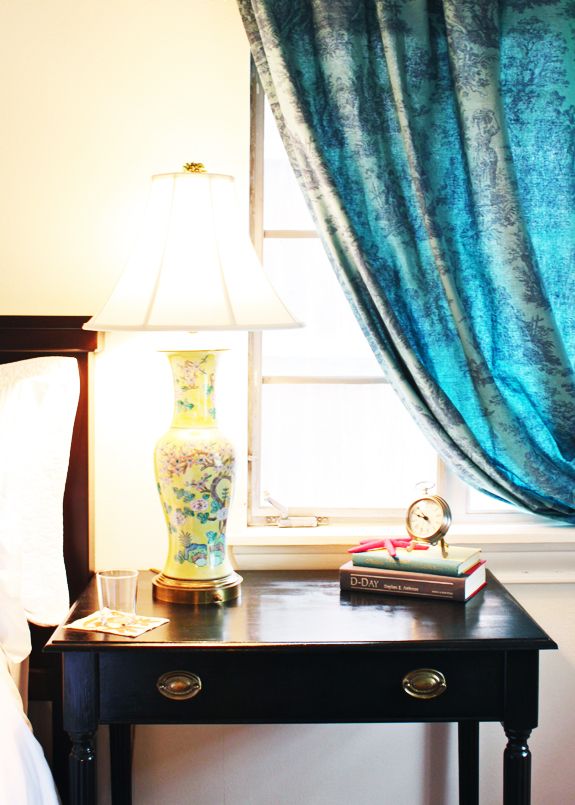 Since our bathroom doesn't have any counter space or wall outlets, I made a 'vanity' for myself between the windows. A mirror, desk, and chair is really all you need!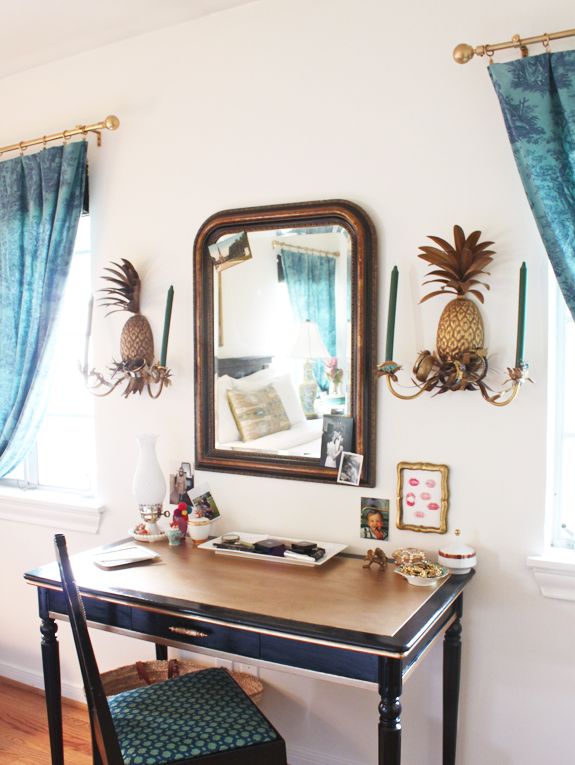 (Before)
The desk came from a hotel salvage store and I repainted it to match the bedside tables. Soon after, I came across
a similar desk
so I added detailing with gold leaf paint. The antique chair was a hand-me-down that I also painted and recovered.
For jewelry storage I used my pineapple sconces for bangles and brooches and a few vintage bowls on my desk to hold necklaces. The pink and gold sugar dish is from a vintage serving set and it's the perfect size for earrings.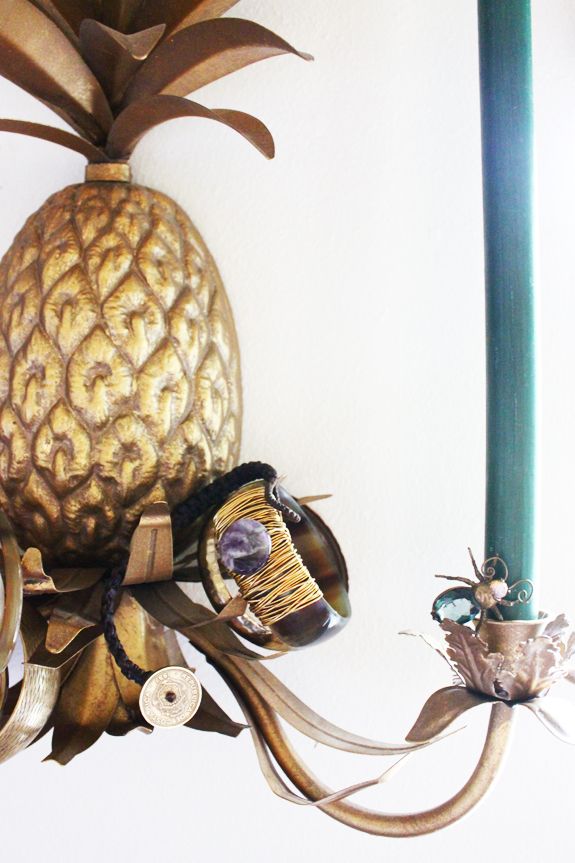 My makeup is scattered on a tray where I can easily find it since I'm usually running out the door! I keep a notepad on my desk to jot down sewing ideas and notes.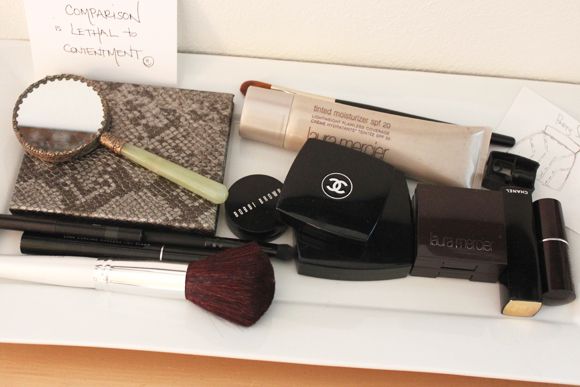 I love this tiny milk glass lamp that was my grandparents. I keep my favorite L'Objet candle and perfume beside it.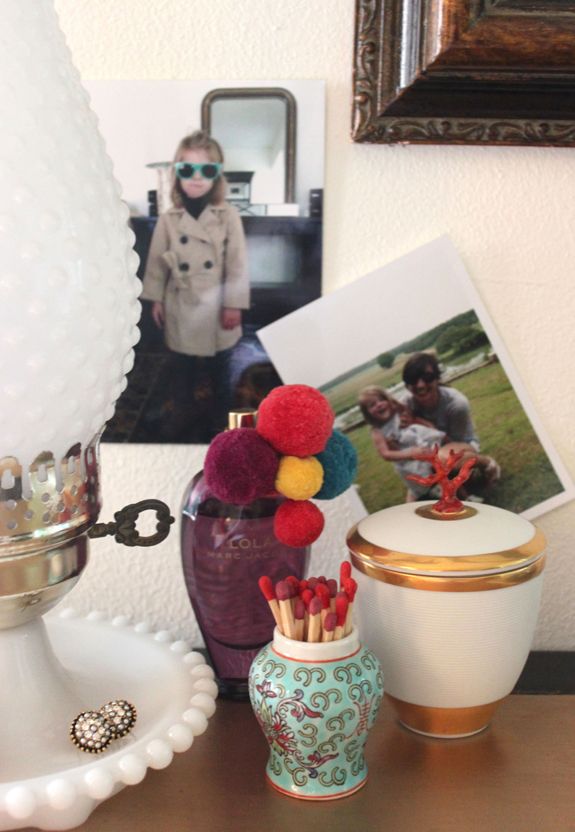 I made the lips print on a whim while I was trying to find the perfect shade of red lipstick. It reminded me of
Andy Warhol's Lips Print
so I blotted, outlined, and framed it!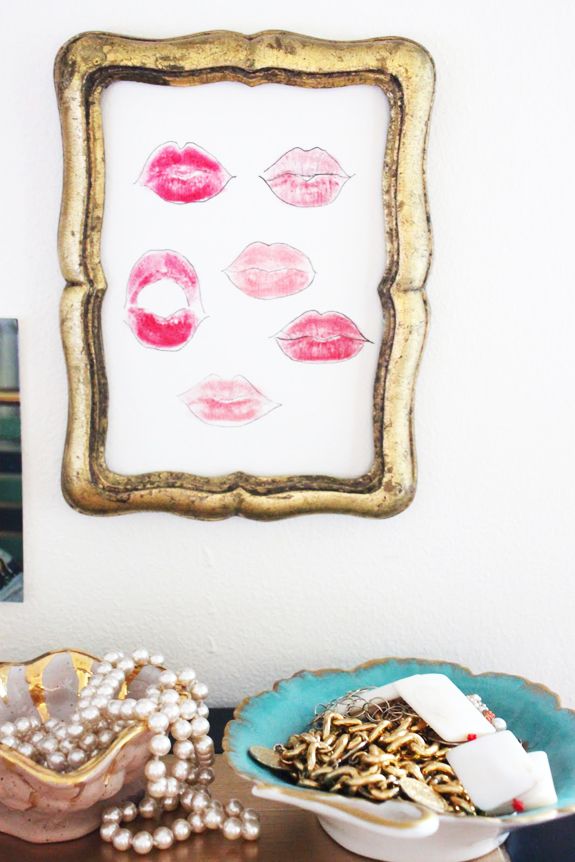 Our dresser across from the bed was my first piece of furniture to paint. It was a typical French Provincial piece that was light brown with dark brass handles. Whenever they start looking dingy I take them off and glob on some Brasso to keep them shiny.
Since I'm especially prone to making piles, I like to have bowls around to conceal them. Dry cleaning tags and safety pins live in this one.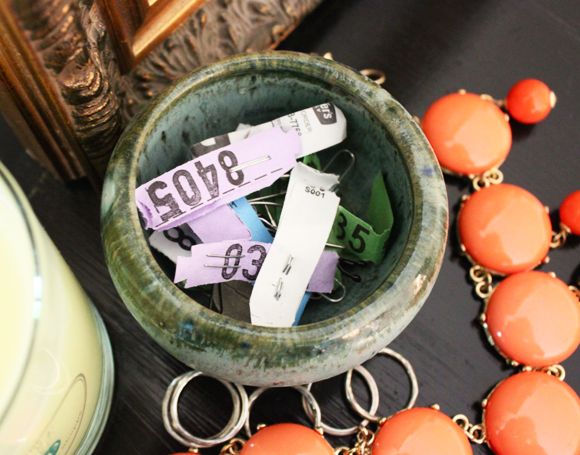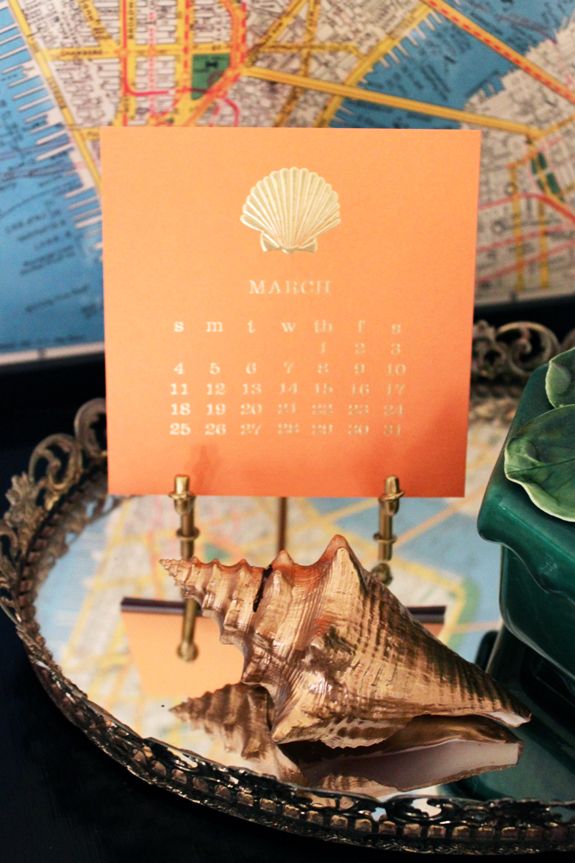 Trays are also ideal for easy cleaning and containing clutter. The one on my bedside table forces me to keep it tidy. Otherwise I'd have months of magazines piled up!!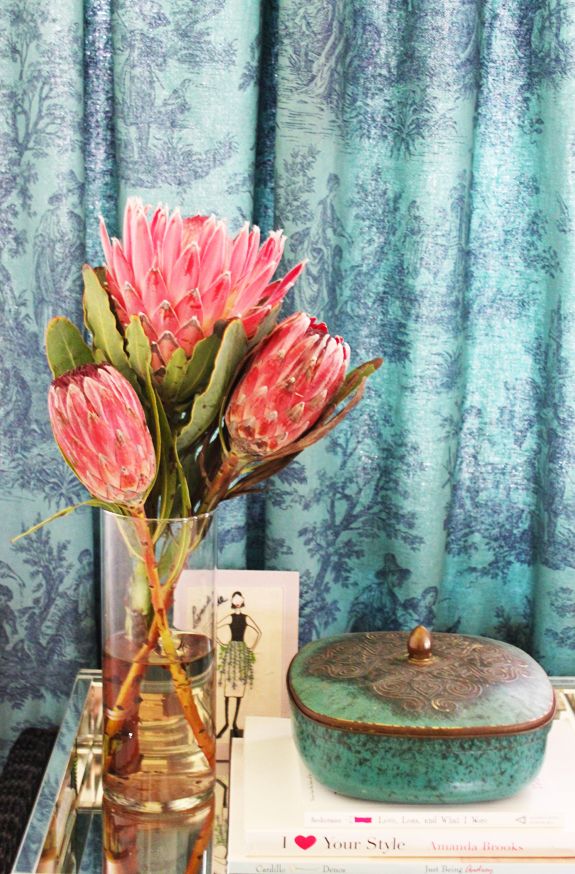 Sources:
Paint color: Benjamin Moore Mayonnaise
Toile fabric: (hand-me-down) Waverly "Country Life"
Roman Shades: Lowe's
Headboard: Pottery Barn
Throw pillow fabric: Bermingham & Co. thru Brunschwig & Fils
Sheets and duvet: Bed Bath & Beyond
Ginger jar lamps: Pagoda
Vintage tin: The Guild Shop
Mirrored tray: Target
Embroidered coasters: market in San Miguel
Clock: Pottery Barn
Pineapple sconces: Two's Company
Mini ginger jar: Etsy
Pink dish: Anthropologie
Vintage dishes: The Guild Shop
Rug: Round Top
Coral candle: L'Objet
White porcelain tray: Target
Mirror: hand me down from my mother-in-law
Market tote: flea market in Deauville
Chair fabric: Celerie Kemble for Schumacher
NYC Print: framed Cavallini wrapping paper
Gold framed art: Christmas present
Antique tray: Etsy
Calendar: Jack & Lulu