Hi friends! I hope you had a great weekend! We're wrapping up Todd and Emily's house tour today, starting with their entry (I'm still cracking up over their chalk board message) and laundry room (so bright and FUN!). Come back a little later today for their new play room. Enjoy!
The Entry
"We have a very small entry. As soon as you enter the front door, you can either go straight up the stairs, to the left and down the hallway to the kitchen, or to the right into the living room. All that would fit in our little entry was something small like a bench. I found a little antique spindle bench on CL for $80. It was originally painted black which we promptly changed to Martha Stewart Vintage Map (this color is from her old line of paint at Lowes, but ACE Hardware still had the codes in the computer).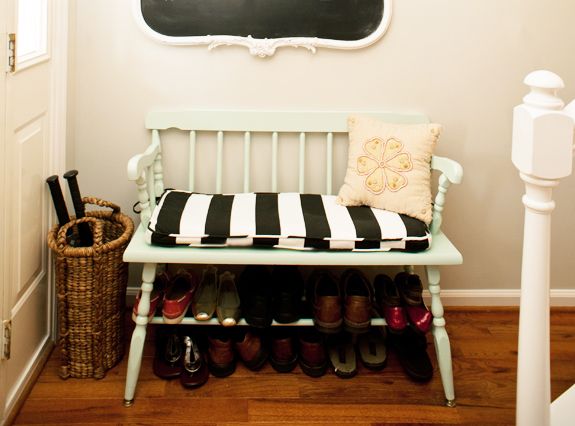 "The peach pillow is Anthropologie from about 10 years ago. I found the beachcomber basket at Home Goods for $20! A similar one is at Pottery Barn for more than a $100. We use it for umbrellas and Parker's baseball bats. We've gone back and forth on whether to add baskets under the bench but ultimately we decided that we like the shoes lined up, makes it look like a real home. Todd is probably just agreeing with me on this one because he's sick of me bringing home baskets and storage containers. I have a slight obsession with both.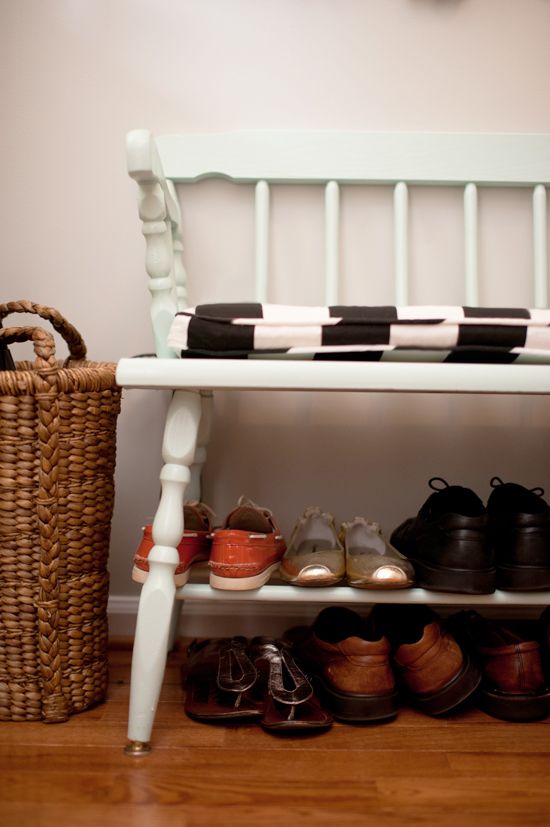 "Other than the hooks in our kitchen, we didn't have any black and white in the house so I made this bench pad using a 3 inch black and white stripe material from Premier Prints. I recently bought some laminated fabric though to make a new pad cover because every time we use the chalk board, chalk dust falls all over the pad. I've washed it a couple of times and every time I do the cover gets looser and sloops. But seeing this laminated fabric makes me think that I may need to re-paint the bench all together.
"After seeing and loving Christina's frame turned chalkboard, I set out to do the same. We found the antique mirror on CL and spray painted it white. Before painting the mirror with chalkboard paint we put on a coat of BIN primer.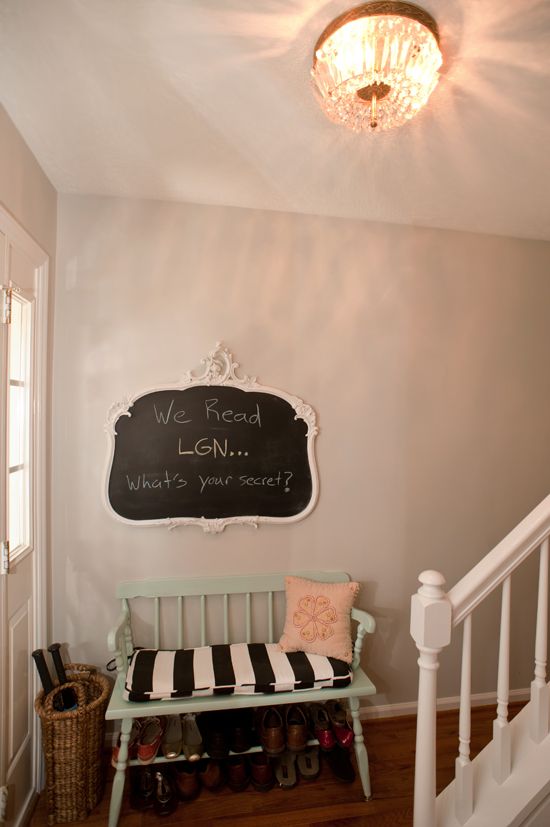 "I LOVE our ceiling light! I'm all about vintage crystal lights, plus we needed something that didn't hang down very far so it wouldn't hit the door when it opened. This one was perfect.
"The banister and hand rail going up the stairs used to be that awful gold oak from the 90's, but my sweet dad painted them with white oil paint so they match the rest of the trim. (Jenny here. I'm going to sneak in this photo Emily sent me right after a gallon of paint exploded all over her at the check out at Home Depot. The paint guy forgot to hammer down the lid after mixing! Eeps! :) You can also see the before in the background here)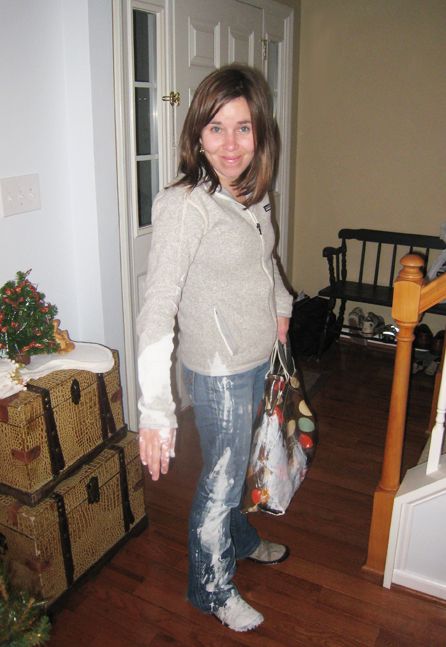 "To the right of the front door, as you walk into the living room, is a little piece I bought at Home Goods.
"We were looking everywhere on CL and at the flea market to find a narrow piece with storage that could go in this spot. When I saw this at Home Goods it was perfect only it had painted flowers all over it.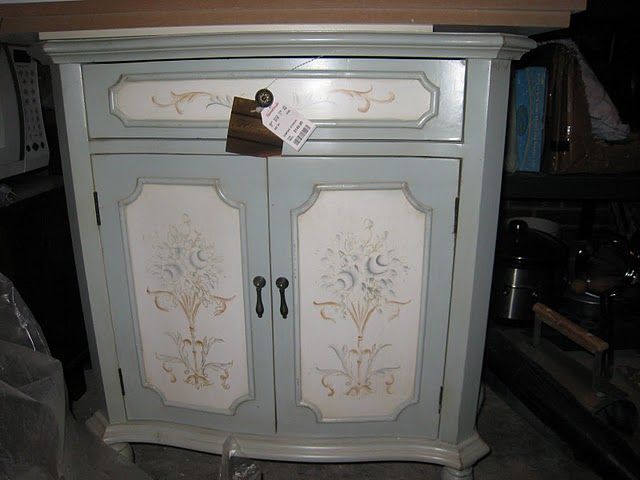 "We painted it Benjamin Moore Wolf Gray and added bone white knobs from Anthropologie.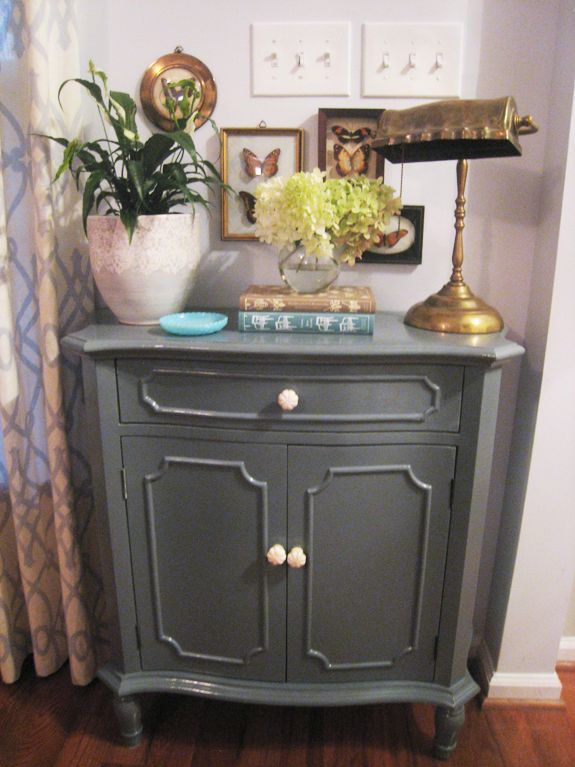 "I've had the hardest time decorating the top. Those darn light switches get in the way of everything. Thank you Jen for posting about framed butterflies. I got on ebay and found this set of small framed butterflies. The antique brass lamp is from my parents and the flower pot is from Home Goods.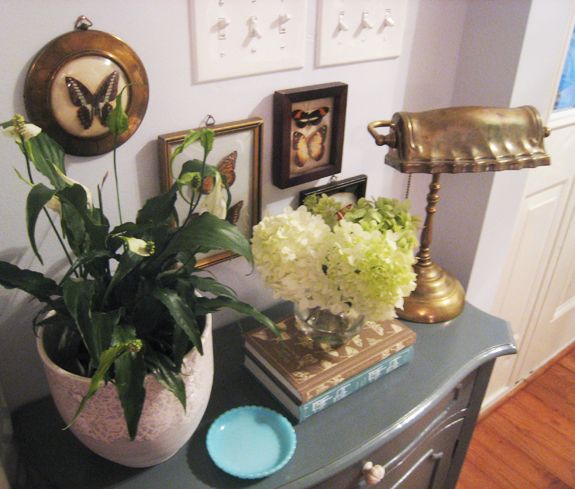 Sources
Chalkboard: Frame found on CL, turned into chalkboard
Bench: CL
Bench cover: Fabric from Premier Prints
Pillow: Anthropologie
Basket: Home Goods
Vintage crystal light: ebay
Entry console: Home Goods, painted Benjamin Moore Wolf Gray
Knobs on entry console: Anthropologie
Books: Amazon
Framed butterflies: ebay
Flower pot: Home Goods
Blue milk glass dish: flea market
Antique brass lamp: gifted
Hydrangea's: garden (all of the flowers in these posts have been from our garden)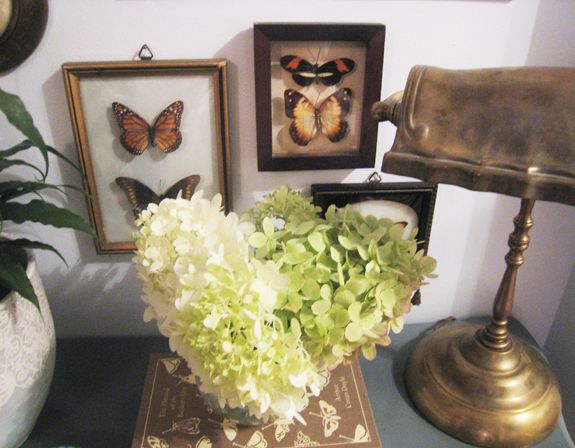 On to the laundry room!!
"Funny story about this room. It's probably TMI, but the night before I was going to paint this room Todd and I had a little tiff (I have no idea what it was about). Anyway, when I woke up in the morning he had painted the ceiling, taped everything off, and cut in all the lines. Basically, all I had to do was roll it. And he left me a sweet note on the wall.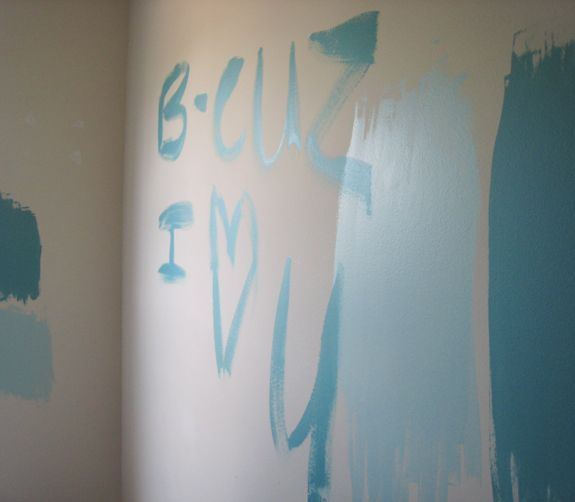 "When it came to planning the laundry room we decided to go bold. I always want to use these kinds of colors but I usually chicken out. The laundry room seemed like the best place to have fun. The fabric on the roman shade is by Anna Maria Horner. To hide all of the storage above the washer and dryer I made two lined curtain panels, this fabric is Heather Bailey.
"We needed a place to hang clothes that couldn't go in the dryer and to dry wet rags and dish towels before throwing them into the laundry basket. I love the drying racks at Ballards but we didn't want to spend that much money. So Todd built this simple drying rack for about $5 and we painted it a shade lighter than the walls, though you can't really tell. We opted to get the stands for the washer and dryer for extra storage which meant there isn't really a surface area for setting clothes down while you switch out the loads. The hamper from Target fills that role. I originally wanted something like this but it was too big. I use the hamper for rags, dish towels, and bath towels, basically things that I don't wash until we are out. It's nice to hide them away in a covered hamper and since we dry them on the drying rack before putting in the hamper they don't get stinky.
"My favorite part about this laundry room other than the color is the art. I first heard about Leslie Graff when Caitlin Creer blogged about her. I ordered a set of 5 post cards and framed my favorites in Target frames. I think she's come out with a few more prints since we ordered these. These would be so fun in my future office/sewing room too.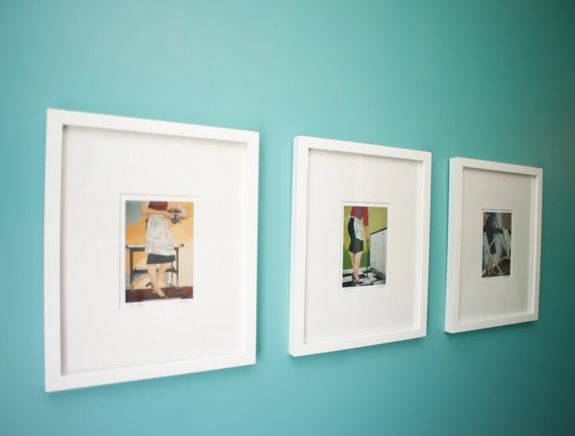 "For the red light we bought a $10 brass light fixture from Habitat and spray painted it. The ironing board is mounted on the back of the door and a big linen closet is on the left just as you walk in. Someday I would love to tile this room.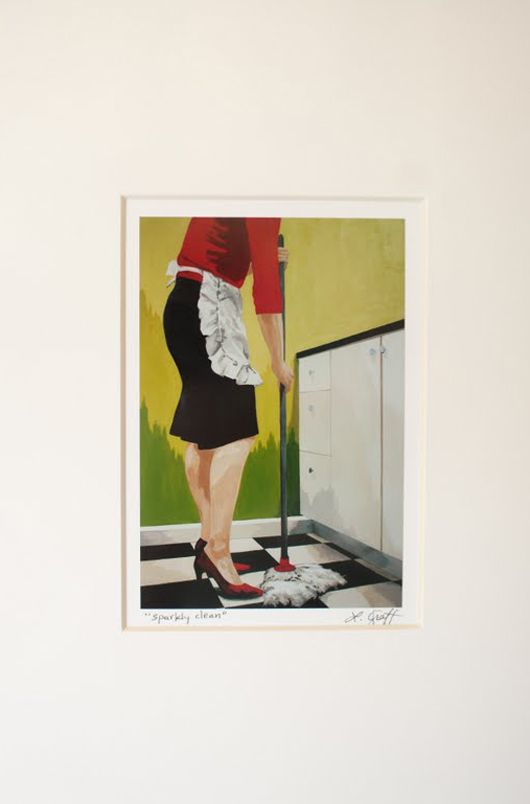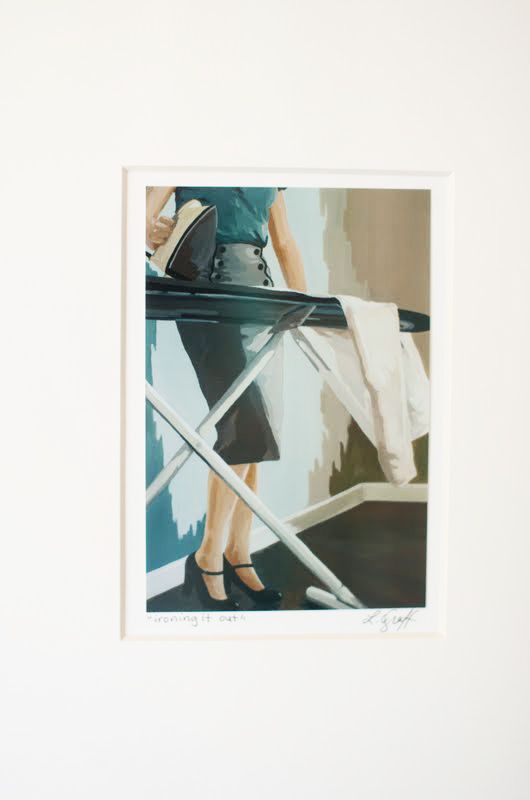 Sources
Wall Color: Peacock Blue, Benjamin Moore
Hamper: Target
Art: Leslie Graff, frames from Target
Rug: Eatman's Carpets, Raleigh, NC
Light fixture: Brass light from Habitat, spray painted red
Drying rack: homemade
Roman Shade fabric: Anna Maria Horner
Curtain fabric: Heather Bailey