We already got an In-Progress peek of Todd and Emily's kitchen HERE, but now we get the full version! Here's Emily:
The day after we closed on our house we had Bull Restoration in Raleigh come and paint our kitchen. They did more than paint, however. They added molding above and below the cabinets, new sides to the exposed cabinets, and new doors. I wasn't up for living through a kitchen renovation at the time so we opted to have them painted and they were done in about 1.5 days.
While they look beautiful and they did a great job, I regret not taking more time to decide. I had never painted anything before (at the time this was happening) so the thought of painting them myself and having it look professional seemed impossible. But if I had waited 6 months I probably would have had them just add the molding and doors and then we would have done the painting. They used a special kind of paint which makes it look professionally done (like we bought them white) but it's not an easy paint to work with when you need to do touch-ups, and a white kitchen needs lots of touch-ups.
(kitchen before)
We went with a black granite that has a little bit of texture so it doesn't show crumbs and fingerprints as much as a jet black granite.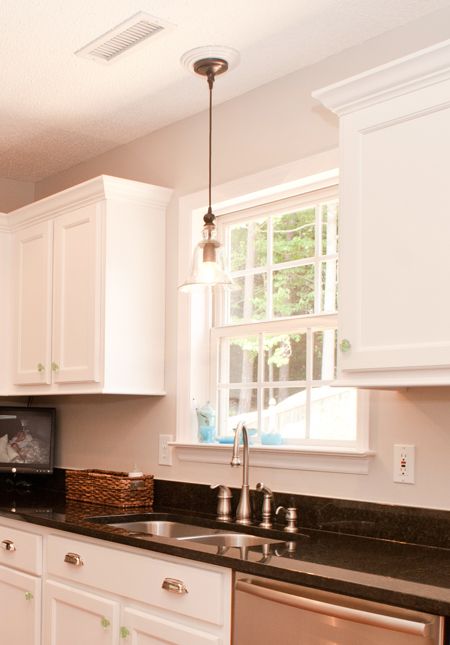 For lighting, Todd removed the huge neon light and installed canned lights. He also hung a pendant from Pottery Barn.
The aqua knobs are from Anthropologie and the pulls are Restoration Hardware. While I love shiny pulls, I had no idea they would show every single little finger print.
To add some color and pattern we fabric wall-papered the backs of the glass front cabinets. The fabric is a Joel Dewberry home décor. Jenny posted this project almost a year and a half ago (time flies!).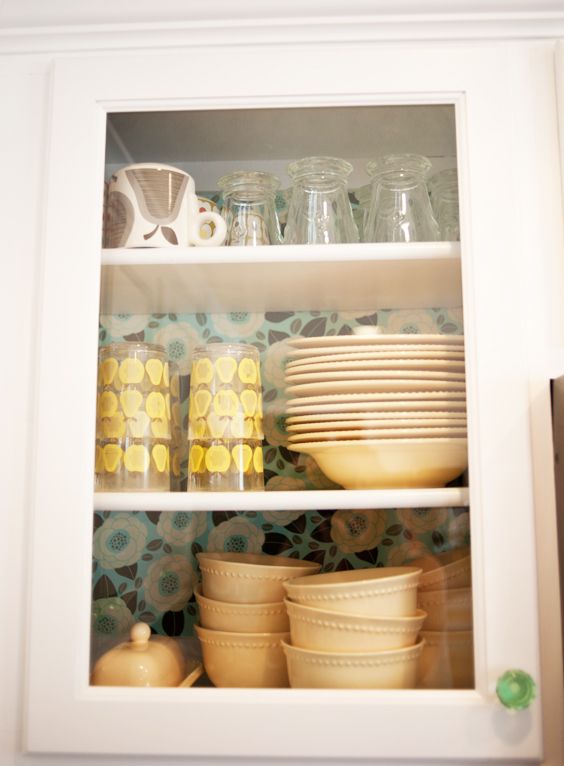 We recently continued the hardwood floors in the kitchen (yea!), it looks so much better and now the floor isn't so cold. Plus, that tile showed everything! Very frustrating from a cleaning perspective. Although I'm a pretty decisive person in general, I cannot decide on whether to do a rug in here or not. I love the look of the Persian rug in a kitchen like what Jenny has, but this area gets trashed and I'm afraid I would get sick of trying to keep the rug clean and free of debris. Maybe just a small one in front of the sink area?
The blue milk glass on the ledge holds all of our little odds and ends that seem to always pile up at the kitchen sink like water color brushes and baby medicine syringes. The basket to the left of the sink is for bottles.
On the other side of the kitchen (the side you see when you walk into the room) we have two hanging wire baskets for miscellaneous items like coupons, magazines, baby monitor, bug repellent, chalk, etc.
Across the hallway is the fabric-covered cork board. We used a mirror that was a gift from my MIL and turned it into this corkboard. This was the first cork board I ever did and I didn't research it very well thinking it looked pretty straightforward. But after putting it all together the tacks didn't stay in, so in my ignorance I bought more cork board thinking it just needed another layer. They stay in a little bit better but not great. I definitely recommend cutting a piece of cardboard to put behind cork boards like we did in the office.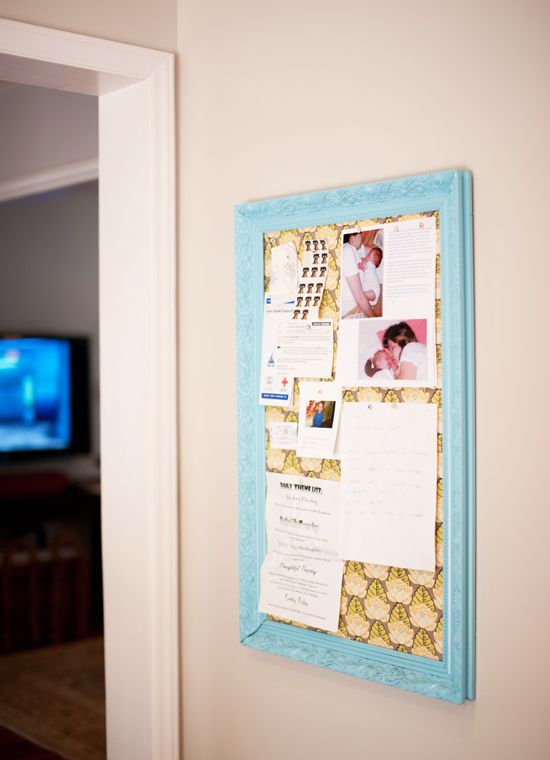 On the other side of the fridge are our spices attached to the side of the fridge.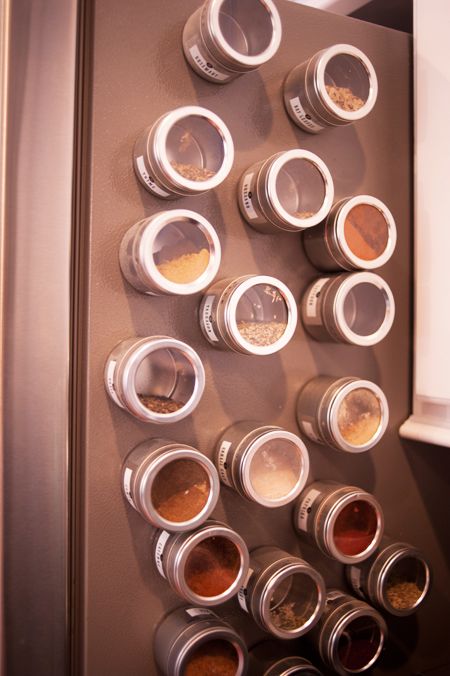 I thought we would eventually get a magnet board for these but there just isn't room and I like that they are hidden away.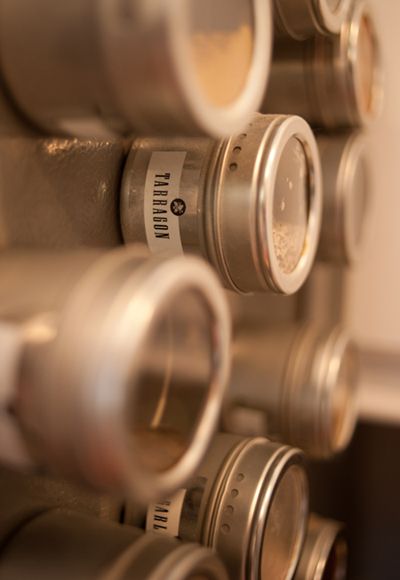 The glass containers of flour, oats, and sugar are from Wal-Mart and the vintage scale is from Anthropologie from years ago.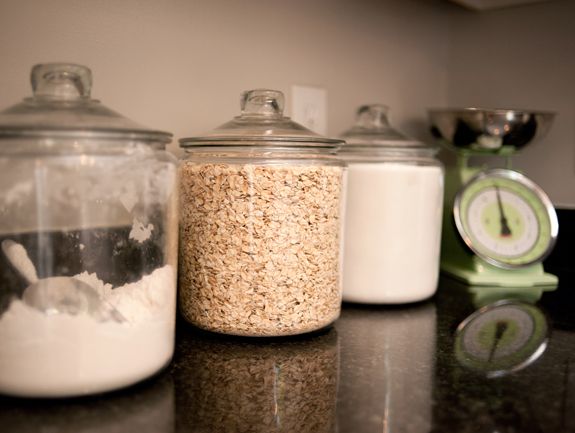 Last winter we discovered that our back sliding door was broken and had to get it replaced. I really love the French doors. I had a piece of sisal cut at a local rug store to fit the French door and run under the boot tray (Smith and Hawken for Target). A traditional runner was too long. The bench is from my room growing up and holds all of our work clothes, and the pillow is from Anthropologie from 10 or so years ago.
I love my row of hooks. The hooks are Anthropologie and the wood is an old piece of black walnut that a family friend had in his work room. We just stained it darker. He had the hardest time understanding why I wanted an "ugly" piece of wood and kept offering to cut it and make it even. :) We turned our coat closet into a pantry so this row of hooks is where we have all of our daily coats, sweatshirts, and my aprons.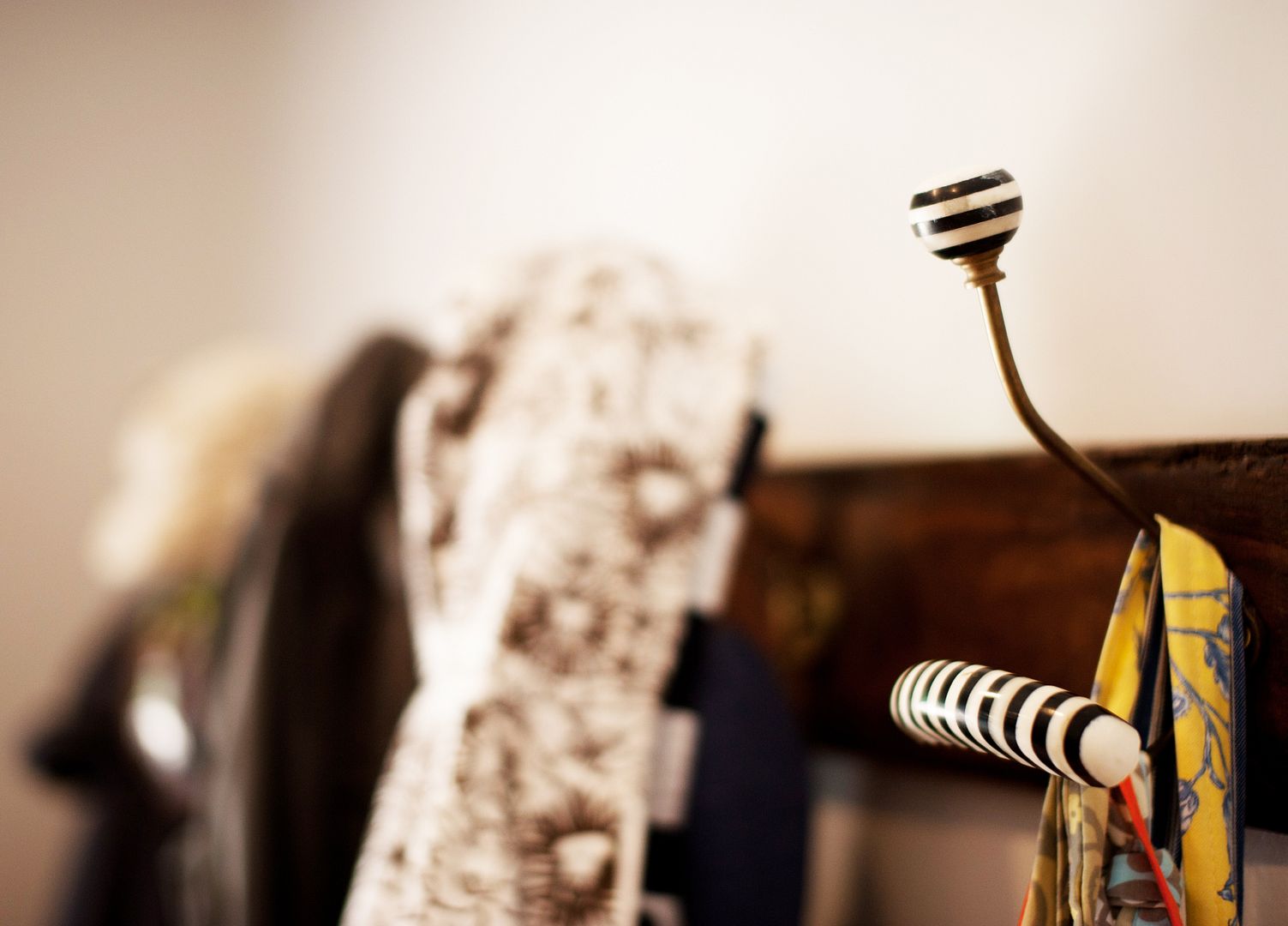 Recently (since taking these pictures) we added a large wire basket to hold all of the outdoor balls. It definitely crowds the space but we really needed something to hold all of the balls for Parker. Plus, I like that it's wire so it coordinates with the wire baskets next to the fridge.
The process of turning our kitchen into what it is now versus what it used to be has been a really good learning experience for us. Mostly, I've realized that I don't need a huge kitchen like the ones we always see in the magazines. While I would have preferred for this kitchen to be more open, the number of drawers and cupboard space is just about perfect for us. I think I would get lost in a huge kitchen and not remember where everything is.
Sources
Paint color: Benjamin Moore, Abalone
Bench: from childhood bedroom
Pillow on bench: Anthropologie
Wire basket for outdoor balls: Atticus, Spokane, WA
Knobs: Anthropologie
Pulls: Restoration Hardware
Fabric in back of cabinets: Joel Dewberry
Spice containers: Bed, Bath, and Beyond
Boot tray: Smith and Hawken for Target
Sisal runner: Eatman's Carpets, Raleigh, NC
Fabric covered cork board: gifted mirror turned into cork board using Amy Butler fabric
Wire baskets next to fridge: Gatehouse, Orem, Utah – I've seen similar ones at Home Goods
Blue milk glass: flea market, ebay, etsy
Pendant above sink: Pottery Barn
Paper Towel Holder: Papaya and Company, Orem, Utah
Wooden tray (right of stove): World Market
Vintage style scale: Anthropologie
Glass containers: Wal-Mart