Guess what? In November I bought a vintage dining set off Craigslist from another decorator. We had been using that farmhouse style table for about two months, and it just wasn't working in our space. It didn't look or feel right to me. The biggest problem was the table top was not on the leg frame in the antique shop, so while I measured everything before buying, the top ended up sitting strangely high on the frame and made the finished height more than 32″, pushing 33″. It was uncomfortably high for me – even with the taller chairs I was using. I felt like a little kid at the table, which was weird. (Lily Tomlin style)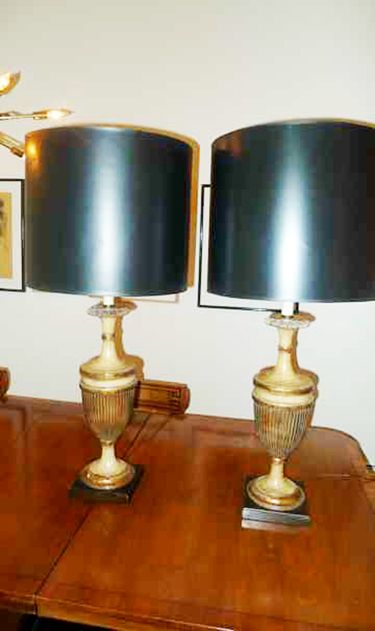 I was able to sell the farmhouse table for about what we paid for this new dining set, so I didn't feel quite as bad/guilty as I would normally. Plus the seller threw in a really great pair of lamps that I'm also using in the dining area (on top of the red credenza!)
I love the inside of the black paper shades: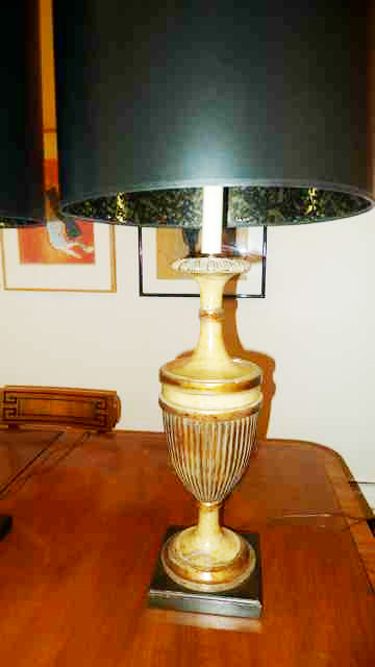 These are the seller's photos of the set. The table is actually longer than the 8′ farmhouse table was! We can very comfortably seat eight and we've even had ten people over, which was also just fine.
Here are the things I love the best about the table:
The pedestal legs are so pretty! I especially love the casters.
I love the blond-ish wood against our white floors! I know it's not really, but I love that it has an almost Biedermeier color to it.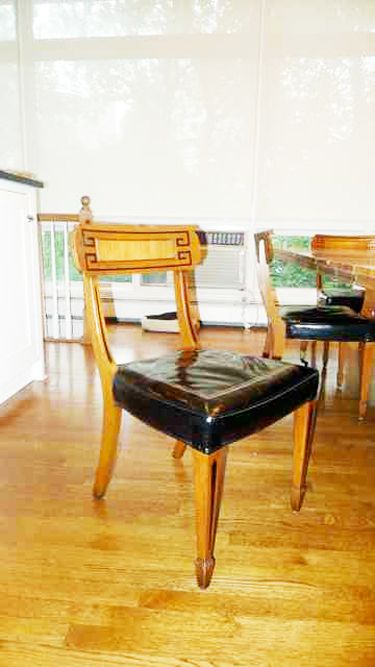 The inlay on the table top is subtle and pretty, and of course I love the Greek key detail in the Klismos style chairs.
The seats are tooled black leather in sort of a patent finish, and are just the right amount of broken-in. They are unbelievably easy to clean and super comfortable!
I'm getting some upholstered host chairs in a fun pattern and am finishing the art above the table, so I'll share photos of the dining set in situ when the other pieces are ready to show.
Happy weekend!
xx