I love the look of using an ottoman as a coffee table. But large upholstered ottomans can be so (!) expensive.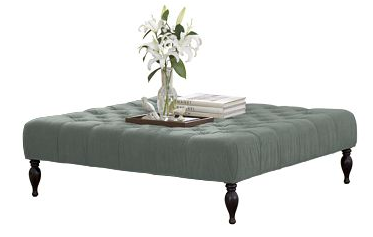 I think I shared this story before, but a few years ago we lived in Washington D.C., where there is a Restoration Hardware outlet. One magical/terrible day I walked into the store and there, right in front of me, was the most gorgeous and glorious upholstered ottoman (normally $1200). Price tag? $150. No joke. With the understanding that the salesperson knew I wanted to buy the ottoman, I stepped out of the store (no reception inside) to call my husband about the purchase (our rule is no purchases over $100 without a team discussion). I skipped back inside the store after getting the go-ahead from Michael, only to find the ottoman no where in sight. Someone else had bought it in those few short minutes and I felt like such a fool. Saddest. day. ever.
Fast forward two years and I'm still thinking about the gorgeous velvet ottoman. Since I don't have $1200 to spend on the same RH ottoman, I decided to try and make a similar ottoman out of a coffee table.
I decided that I needed a smaller size ottoman for our living room. I thought 35-40″ would be the right size. And it couldn't be more than 16″ tall. And I wanted a square table, not a rectangle. And I wanted sort of chunky, turned legs. I know, picky, right?
But Craig's List came through for me again. $25 for this heavy, solid wood piece.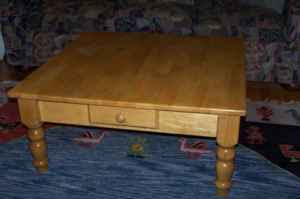 Perfect dimensions (36x36x16). Just needed some paint on the legs for that dark-stained look I wanted. I used Ralph Lauren's "Galvenized" in eggshell for two coats and sealed it after that.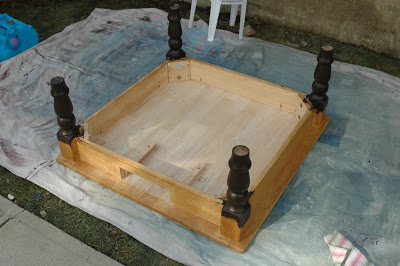 I marked out where I wanted my 16 tufting buttons to lay and drilled holes in the table top.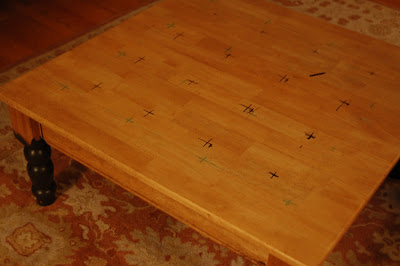 Then I used a little spray adhesive to hold my 2″ foam (from JoAnns) in place.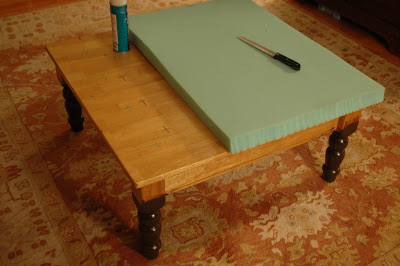 I also cut up some of the left over foam and adhered foam strips to the apron of the table to fill in the empty space under the lip.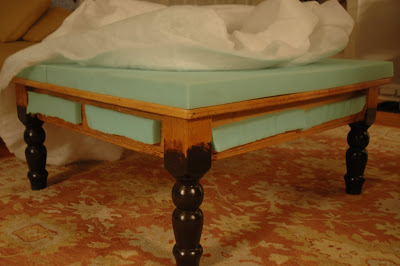 Then I wrapped the apron in batting and then the whole table was covered in a sheet of quilt batting (no photo of that step, sorry).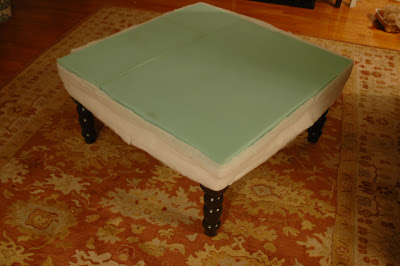 Using the 16 drilled holes as my guide, I adhered the tufting buttons (which I made with a button kit from JoAnns) with upholstery thread and a long needle.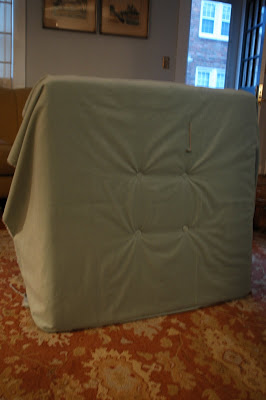 I used regular plastic buttons to anchor the tufts on the underside of the table.

Once all the tufts were in place, I stapled the fabric edges to the underside, being sure to pull the fabric really tight. Then I tackled the corners, which was the trickiest part.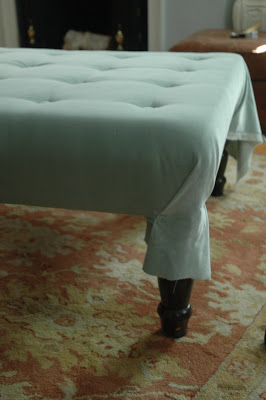 I decided to use upholstery nails on just the leg area where I did sort of hospital bed corners with the fabric. I might end up redoing this part, but I think it's fine for now.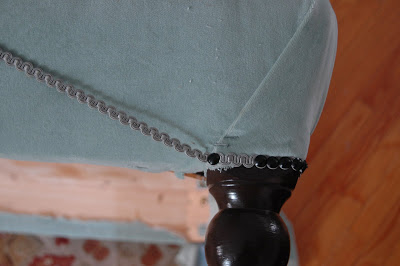 Here's the finished product. What do you think? Does my $60 project compare with the $1200 Restoration Hardware ottoman? Maybe not, but it will do for now!