One of the hardest things about living in Phoenix is we don't really get to experience the seasons in the same way most of the country does! But the flip side is that October marks the beginning of about eight months of perfect weather here. We fling open our doors and windows and we eat out on the porch from now until May! As much as I miss fall foliage and the occasional snowfall, I feel like I can't complain.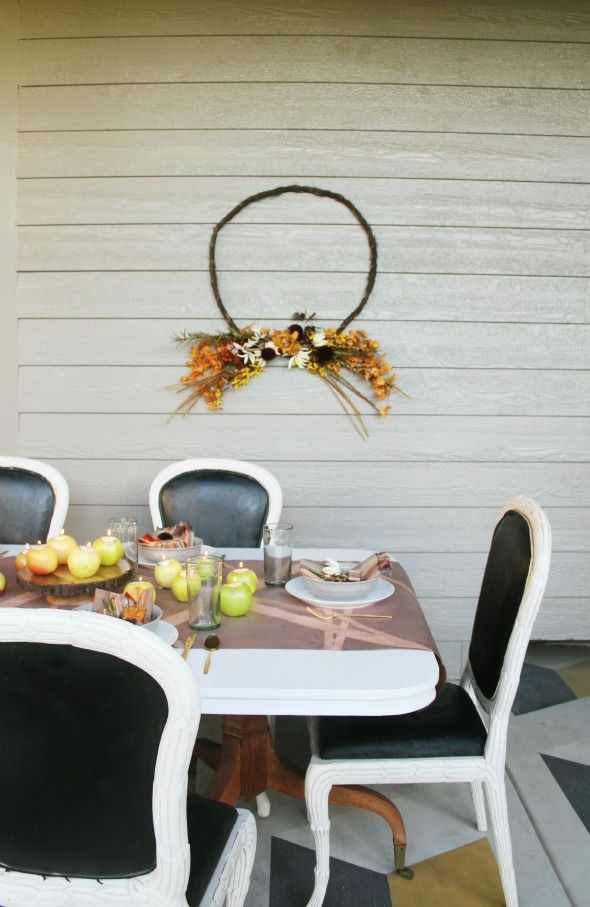 It's still fun to celebrate all the pretty parts of the seasons though! I teamed up with Pier 1 to decorate our back porch for a special fall dinner party. They have a ton of beautiful fall decor and entertaining pieces right now, so it was easy to get inspired. This woven napkin was the starting place for my color inspiration. I used a little bit of rosin paper and two different widths of painters tape to create a random, abstract pattern.
Then I painted over the paper and tape with Rose Gold metallic spray paint and then peeled away the layers of tape.
I love the tone-on-tone color happening here!
I think the white dinner plates (such a great basic to have handy!) really pop against the metallic rose gold. I served a yummy vegetable beef stew for this dinner party in the pretty gray bowls, which are the perfect size for such a hearty stew.
We kept all the food inside, just a few steps away, so it would stay warm and protected, and this way I was able to keep the table freed up for a cool center piece.
I picked up a few dollars worth of apples in different colors – from bright green to dark red and all the shades of apple in between.
It's easy to keep these apple votives looking fresh for your party (and beyond) if you give them an apple cider vinegar bath before cutting into them. About half a cup for every couple of gallons of water in the sink is enough to help kill bacteria on the fruit's surface. (This works great for pumpkins too!)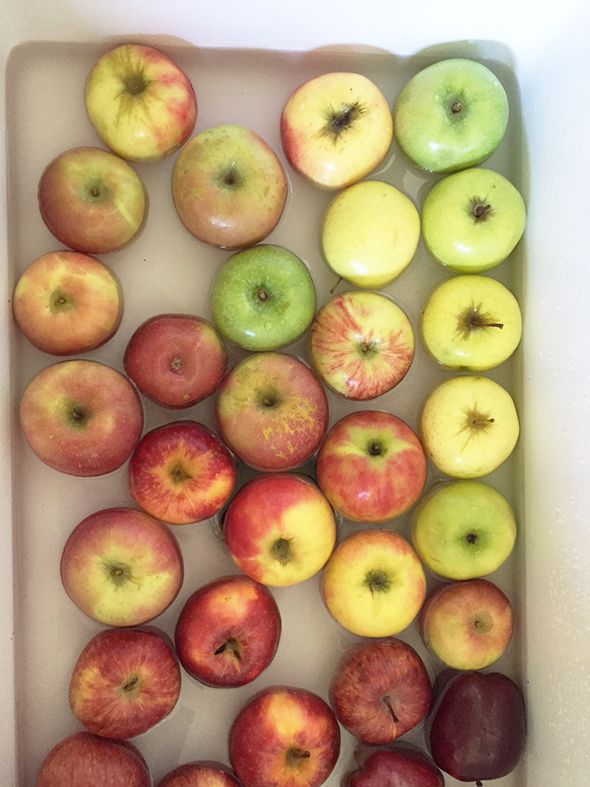 Once your apples have been cleaned, and about half an hour or an hour before your party, it's time to get your apples ready.
These little tealights
are the perfect size to use for most apples.
A melon baller is also just the right size for creating the space to make these votives. You just sort of press the edges of the melon baller in to the top of the apple to cut through the skin, and then scoop it out at just about an inch deep.
You can use lemon juice or saltwater on the apples as a preservative to help prevent them from turning brown.
It's a surprisingly quick and easy centerpiece! It takes about as much time as making a pretty flower arrangement.
I arranged the apple votives by color, sort of ombre style, down the center of the table on top of three of these adorable
wooden cake stands
.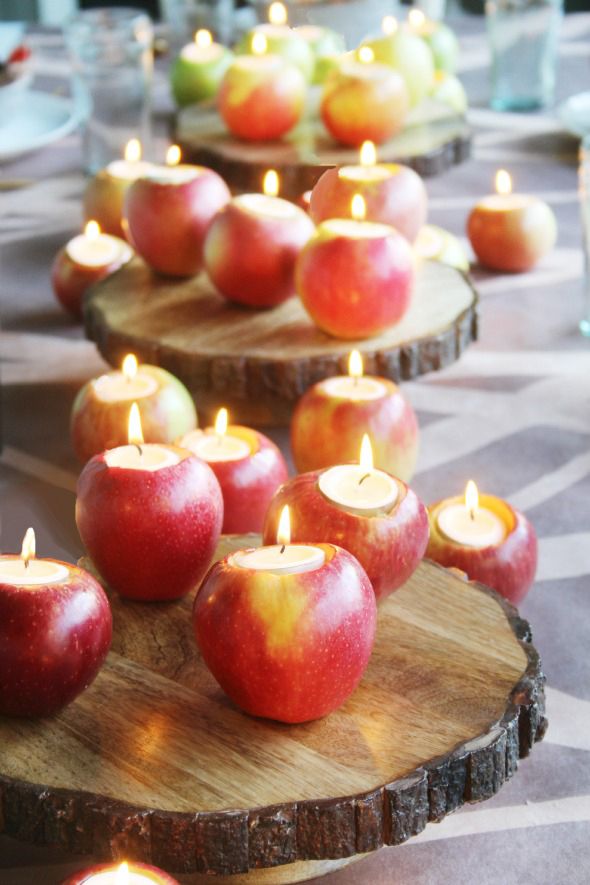 It was so fun to have the votives burning especially as it got darker into the evening. It was beautiful!
I love the simple wreath trend that happening right now – it's such a modern twist to a really traditional look. And the bonus is their easier to make this way! Pier 1 has some really pretty silk plants in their fall line that I wanted to use for my sparse wreath to hang above our table.
I used a length of grape vine as the ring of the wreath and then cut 12″ lengths of greenery and flowers to make the bottom portion.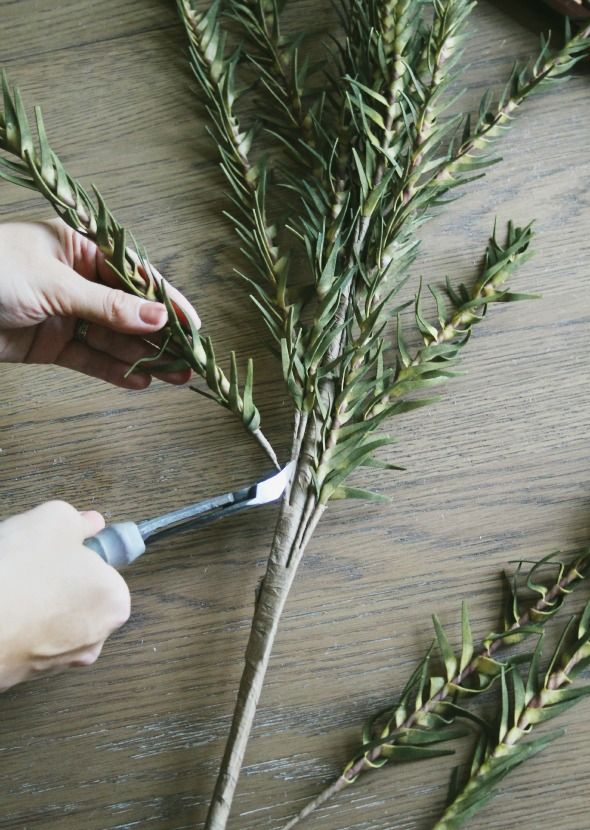 Like with any wreath-making project, you just have to layer and then wrap tightly with floral wire. It could not be easier!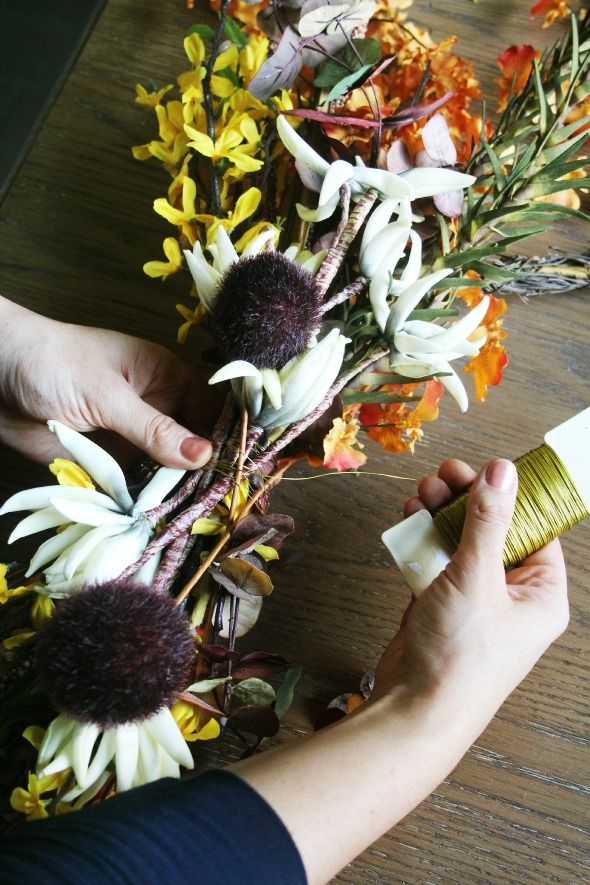 So simple and sweet, right? I feel like our house color (Benjamin Moore's Desert Twilight) is the perfect backdrop for the fall colors in the wreath. :)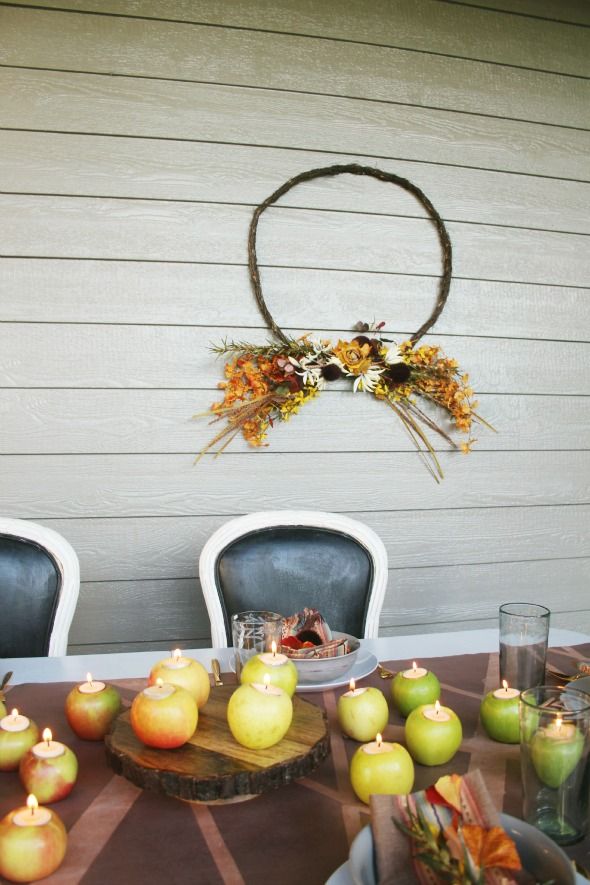 I had some extra flowers leftover from the wreath project, so I made little bouquets and tags for name cards. I think they look so pretty in the mix happening on the table!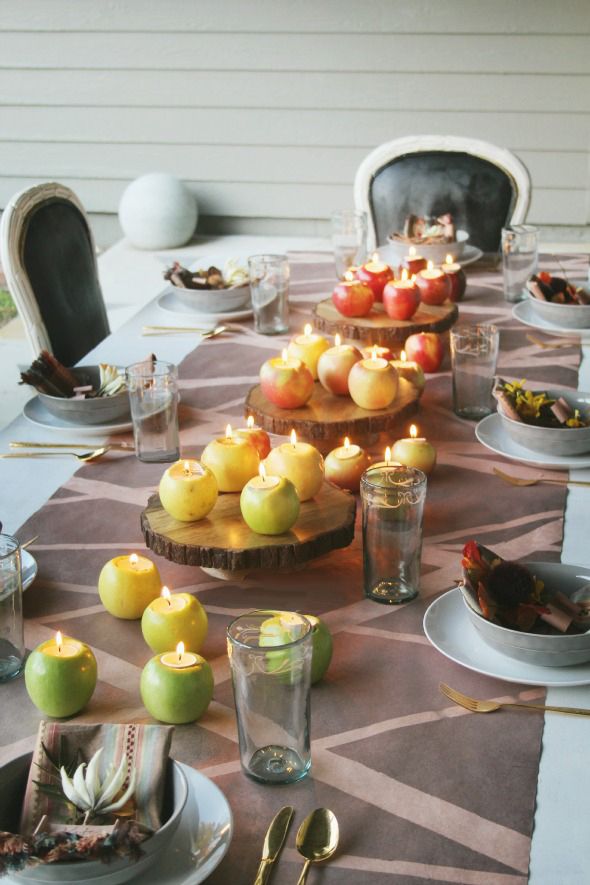 I love that a few extra projects can make a dinner party feel so special! I think any of these ideas would work so well for a grown-ups Thanksgiving table! And I'm hoping to make a few more wreaths to give to my mom and sisters. They're so easy and pretty!