Holidays are made for you at Zazzle. Find cards you'll covet at http://www.zazzle.com/holiday+cards.
Years ago, I used to really go all-out with our holiday cards. I'd spend hours and hours on the things, hand-crafting every part. But that was before my life became virtually one giant creative outlet, and in recent years, when I have actually managed to get cards out, they've been pretty generic. I had made it a goal to do something manageable AND special this year.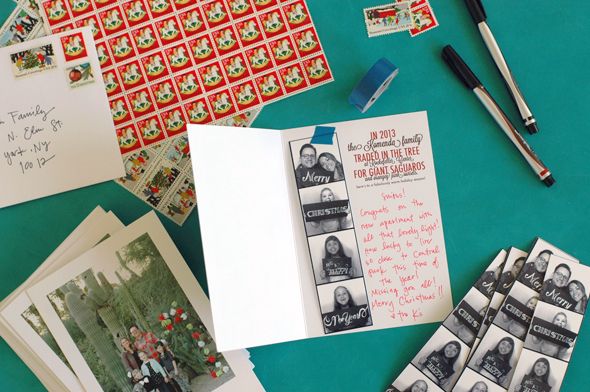 So when Zazzle invited me to use their site to make my holiday cards, I was happy for the chance to get them done early and done right.
For the front of our 5×7 card, I wanted a family photo that had a little something to do with Arizona and that told the story of our recent move. I made a tiny tissue paper pom-pom garland and strung it on a cactus patch sort of near our house to make things look a little more festive. While we were taking photos, a huge flock of about twenty peacocks came wandering by! It was awesome (and a little terrifying, to be honest). The girls have been talking about it non-stop since!
On the inside of the card, I wanted to do a photo booth strip insert. I drew some words on black foam board using this google search as a reference and I painted in the lettering with white acrylic paint. Looking back, it would have looked a million times better to use a white paint pen, but you know, whatever. Thank goodness for grainy photo booth photos.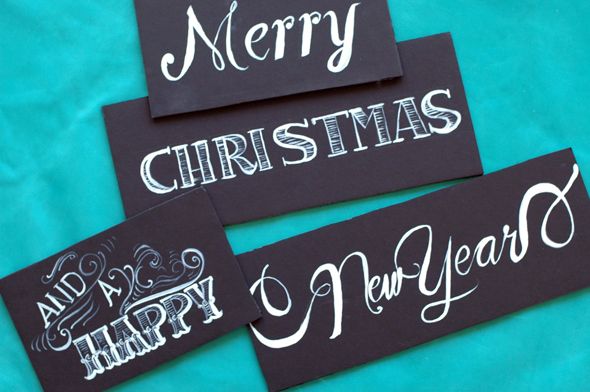 We found a photo booth at a shopping center and took one strip of photos each while holding one of the signs. This photo booth made things super easy on me and automatically uploaded all the images online, which I was able to access later with a code. I picked one photo from each of our photo strips and photoshopped them into one new strip. I had the strips printed out three to a page to save money and I cut them to size for the inside of the cards.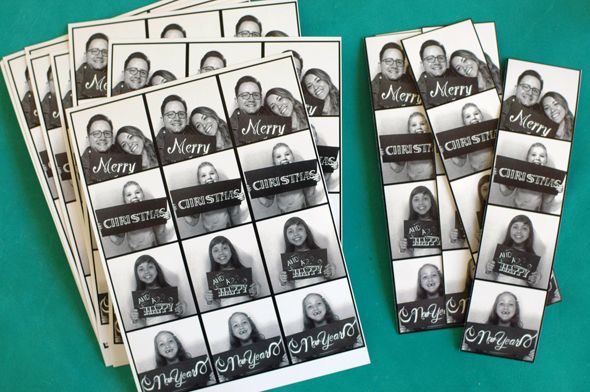 I used a little washi tape to attach the strip to the inside of the card. I think I'll go back to the store to find some different colors of tape for when I finish assembling the cards over the next month.
I kept the printed message pretty short on the inside of the card to leave room for a place to write a personalized message. I love getting (and sending) hand-written notes, especially during the holidays when we're all so busy. The extra care and thought feels really special to me.
Another one of my favorite things to do is to buy vintage stamps for the envelopes. You can get full sheets on eBay for just a few dollars and then just mix and match.
Zazzle also offers a custom stamp option that I was so tempted by! I had thought about printing out a photo of Linus with a big Christmas bow around his neck! :) They also sell some really cute vintage-looking stamps if you're not wanting to deal with the eBay route.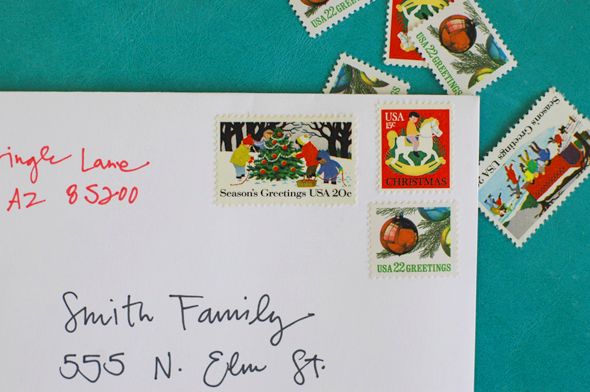 I'm so happy with the quality of the Zazzle cards and my large order came so quickly. I can't tell you what a relief it is to have these done this early! I'm feeling majorly on top of my game here. :) And now I'm wondering what are my chances for getting all my Christmas shopping done before Thanksgiving? Can you imagine?!