We've been living here in the middle of renovations for a little over two months now, and I'm starting to notice a pattern where I start a big project and work like crazy on it for a while and then I get a little burnt out on the labor or stuck on a decision or we'll need to order something to move forward. So rather than pushing forward with the one mess I'm already in the middle of, I'll do the least helpful thing – I start another major project. Like the stairs. I started the stairs this weekend. Why? Why wouldn't I finish the floors before filling and sanding and painting the stairs? Just dumb.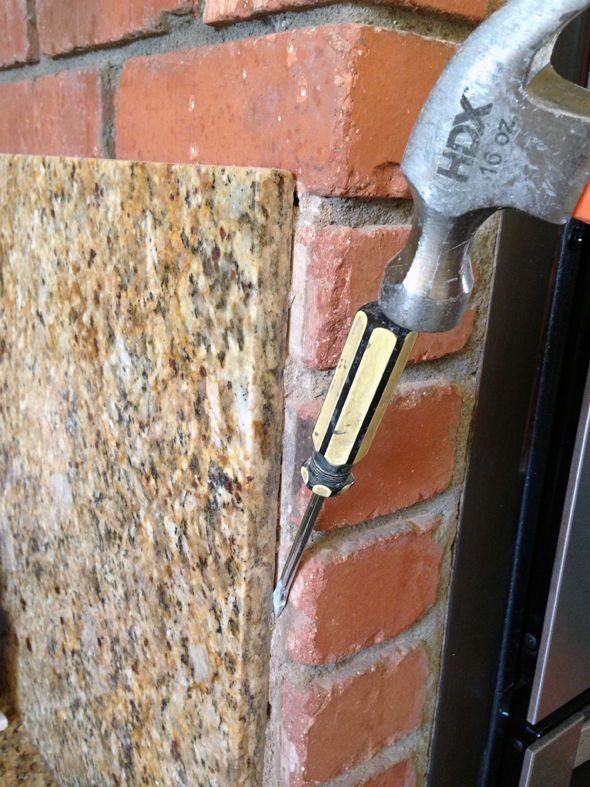 Then last night I went to the kitchen to get a glass of water and I ended up prying off the rest of granite backsplash. WHY.

I told myself that I wouldn't dedicate even an ounce of creative (or physical) energy to the kitchen until after the floors, stairs and fireplace are finished. But we're about 90% done with each of those projects (I knocked out a good two coats on the stairs this weekend!), so it's hard to avoid thinking about the kitchen more and more. I think it's because I'm a little stumped.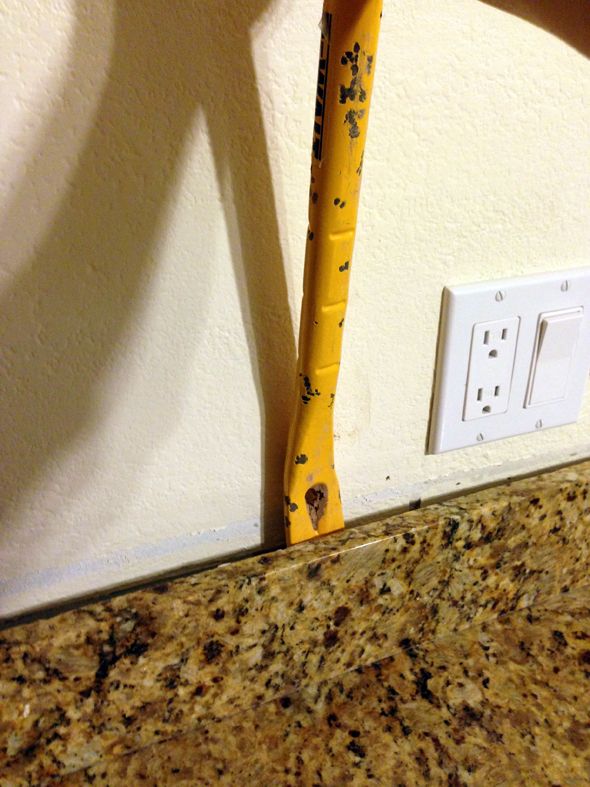 I'm just aching to have an all-new kitchen (I know – diva alert), but I think I'm still committed to the plan of doing what I can with the space as it is now. After posting about the kitchen last, my friend Abby emailed over a link to this fabulous kitchen reno that was done on a budget. The owners had a really nice kitchen before but one that didn't really fit their aesthetic, so they tweaked it. I LOVE what they decided to do with their polished green marble countertops. They had a stone specialist come in and hone the marble on site.
Isn't the veining beautiful? I love the honed finish. The owners decided to leave the newly honed marble unsealed, which I know isn't for everyone, but sounds completely lovely to me. The author summed up my feelings perfectly when she wrote that she loves her paint jobs to be crisp and perfect and her counters to show wear and tear of use.
Of course Abby's email and the article got my wheels spinning so I called a few stone guys in our area. One of them quoted me $200-$250 to do the whole kitchen, which was a total steal. He hasn't been good about returning my calls though and my confidence in his skill-level is iffy at best after our one conversation. The other guy I spoke with, who came highly recommended by friends and who I feel most comfortable using, told me his company would charge about $900.
I need to do some more calling around, but it's nice to have a range in mind. I don't want to totally cheap out here and be sad about the finished result, but I won't be paying a grand for tweaking countertops that I don't even love in the first place.
As I was pulling off the splash guards over the weekend, I noticed part of the unpolished underside of one of the cuts probably looks a lot like what my granite would look like after having it honed. I love that it is chalky and matte, and I like that the color is lighter, for sure, and those things alone would be worth forking over the $200. But I think it's just the speckling (and the yellow color) that doesn't sit right. I have a feeling these countertops might not change enough with the honing, especially not enough to merit anywhere near $1000.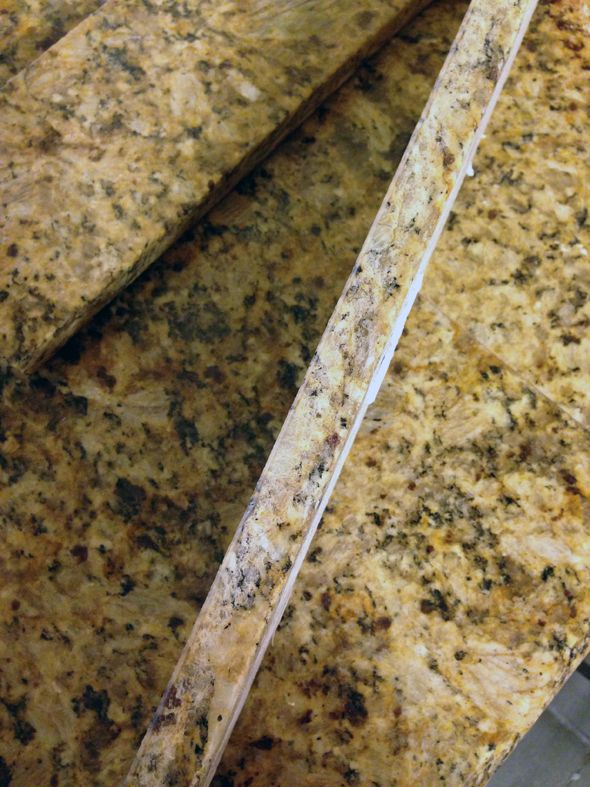 I do like how things are looking with the splash guard off though. It's less yellow on the eyes and it's a cleaner look. Maybe once the cabinets are painted and the new backsplash is up, the granite as it is won't bother me so much. What do you think?