Today I am SO excited to share a brand new project from my friends Suzanne and Lauren McGrath from Good Bones, Great Pieces. (Did you check out their amazing book yet? I wrote about it here.) I love how fresh this Brooklyn space feels!
Here's Lauren:
"This apartment is of a lovely young couple that found us through
our blog
. They live in an old brownstone apartment building turned co-op in Park Slope facing Prospect Park. Their apartment is small but Natalie (the wife) who is a real estate agent and often works from home, really wanted a space that felt cozy and chic. Natalie and her husband, a lawyer, are both from the Midwest, and they're still discovering the wonders of living in New York City. They love living here. It is so refreshing to see their enthusiasm!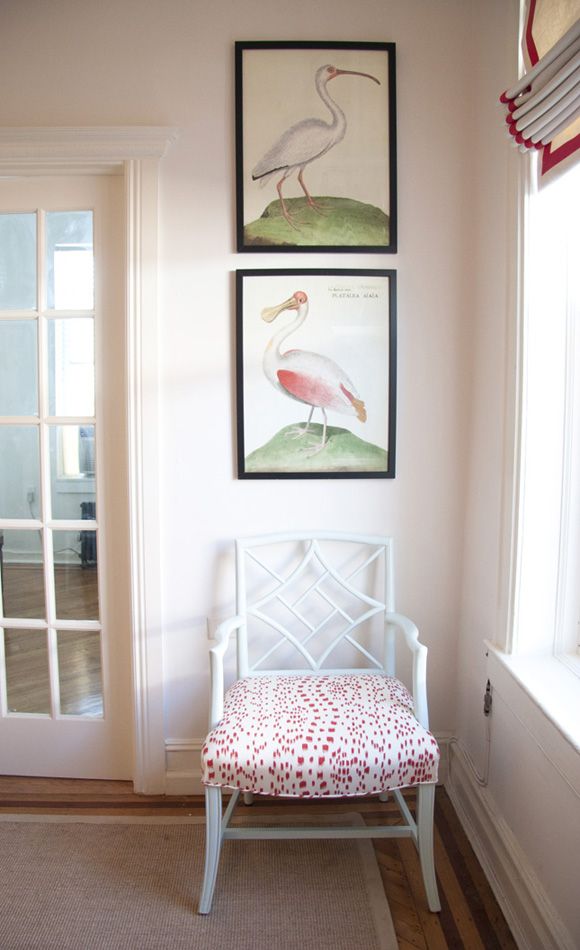 "They chose to live near the park so that they could be able to walk their beloved and ginormous dog :) The dog was in the apartment when we were installing all the furniture and artwork, and it was hysterical trying to navigate around him! Fortunately for us, Natalie and her husband truly wanted to hand over the design of this new place, so with a fresh start, they actually brought almost nothing to their new place. Most of the hodgepodge of merged furniture pieces was sold off on Craig's List. We were happy because we got to work with a clean slate- every decorators dream. It also helped that Natalie is such a delightful young woman.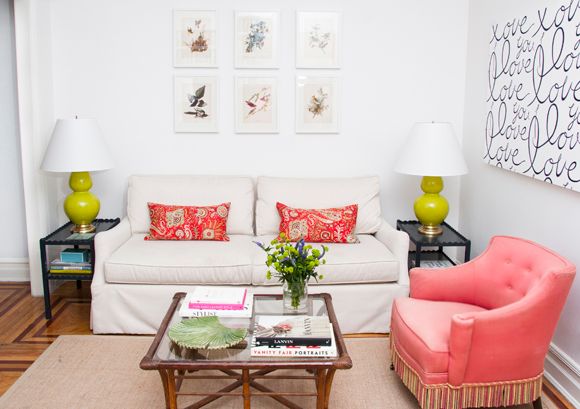 "We wanted Natalie's apartment to feel young and fresh and fun, like her! The first thing we purchased was the sofa at the Lilian August warehouse in Norwalk, CT. Once we had the main seating piece down, we were off and running! In terms of the color palette, we used the framed bird prints above the sofa as inspiration.These were taken from an old copy of "Audubon Birds of America" we found on a dusty shelf at a flea market.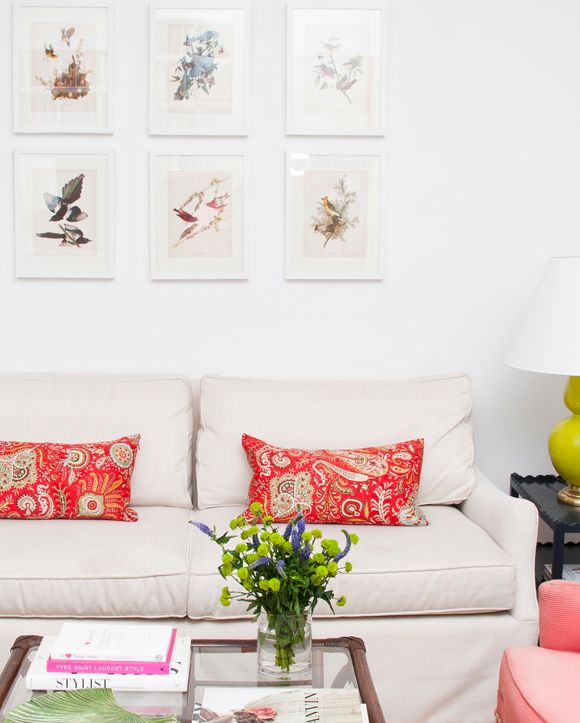 "We kept the largest upholstered piece neutral, as well as the rug, and injected pops of blue, red, green and pink with art, lighting, pillows, and other accessories. The show stopper was probably the amazing bird's egg blue lacquered Chippendale style chair Lauren found at Circa Who in Palm Beach, Florida. We chose to reupholster the seat cushion in one of our favorite Sister Parish inspired red and white prints. The combination jumps off the wall and makes us smile. Of course, we had to add cherry red tape to embellish the white roman shade on the window. It's so happy!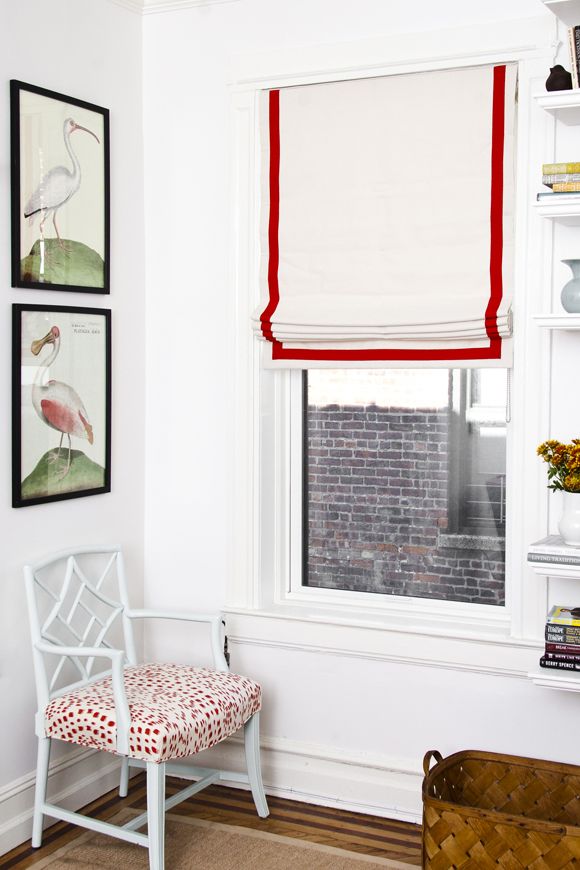 "The lamp on the West Elm Parson's desk is quite oversized, and we like it that way. It's important to have some pieces in the room that are of different scale, particularly in small spaces. The LOVE artwork was a small stroke of genius. We fell in love with this textile from Lu Lu DK's latest collection at Schumacher. We decided to buy a yard and had it strung to a canvas. Apparently this technique was all the rage in college dorm rooms in the 1980's. We're bringing it back, with whimsy.
"The bedroom is actually a very small room, but we made it look grand by walllpapering the wall behind the bed- they insisted on a King! We found an amazing headboard at an antique emporium, tucked behind many others. Upholstering it in a cotton velvet just made it look so luxe. Inexpensive swing arm lamps save room when there isn't any for bedside tables. In the end, it looks quite fancy, but it's not. Their dog sleeps at the foot of the bed, we think! Whatever, we know they're happy with their first nest, and so are we.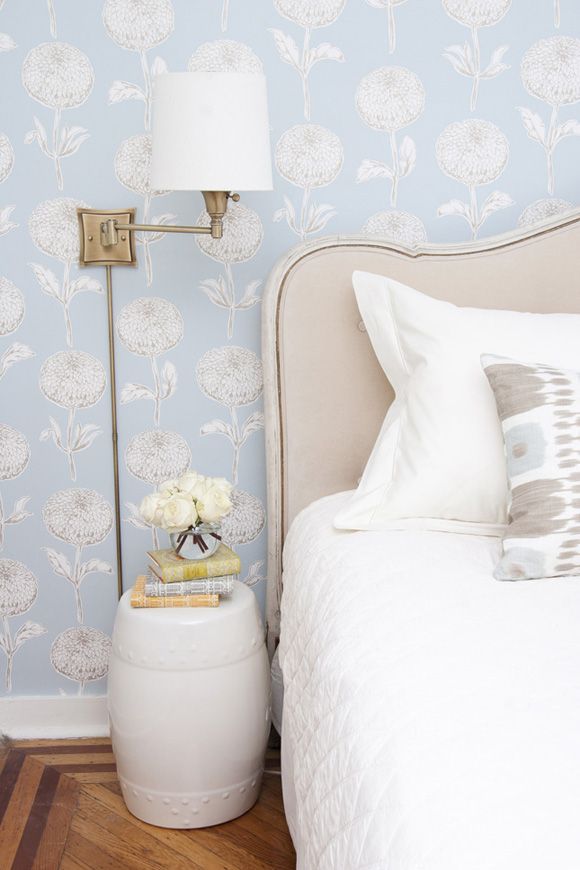 "This kitchen is very long and narrow but it was important to Natalie to have a place to sit and eat (since there is no dining room). We came up with a design for a built-in breakfast nook space which would utilize every square foot of space, and look like it was always there.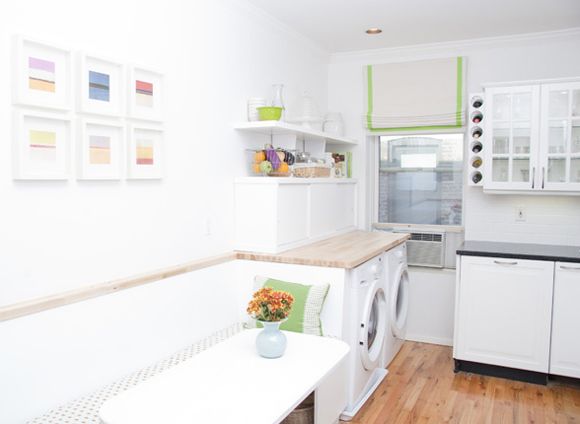 "We chose an adorable print fabric to make a custom seat cushion with, and it immediately looked welcoming and comfortable. The client found this table top at a thrift shop, then had a custom pedestal made to allow for leg room."
SOURCE LIST
Kitchen:
Custom banquette cushion fabric: Pindler and Pindler
Pillow: Pier 1
Table (client's own)
Art: Stolen ;) from a Rothko book and framed in Ikea shadow box frames
Roman shade: custom designed by us, Bright Apple Green Tape for Accent, Samuel and Sons
Living Room:
Sofa: Lilian August found at the warehouse store in Norwalk, CT
Pillows: custom pillows designed by us in a Brunschwig & Fils paisley
Coffee table: Found at the Salvation Army in Mount Vernon, NY for $15
Scallop-edge side tables: found at Braswell in Westport, CT , We lacquered them in a Ralph Lauren dark navy blue
Rug: Overstock.com
Lamps: Apple green, from Dovecoat, Westport Ct.
Bird prints above sofa: Taken out of the pages of "Audubon Birds of America"and framed in inexpensive frames found at A.I Friedman
Pink upholstered chair: found at Brimfield, from an estate in Maine
Art above chair: we created this large scale piece of art from one of our favorite Lu Lu DK fabrics for Schumacher. When the budget is tight we like to make our own art by framing a large canvas with a dramatic fabric.
Desk: West Elm Parsons desk
Stools: Found at Circa Who in Palm Beach, FL and upholstered in a Duralee ikat fabric
Lamp: Wisteria
Art: From the 1970's, Found at Consign It in Greenwich, CT
Turquoise boxes: Wisteria
Occasional chair: Found at Circa Who in Palm Beach, FL and upholstered in a Brunschwig & Fils fabric
Duck prints above chair: Found at Brimfield, reframed
Bedroom:
Headboard: This is an antique French king size headboard that came out of an estate with lots of very old French pieces. We found this piece at one of our favorite auction houses called Braswell (unfortunately it no longer exists) and we had it reupholstered in a soft velvet. The headboard cost us $450.
Wallpaper: The wallpaper is from Duralee
Side tables: Wisteria
Sconces: House of Troy
Bed pillow: custom made by us from a Schumacher ikat fabric
A huge thanks the Lauren and Suzanne for sharing this lovely project!
All photos by Matt McGrath.