I'm so excited to start sharing some of these beautiful living room tours with you! It makes me so happy to see real homes, filled with affordable AND beautiful furnishings along with lots of great DIY projects. I hope your as inspired as I am by these lovely bloggers!
First up is Courtney from A Little Glass Box. Here she is, sharing her lovely rowhouse living room with us…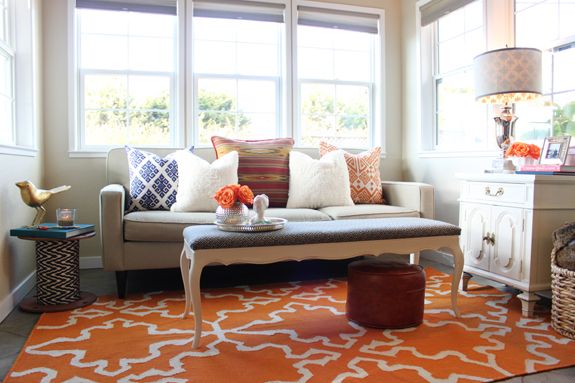 This past summer we moved from the East coast to the West coast. Coming from a 105 year old row house in Baltimore I was used to decorating small narrow spaces, but this rental house presented me with quite a design challenge. The living room is only 9.5×8 with three walls of windows. I immediately knew it would be difficult to incorporate color and texture without the help of wall art and the space for multiple upholstered pieces of furniture. However, I didn't let this challenge deter us because this little house may be smaller than we were used to but it packed a lot of visual punch. The rustic wood ceilings were the original floors of the house before it had been rebuilt and the gorgeous light poured in from the windows making it impossible to do anything but embrace this space. Decorating it has been a labor of love but worth every minute because it has taught me a lot about using every inch of space.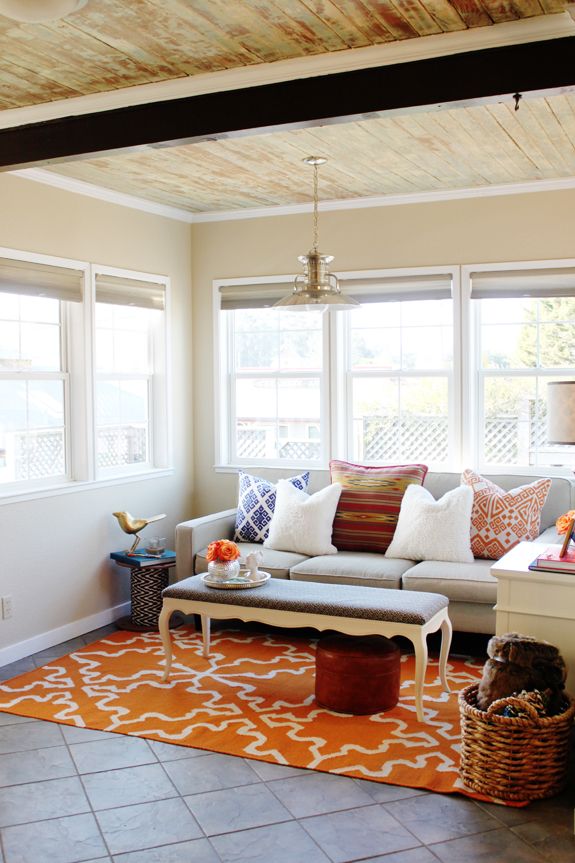 I purchased our couch from Macy's in 2010 which is the perfect neutral jumping off point. We were worried that it would look too green against the grey stone flooring but it fits in perfectly with the help of the Dhurrie rug from West elm in Sorrel. The bench I am using as a coffee table is actually a craigslist find that was in some rough shape. With a coat of Rustoleum spray paint in Navajo white and some new fabric purchased from Calico Fabrics, I was able to give it new life.
The room gets its rich layer of color by mixing different patterns of pillows and I am able to still enjoy some of my art work by hanging it lower than normal and in an unexpected location.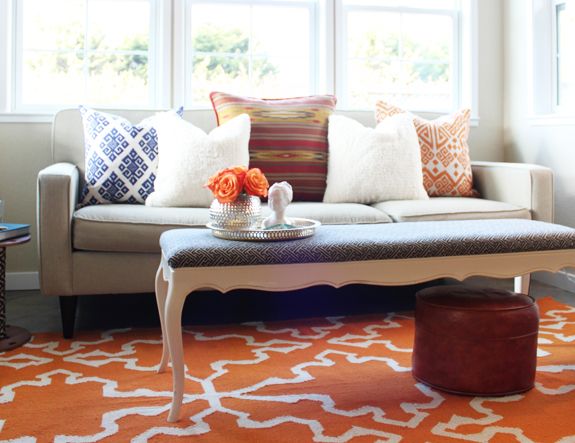 The 'spool 'side table was actually made from an electrical wire spool that we nabbed for free from home depot after all of the electrical wire had been sold. We stained the discs with Behr's semi transparent stain in Sable. It is wrapped with a bathroom rug purchased from West Elm to look like thread on the spool. It is one of my favorite pieces in the space. It is the perfect side table as well as some extra seating or book holder. In such a small space it is necessary for items to serve more than one purpose.
This room also opens up to our entry way which meant that I needed to use this space to not only set the tone for the house once you walked in, but to act as our own little mudroom while looking pleasing when sitting in the living room.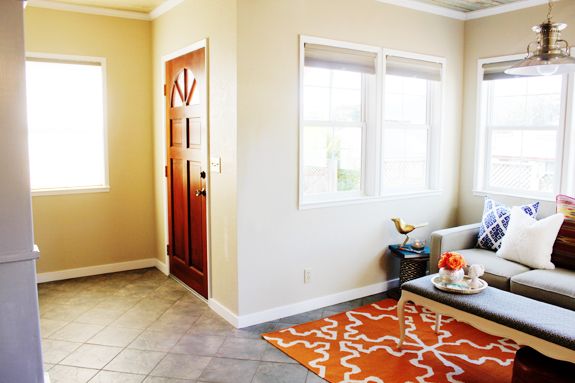 I repurposed a hutch that was in our dining room in Baltimore and transformed it into decorative shelves by painting it Martha Stewart's chinchilla grey and creating cardboard backing inserts with a pattern to mimic the look of wallpaper. It's a great piece to hold my collections and also stores practical everyday items in the cabinet below.
Because we don't have an entry closet I simply added some hooks; baskets and a bench to increase our usable space. This is a trick I like to use as a previous professional organizer. My handy hubs helped me to create a coat rack out of spare wooden hangers we had laying around and some reclaimed wood. We love it. It now houses jackets, hats, and shoes for all of us, including our little man Oliver Tate. The stool was a retro flea market find that we simply recovered and it creates the perfect place to put down my purse. The basket, which is locally crafted, houses sticks and pinecones from our daily family walks.
We really have grown to love this space and it functions very well for us. It has been incredible in teaching me that the size of a room does not dictate or determine the design impact it will have or the ability it will have to make you happy.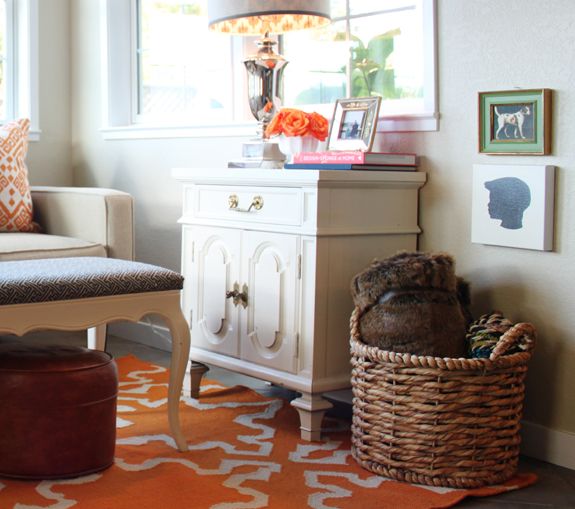 Our design aesthetic is versatile, comfortable, eclectic and adaptable because I am always changing things around and our needs are always evolving. I hope this space can inspire others to think outside the box and explore alternative possibilities from the norm.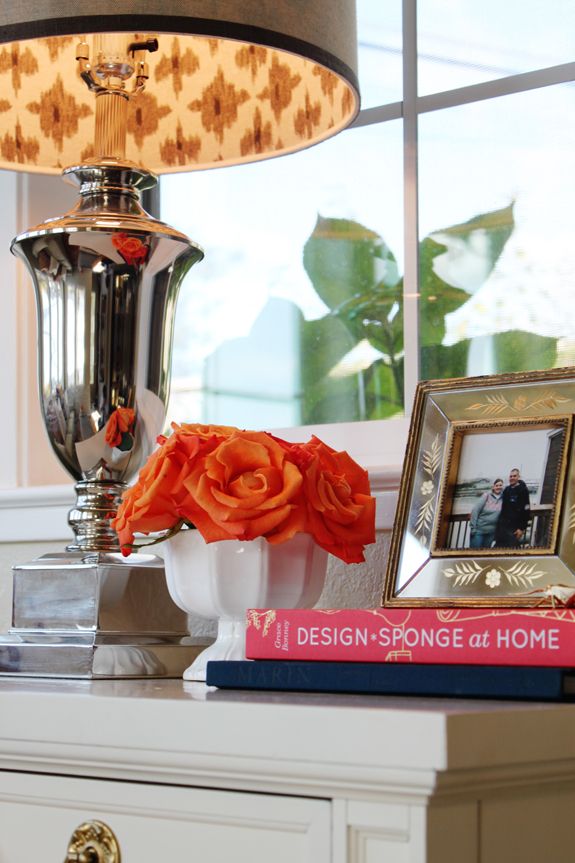 Sources:
Wall color is Whispering Wheat by Glidden
Corona Couch in Stone from Macy's
Blue print pillow from John Robshaw called Ghana
Orange print pillow from Z Gallerie
Cream faux sheep pillows from last year's winter collection at Pottery Barn
Navajo pillow from Cost Plus World Market
Dhurrie rug in sorrel from West Elm
Small Leather poof from Goodwill
Upholstered bench from Craigslist
Fur throw from Restoration Hardware
Side table from Goodwill with Anthropologie rhino head knobs
Hutch shelving in entry from Trohv in Baltimore
Lamp base purchased at Marshalls
Lamp shade purchased from Trohv in Baltimore
Mercury bubble glass vase from Marshalls
Gold tray from Goodwill
Picture frame from Homegoods
Paper Mache bird from In Watermelon Sugar in Baltimore (sprayed in Rustoleum's gold metallic paint)
Entry way stool from San Francisco flea market
Entry hutch painted Martha Stewart's Chinchilla grey
Stencil for cardboard inserts in the back of the hutch from Hobby Lobby
Thank you for sharing Courtney!! Your living room and entry spaces are amazing!
If you'd like to share your living room on LGN, email your submission to jenny at jennykomenda .com.