Here's Emily on Emmett's sweet room:
"This is the one room in the house that has not been re-painted yet. This was Parker's room when we first moved into this house and he was still in a crib. No, I don't like the tan. But I wasn't ready to make any room color decisions when spring came and it became urgent to cover up the windows so Parker would take his afternoon nap. I decided to find the cheapest fabric possible to make panels that worked with the room color and then wait and see what our next baby would be. I found this upholstery weight fabric at a fabric warehouse for five dollars a yard so we were able to make the panels for about $50 total.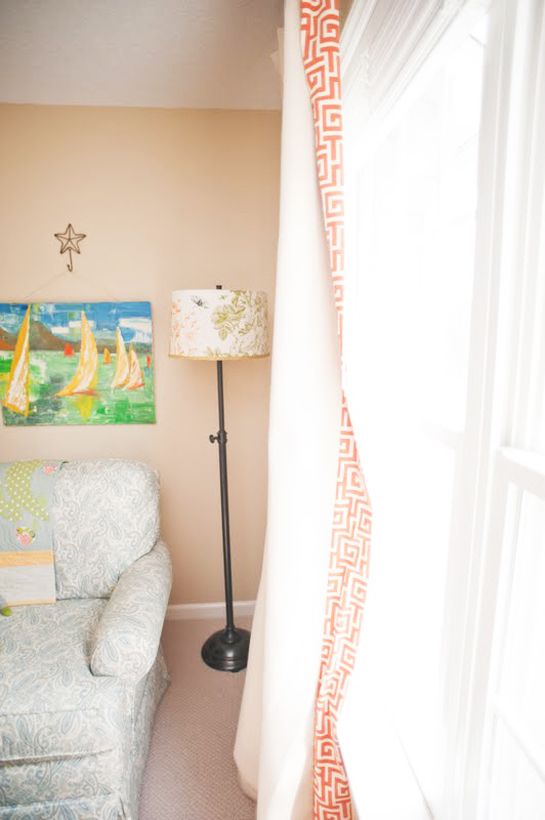 "When we found out we were having another boy we decided to put more money into Parker's new room instead of the nursery, especially since you only spend about 20 minutes total in the nursery. Don't get me wrong, I love a perfectly decorated nursery. I just couldn't justify the cost of changing what we already had even though my tastes have changed since doing Parker's nursery 3.5 years ago. If we ever have a girl there will be a complete redo of this room.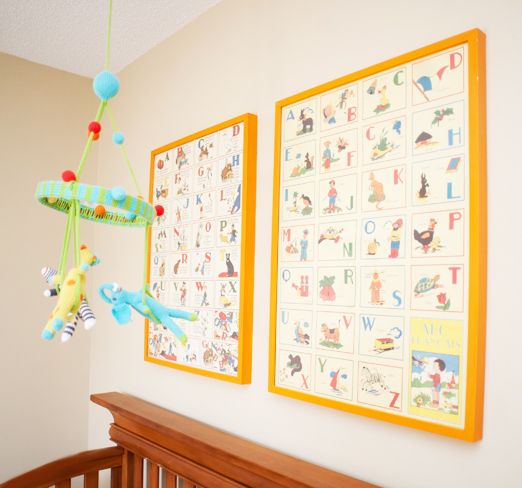 "I don't mean to sound negative about this room, I think it's a nice room, I just don't like tan walls. :) It's classic, peaceful and simple which is what a nursery should be. The crib and dresser is Munire. When we bought this crib and dresser set I knew nothing about wood and dismissed the fact that they were made with pine, a soft wood. In the two and half years Parker used this crib, he tore it to pieces. There were bite marks everywhere! It was funny to see in person, but not funny enough to keep it! While I was out of town with the boys this summer, Todd sanded and stained the tops to match the rest of the crib. Good as new. (but to those of you crib shopping now, steer clear of pine!)
"The frog chair is from the Pottery Barn outlet. This is where Parker sits when we're hanging out in this room. The crib bedding is Dwell for Target, and the chair is from Best Chairs' nursery line. Don't' be fooled by the cheesy name of the company. This chair is amazing!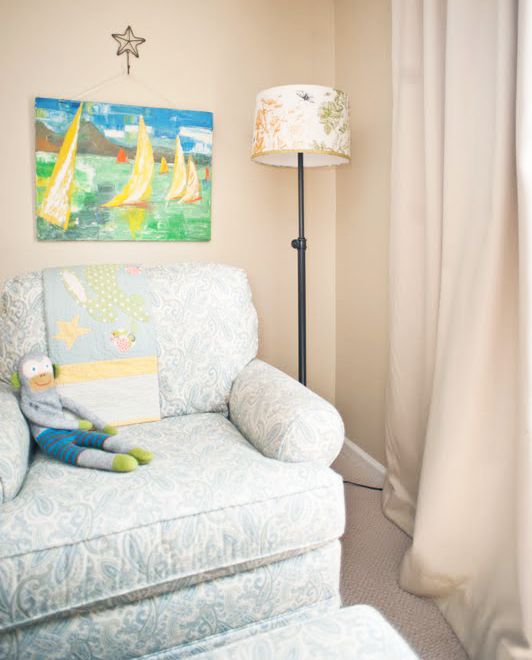 "I still love the blue and green paisley fabric, it hides everything and has held up wonderfully. It was also very affordable for a custom job at about $550 for the gliding chair and ottoman, it was also a gift. :) My sister in law made the beautiful quilt when we had our first baby. The lamp base is from Pottery Barn and the shade is Anthropologie.
"The sail boat painting is an original piece of art by Todd's grandma, Virginia. I asked my MIL if we could have this when she was going through some storage and I'm so glad I did. The Chinese rice bucket is from a home décor store in Utah called Tai Pan Trading. I wish I bought five of them. We use it for books.
"The mobile is by BlaBla and the framed English and French alphabets are actually wrapping paper sheets by Cavallini and Co. I found at a boutique in Chapel Hill for $4 each and framed in Ikea frames (painted orange).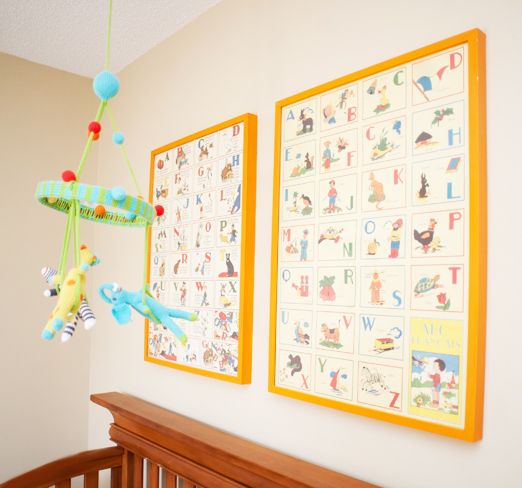 "Isn't that vintage lamp of the lemonade stand on the dresser so cute! I found that at an antique shop in Wake Forest, NC. The painting is a canvas by James C. Christensen called The Iron Rod. It's our anniversary, Christmas, and my birthday all within a week (poor Todd). But the year this painting was released I told him all I wanted was this painting. It was issued at $300 and four years later it is now worth $3,695! Todd says we should sell it, I say "NEVER."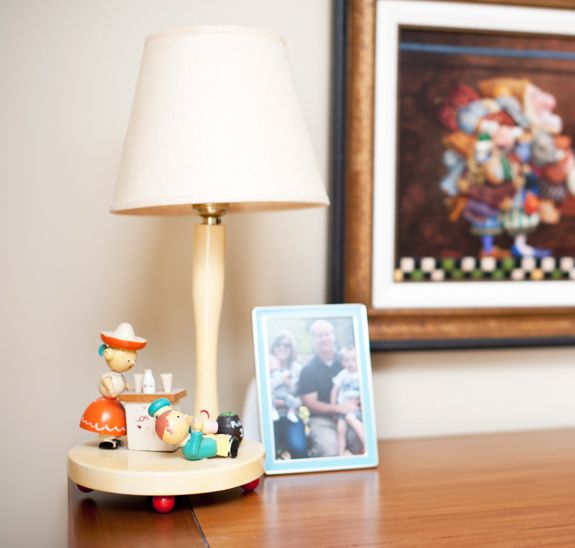 "The airplane is from a home décor shop in Utah, I can't even remember the name of the place, but I've seen similar airplanes at Home Goods.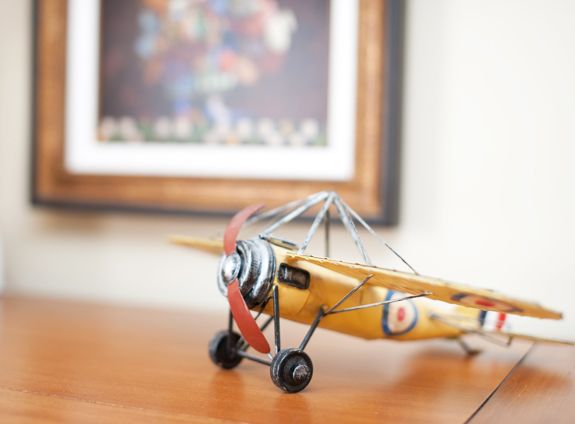 "In the hallway, on the way to the kids' bathroom, we hung a gallery wall of family photos. I just spray painted some inexpensive, mis-matched frames to keep the look cohesive.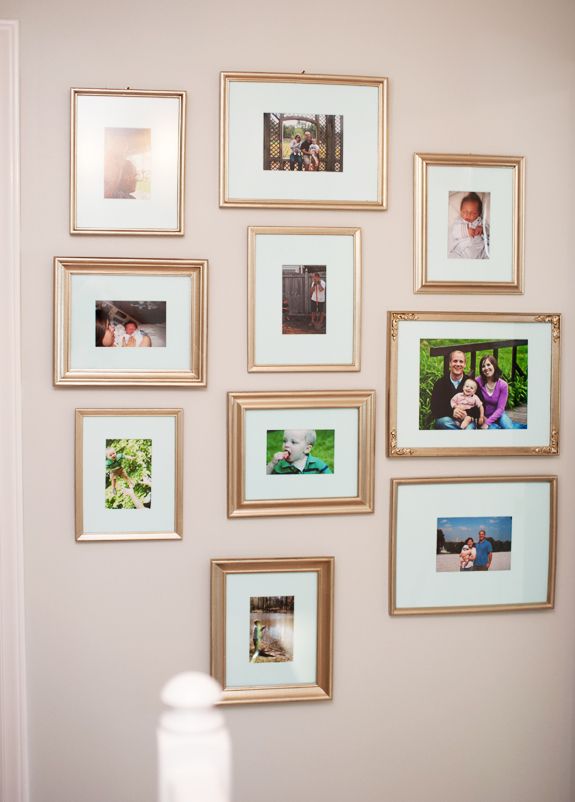 "And here we are in the boys' bath. I have to be honest here. Yes, it's the "kids bathroom" but in reality, Parker takes all of his baths in my bathroom because it's easier for me watch him and get things done in my room. My husband actually is the main user of this bathroom because he gets up in the morning before me and doesn't want to wake me up by getting ready in the bathroom attached to our room (it's an open ceiling between our bedroom and bathroom).
"I still wanted to make it fun though because it is supposed to be a kids bathroom. The biggest change to this bathroom is the paint color. I bought the Dwell for Target shower curtain and from there chose the wall color – Benjamin Moore Antigua Aqua. The clock is from college, it's a Martha Stewart for Kmart. We made the typical changes you make when trying to update a bathroom without changing any of the "big" stuff. For instance, we changed out the mirror, the vanity hardware, faucet, light, shower curtain and towel rods. The waste basket is from Home Goods as well as the little wooden stool. Using this tutorial I made fabric covered boxes found at Michaels to organize all the odds and ends in the medicine cabinet. It was a fun and cheap way to add some more color and patterns."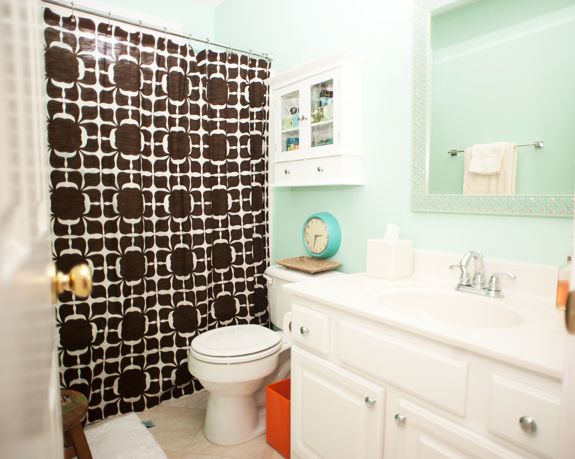 Sources for the bathroom:
Wall color: Antigua Aqua, Benjamin Moore
Vanity knobs, towel rods, curtain rods, shower curtain: Target
Waste Basket, wooden stool, mirror: Home Goods
Bath Rug: Costco
Clock: Kmart
Tray on toilet: Boehms Chocolates in Spokane, Wa
Our thanks again to Jessica of JJ Horton Photography for the images.