*** UPDATE: Designer Sofas Direct had some administrative business problem this year (I think one of their biggest problems was customer service – it took them five months to get my sofa to me, with the understanding that I was going to blog about the experience in exchange for the sofa and shipping, so you'd think they'd move faster on that one. Nope.). The company has recently closed it's doors. If you have any further questions, please email me and I can pass along the info that Don provided.
I know there are other sofa knock off companies (I think Custom Sofa Design might still be operating?), but it's important to understand the risks. Sure Crate and Barrel and Restoration Hardware are pricey, but they are a for sure thing and the time line and the quality is guaranteed. I bought my Lee Industries sofa as a floor sample at C&B for less than a Custom Sofa Design piece costs. Also, I think Room and Board is a good value. And I actually really like IKEA's Ektorp series! Holds up as well as the Rowe for Pottery Barn pieces. ***
Hi friends!! Long time, no talk! We are all moved in to our new apartment, but we still don't have internet. But, to be honest, it's been sort of nice to get a little break from the www. :)
The move went really well and I think we're going to be very happy here. Most of the furniture I brought is fitting in the space as planned and I'm really excited to share my apartment decorating adventures with you all!
We moved into a loft space downtown, so we have a nice amount of living area. There is enough room for two full size sofas! I had my green LEE Industries sofa reupholstered (more on that later) and I contacted Don from Custom Sofa Design (which I blogged about HERE) for options on the second sofa. Don recently launched a great new website called DesignerSofasDirect.com and it's awesome.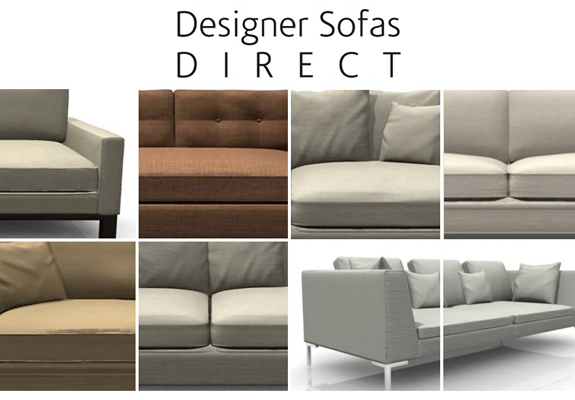 I'm going with the Kenmore sofa that I've loved for months now. Don has been a dream to work with. I asked him to send me linen options in the gray family and in two shakes there were several beautiful swatches in my mailbox.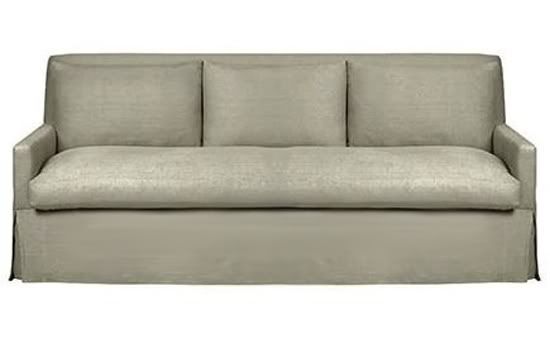 I'll keep you updated on the sofa progress but in the meantime, I thought you would enjoy seeing photos of two sofas my internet friend and fellow decorator Kristen Dowd ordered from
Don
. Kristen is really talented. Remember her gorgeous entry?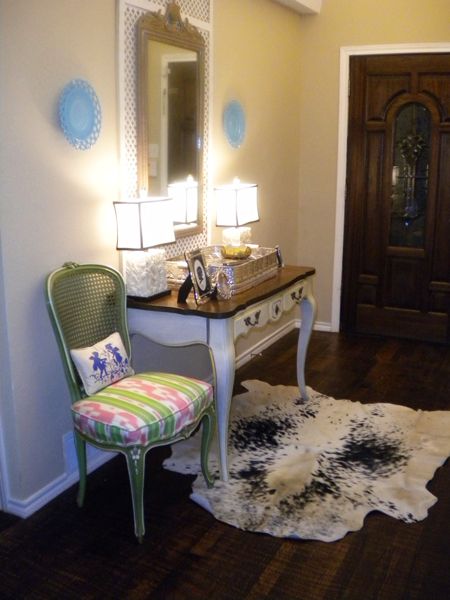 Here's her email to me:
Jenny,
As we discussed, I ordered two custom sofas from Don Jefferies at DesignerSofasDirect.com earlier this summer. I was in the market for 2 new sofas and had not found exactly what I wanted. After shopping several local custom sofa manufacturers, I knew it was the route I wanted to go. I actually saw your blog post on Don's company, and decided to be the "guinea pig" so to speak. His prices were far lower than any of the other shops I had visited. I kind of thought it was too good to be true. My husband also gave me the classic eye roll when I told him I had sent a check to Don for two sofas I had never "actually" seen.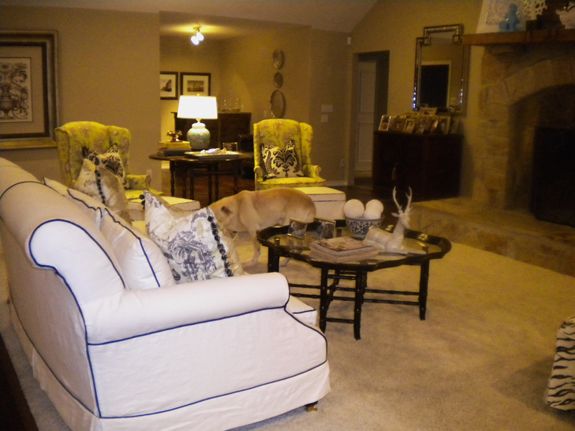 For the first sofa, we needed something big, and I knew I wanted a white slip covered style. I reviewed all the styles on Don's site and chose the "Aubrey". I chose to upholster it in a white Belgian linen slipcover with black piping. Pillows are a down fill. I also wanted a short skirt to make the sofa appear a bit more casual. The last change I made was to add casters to the legs on the front. I cannot be happier with this sofa. The quality is amazing, slipcover is impeccable and has washed beautifully.
The second sofa I needed was a love seat. My husband and I had actually both seen the "Pauline" sofa from Z Gallerie and loved it. It did not come in a love seat size from Z Gallerie, so I asked Don if he could make it, and of course, he could! I also wanted this sofa skirted, and he was able to accommodate that. I chose to upholster this one in a putty colored polyester velvet.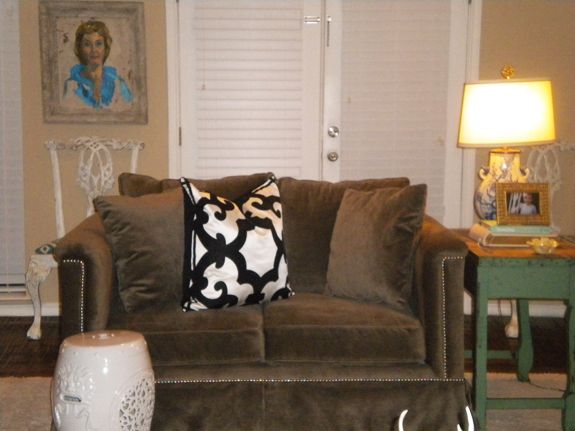 I was pleasantly surprised to find out that Don's company applies individual upholstery nails for the trim as opposed to a strip. At his low price, I was expecting a strip. This sofa is my daughters favorite. She is two, so needless to say, the sofa has seen its share of Teddy Grahams, juice and stickers and still looks great. I love the velvet manufactured by Queen because literally liquids roll right off of it.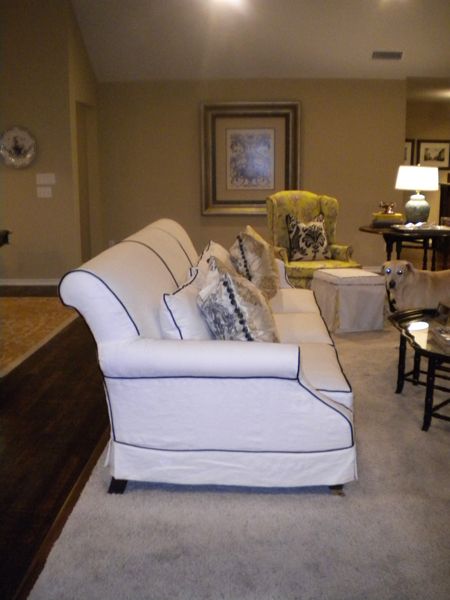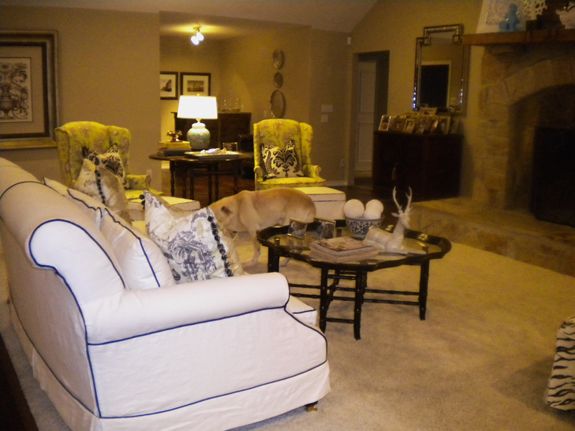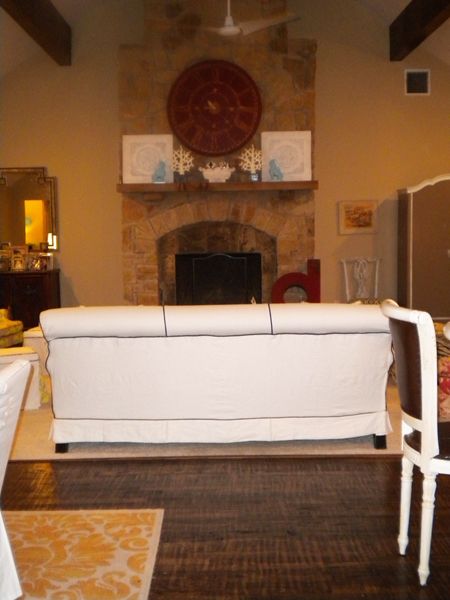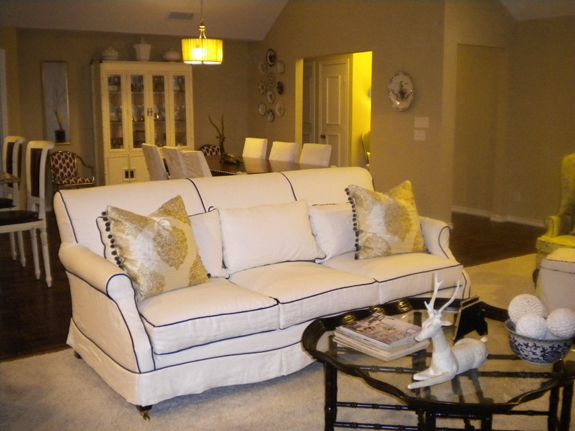 As far as quality, both sofas have held up beautifully. I am thrilled with every aspect of this product. The look is perfect, the quality is impeccable, price was less than half of what I was quoted from competitors, and shipping was very quick.
A tip I would give others who are thinking about ordering would be to visit local furniture stores and look through the fabrics they have. If you see something you like, write it down and ask Don if he carries that same fabric. Every fabric that I had liked at local stores, Don also carried. It is sometimes easier to see the fabric up close as opposed to a tiny fabric swatch.
I would highly recommend any of your readers to order a sofa from Don. They will be so happy they did! They can feel free to ask me any questions as well.
I am thinking I may order a headboard from him next…
Kristen
Gypsy Soul Interiors
Space 1121 at White Elephant Antiques
Here are some of my favorites on
Don's new site
. The prices for these gorgeous sofas is outrageously competitive – starting at around $599. You'll see on his site that the sofas come with all sorts of sizing and configuration options. Also you can view all of these in 3-D online:
Reims
– so gorgeous in a library!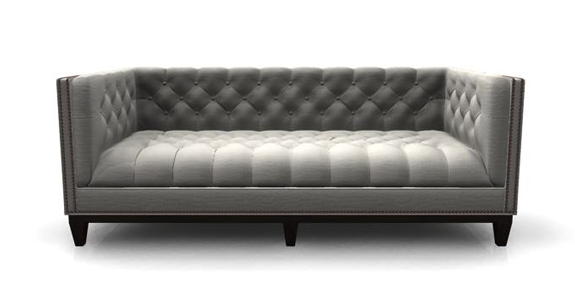 Dante
(I would get this beauty skirted)
PS If you order before September 19, you'll get an additional 10% off!