If we were moving to NYC this very minute, I would snag this 5 bedroom apartment downtown in a heartbeat. It is everything you could ever want in a Manhattan pad: BIG and beautiful.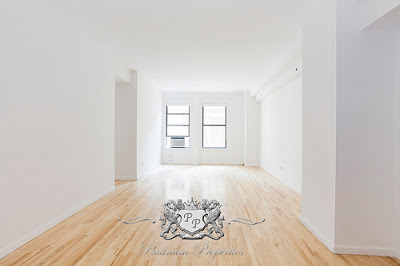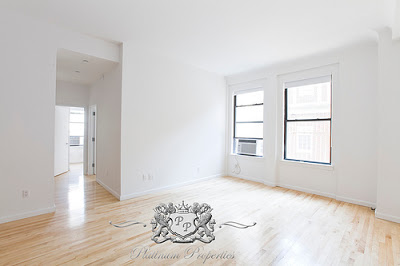 But since we have put off New York for a year (sigh), I will have to just dream about this magical place and e-decorate it here.
My inspiration room: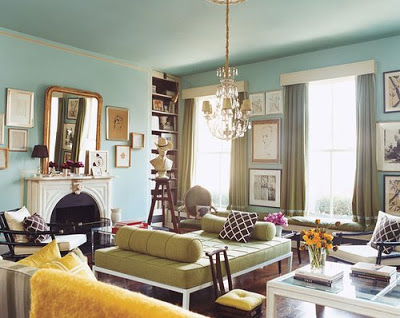 Lots of light. Cool colors. Interesting furniture layout.
The color inspiration was taken from this hand-painted wallpaper by artist Kevin Dean (spied a while back on design*sponge). I am SO crazy about these colors. Mostly whites and creams with a few small punches of just about every other color, making it easy to "match" accessories.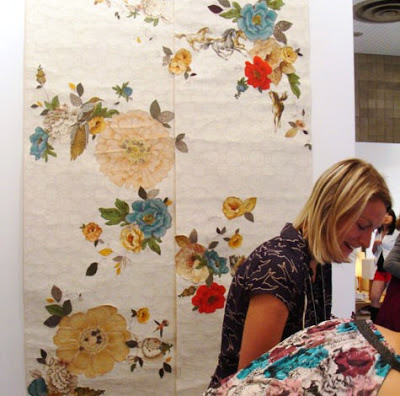 Here's what I would do with this space: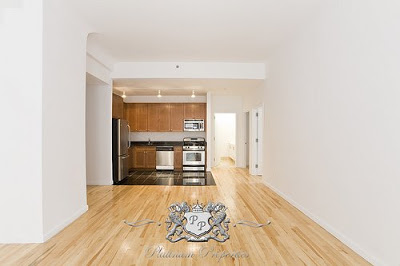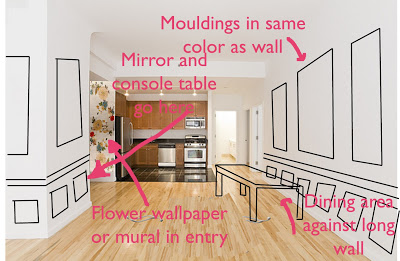 First off, I think the aqua from my inspiration room might be a little much in the huge space (it's 36′ long). So I'd go with this great color. It's called Green Tint by Benjamin Moore and it's one of those wonderful colors that changes in different lights and is always hard to peg. Is is gray? Is it blue? Maybe green? The perfect non-tan neutral.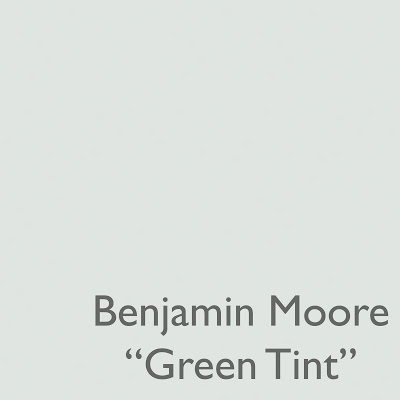 The light hard wood floors are fine as is, but since this is my party, I'd install dark, dark wide plank wood in a chevron or herringbone pattern. To achieve a better flow, I would install it in the kitchen area, too. Don't these floors look so French?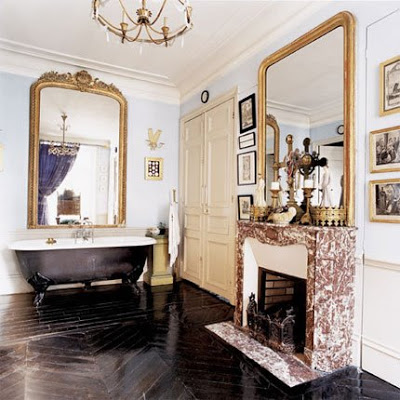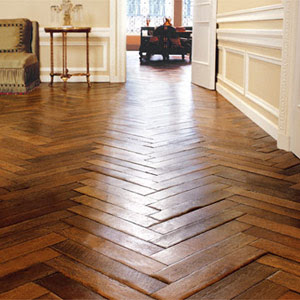 I would add lots of pretty millwork to soften up the walls, but to keep it subtle, I would paint everything the same color of Green Tint (rather than white moldings).
Here's my inspiration foyer: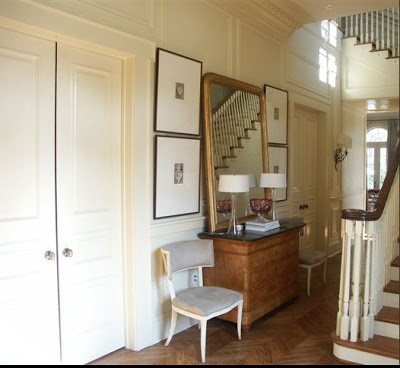 For the entry area, I love the Louis Philippe French mirror above a console table flanked by two chairs. These mirrors are hard to find second hand and are impossibly expensive at ABC Carpet and Home and on 1st Dibs. I am kicking myself for not buying up each one I saw in Brussels and France over the summer and finding a way to ship them home. Gosh, I love French design.
I would also want an antique credenza near the entry. I love the look of this burled walnut. Just beautiful.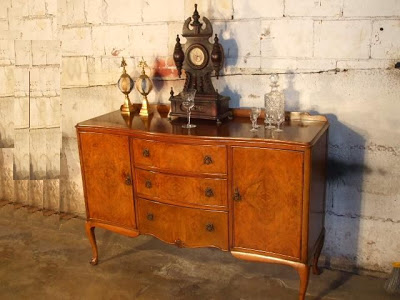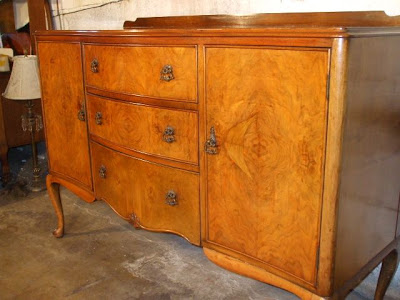 Since the room is long, I would love to do something like Windsor Smith's kitchen for the dining area.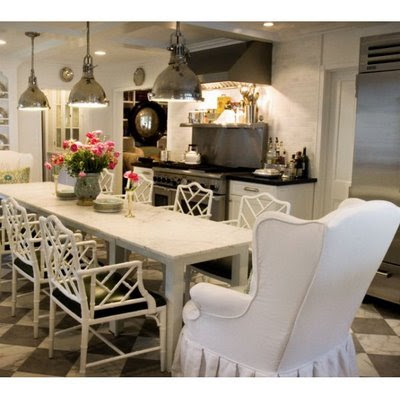 I would go with this dark farm table from Craig's List. I love the shape of the Parson's legs here. It's antique meets modern.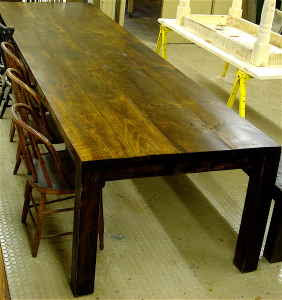 To get the look of Windsor's kitchen, I would buy a ton of these chairs from Ballard Designs and paint them all white.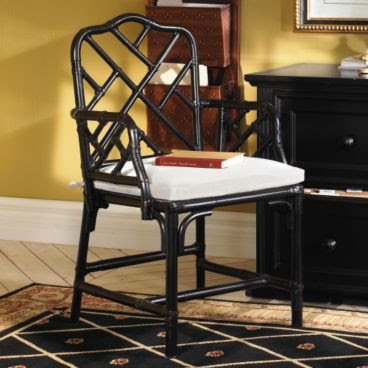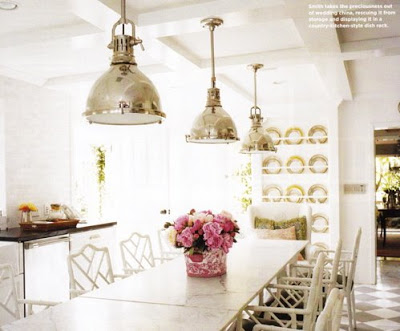 If I only needed four chairs though, you can bet I'd be buying these for $25 each. If you live anywhere near Brooklyn, BUY THESE NOW before their gone!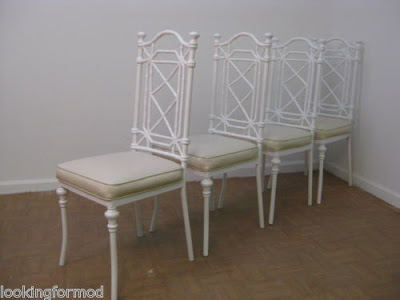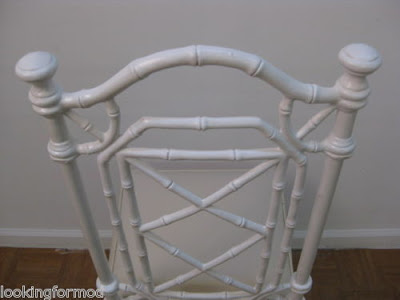 And as for the kitchen,


I would get this kitchen island from CL. I would paint it black though and add big industrial casters.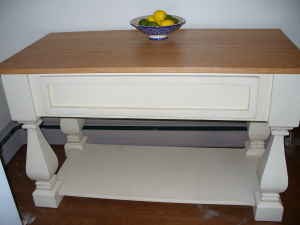 The cabinets would get a nice coat of white paint.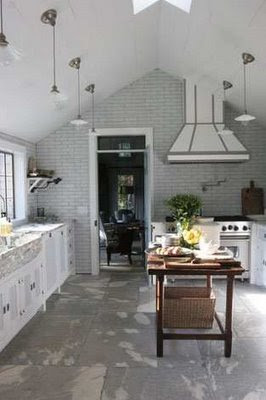 Add some new drawer pulls and hinges and some subway tiles for the back splash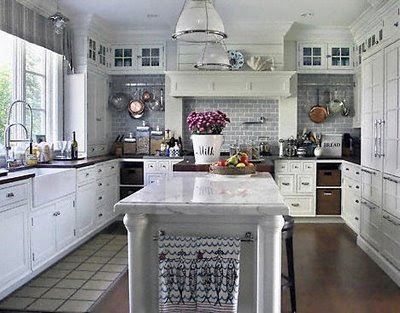 Not to mention a few of these amazing pendant lamps…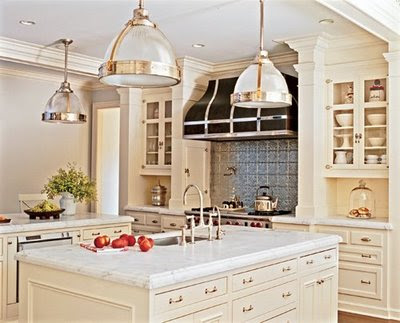 Continuing on to the living area, I would reupholster my current English rolled arm sofa in a supple, distressed brown leather. Wouldn't that be gorgeous?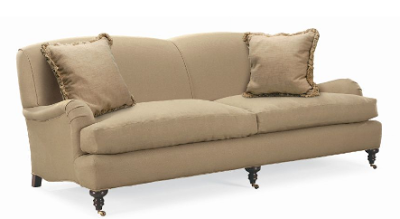 Someday I'd like to try making my own giant ottoman…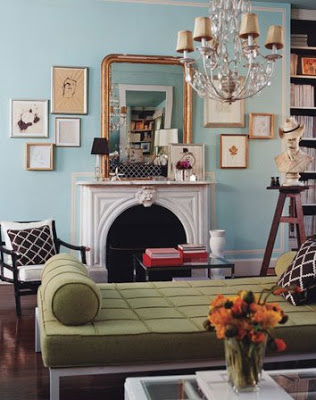 but in the meantime, here is a good option from Restoration Hardware and a budget version from Overstock.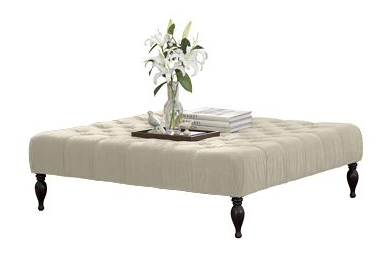 This $200 Craig's List secretary, done Eddie Ross-style, would be beautiful in this room and could function as a mini-office.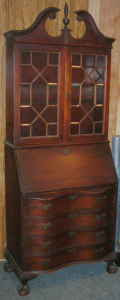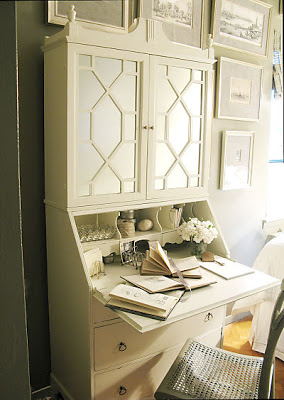 I would get this Lulu DK 'Charm' Fabric from ebay in aqua and khaki to reupholster this camel back sofa.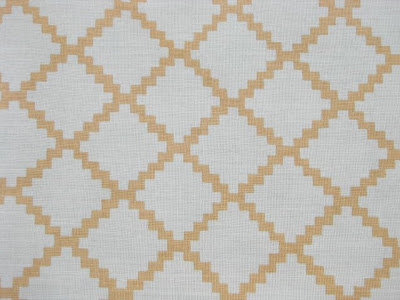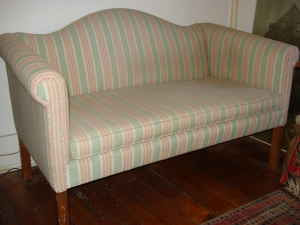 For the drapes, I would do a lush blue-green velvet, just a shade or two darker than the walls. These are on sale at Restoration Hardware.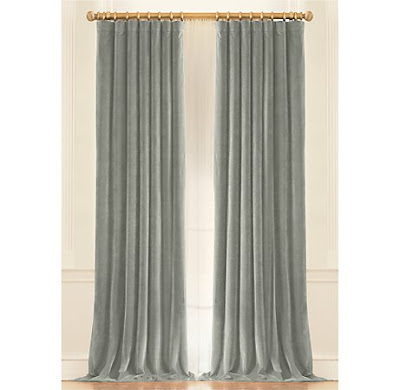 Then I would trim out the leading edge with this greek key ribbon, just to step it up a notch.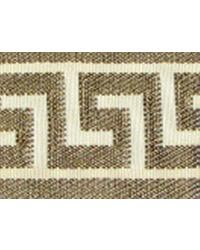 I think the room would look great with lots of original art from this website (thanks to Habitually Chic),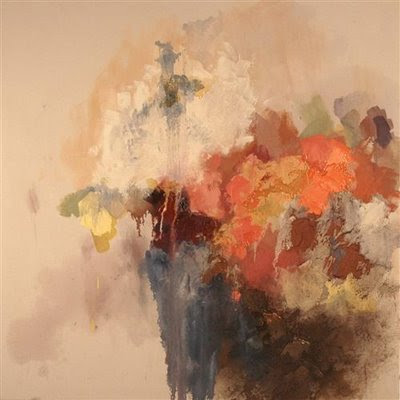 This $50 painting would look great in this room.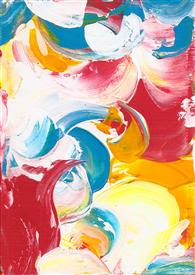 The inspiration room has lots of pencil and charcoal drawings,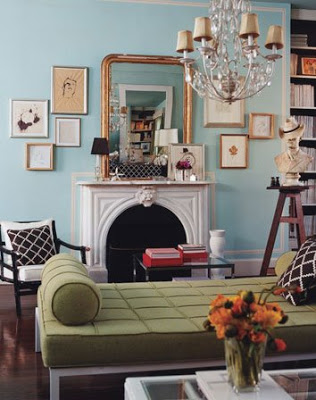 which are inexpensive but expensive-looking especially when hung together. These mid-century pieces are from eBay and are all under $20,
here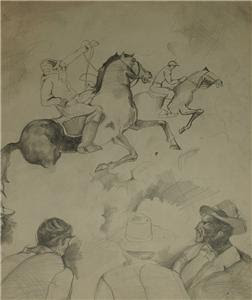 here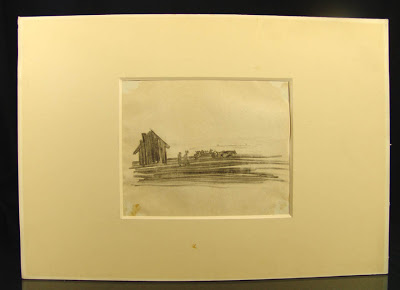 here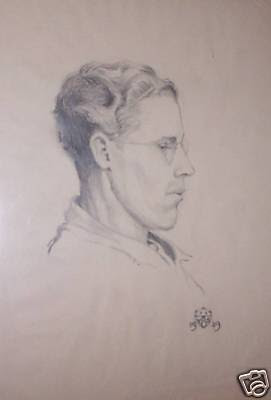 and here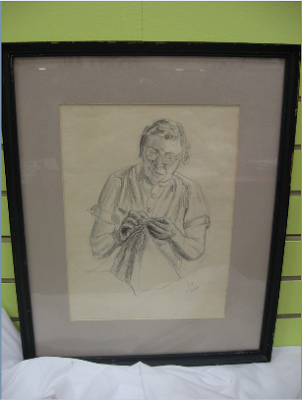 And my *favorite* idea for big, cheap art above sofas:
Maps!
Here, it looks like an antique map of Paris was blown up and then cut into four pieces and framed.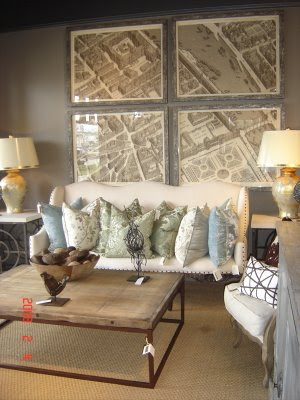 And in 30 (!) pieces here.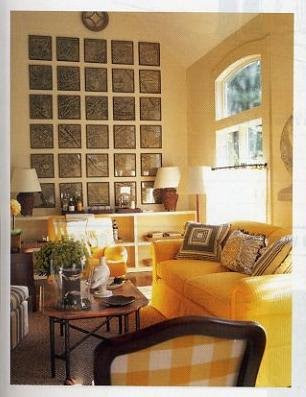 It would be so easy to recreate both of these looks. There are lots of cheap antique reproduction maps of Paris on eBay.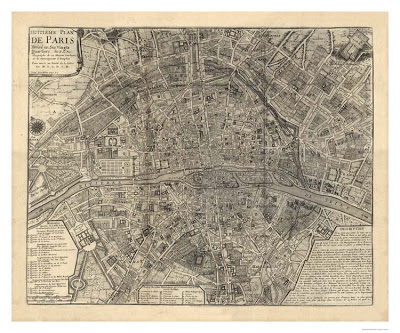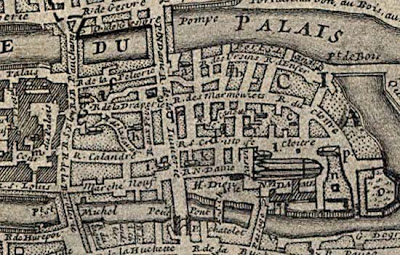 This is everything together. I love it.