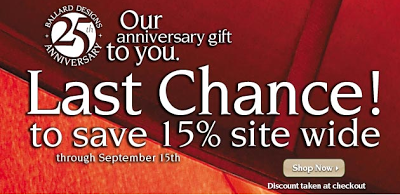 Ballard Designs is having a 15 % off sale that ends today. Don't sweat it though if you miss this one, because it seems like they have similar sales once or twice a year. Also, if you sign up for their email list or their catalog they'll give you a 10% off coupon.
Here are some of the things I would get if the sale was more like, I don't know, 85% off instead of just 15%.
I am totally on the band wagon with all the Chinese Chippendale everywhere. I love it. And while it's trendy right now, I think it's also totally classic.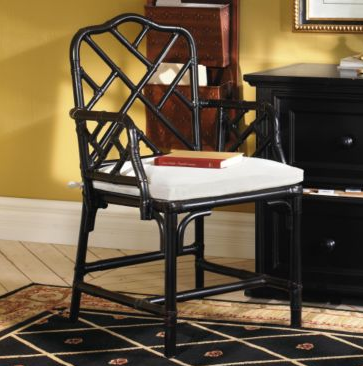 I would also get a wingback chair like this so I could full on copy designer Windsor Smith's eat-in kitchen. I love this kitchen, top to bottom.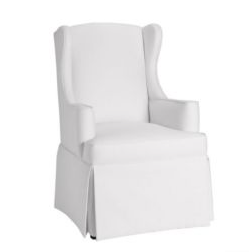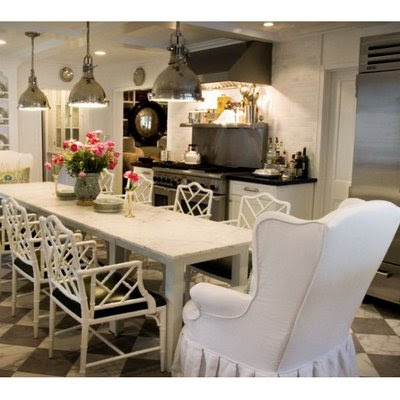 I WILL have floors like that someday. I read or saw somewhere that she used carrera marble and cheap man-made slate tiles. Love the effect. I put black and white on our kitchen floor last year. I like it a lot, but I like this even better. It is a much more subtle effect.
Look at the embroidery on that wingback. It's all about the details.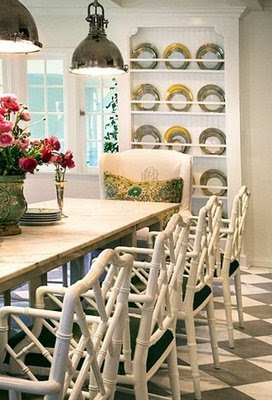 Speaking of monogramming, these are great pillows. The covers are less than $13, which includes FREE embroidery. There are all sort of colors to choose from. It's an easy and pretty way to add some personalization to your room.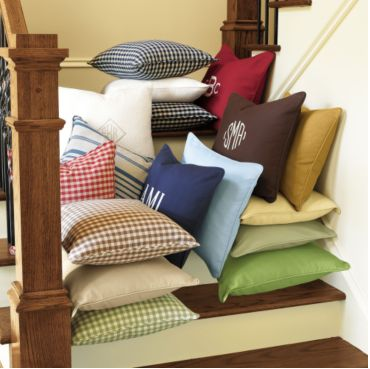 Plus, look at all the embroidery styles you can choose from: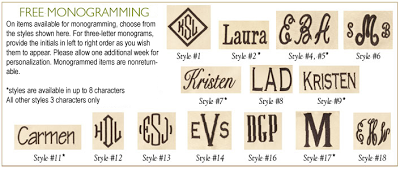 Make sure to buy the covers alone though if you're on a budget like me. I buy all my down inserts at IKEA.
Isn't houndstooth so fun? This front mat is adorable.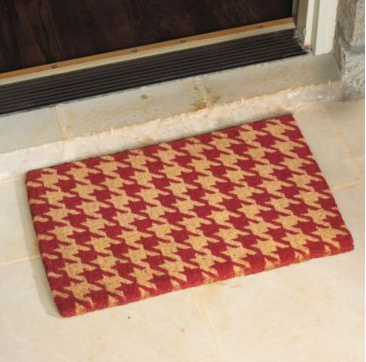 This shower curtain (in black) is on sale for $14.99 and the monogramming here is also free!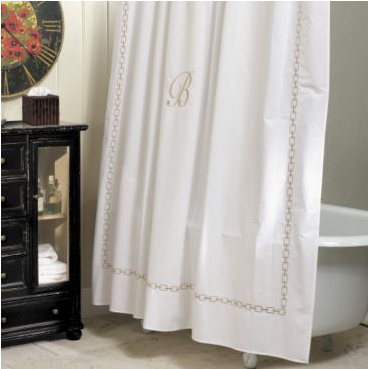 I want to reupholster my reupholstered chair to look like this. White and clean, with better casters.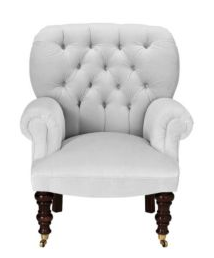 I am considering this little garden stool for our living room. We have changed around the set up of the room and we're in need of a little something for setting down drinks on one end of the sofa. It could double as extra seating in a pinch.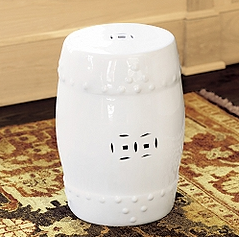 I love screens and I LOVE nailhead trim on just about anything and everything. So you can imagine how much I like this…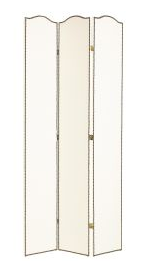 I have loved these X benches for more than a year now. I decided to take the plunge and ordered two of these stools a couple months ago (right after we got to Brussels). There is a 4-6 week lead time and I wanted them to be delivered soon after we got back to Cambridge. A few weeks before we got home, I started to worry that the stools weren't going to fit under my console table, where I had planned to place them. When we got home I was so so bummed when my doubts were confirmed after measuring. I thought about just using them at the foot of our bed, but I cheaped out and ended up canceling the order. Maybe in my next house…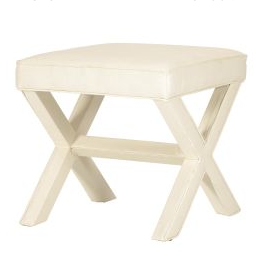 When I canceled the order, I thought about just trading up for this 48″ Coventry bench. I wanted to use it as a dining bench. I still think it would be perfect in our small dining area (the bench against the wall + three dining chairs), but I decided to be good and hold off. Besides, the week after we got back to Massachusetts was the Brimfield Antiques Fair (Anna, I thought of you the whole time). I scored a beautiful set of five antique dining chairs. $35 bucks for the whole lot. They are beautiful, but in bad shape. I have started the refinishing project and I'm really happy with how they are shaping up. I can't wait to share.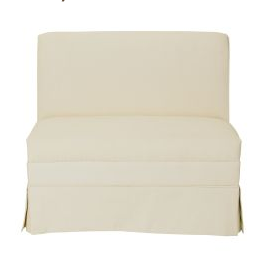 I love this umbrella stand. I scored a couple of antique umbrellas with really cool handles at the flea market in Brussels. I thought it would be fun to start a collection and this little number would be an adorable way to showcase it. I think the mod pattern on the stand is a perfect contrast to the lines and styles of the old umbrellas.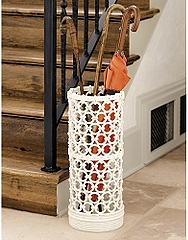 What's your favorite item at Ballard?