I am a design magazine junkie. I love pulling out my favorite articles and pictures, and then organizing and storing them in my design binders. Someday, I'll use them as a reference when we have our own house to decorate.
One of my favorites is really great article from O at Home that featured Kirsten Hollister's Minnesota home. She lived with her little family in Switzerland for a few years and collected antiques during her time in Europe. Her whole house is great (you can see it here). But my absolute favorite idea is this chalkboard.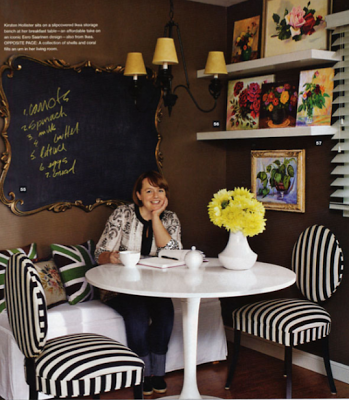 She bought an antique mirror, broke out the glass and painted the backer board with chalkboard paint. LOVE it. Seriously, this picture has haunted me ever since I saw it first, flipping through magazines in the Home Depot checkout line. Each time I'm at an antique shop, flea market or thrift store, I'm secretly thinking of this chalkboard.