I mentioned before that my mother's family is Swedish. If I close my eyes, I can walk through my great grandma Johnson's home, room by room, piece by piece. I can especially remember the way it smelled. She was an incredible cook. Actually, she was an all around incredible woman.
I remember there being a few beautiful Dala horses in her home. Dala horses were created as toys for Swedish children hundreds of years ago, and now today are a well-known symbol of Sweden.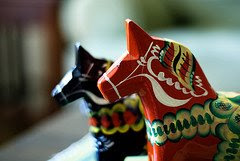 I decided a while ago that I would like to start a collection of antique dala horses. I like the idea of letting my children pick their favorite(s) to keep for their own homes when they're older. Here's my first acquisition.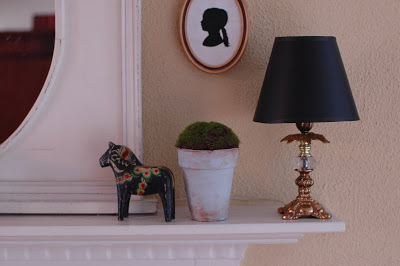 Dala horses are traditionally painted a bright reddy-orange, but I really like this blue, too. Check here on eBay for Swedish sellers and you can occasionally find a great deal on a beautiful vintage piece. I wish this one wasn't priced so high already. I really love the white horses the best.