Michael can tell you that when I am worked up (either really mad or really happy), I bounce/shake one or both of my legs involuntarily.
Today, with my face about three inches from the computer screen, my legs were bouncing so much that I knocked the water glass off of my desk.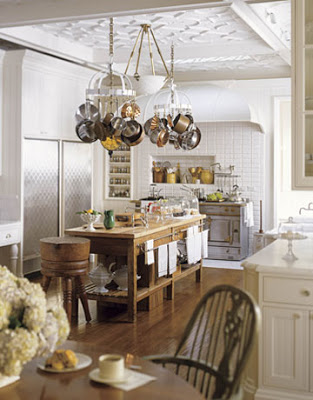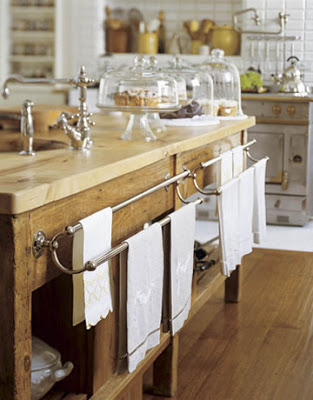 I know that it's weird that I get so excited over houses and interiors. But honestly, this kitchen is perfection.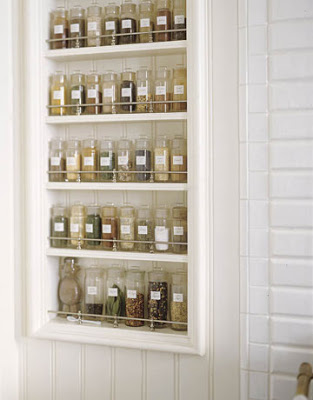 I wouldn't change a thing. In fact, the next house we own, I want to buy a fixer upper so that I could do something just like this San Francisco kitchen (obviously scaled down). This particular range shown here costs an obscene amount of money, I'm sure. Williams Sonoma sells this brand of ranges, but those are about half the size of this one. The small ranges from WS cost $10,000 – so this one is easily double that. Yikes!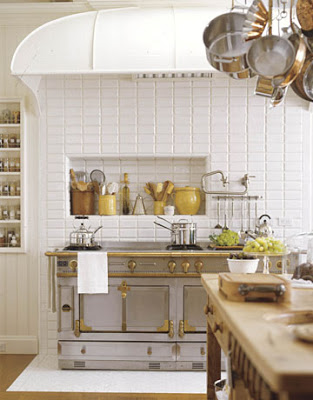 You should really check out the article from House Beautiful. A lot of the elements in this kitchen are vintage or antiques that the designer has been collecting over the years: the glass cabinet knobs, the vintage apothecary jars used for storing spices, the tea towels, the glassware and other dishes. She said it all started with that incredibly huge, beautiful antique shelving shown in the first picture that she found at a Paris flea market.
sigh…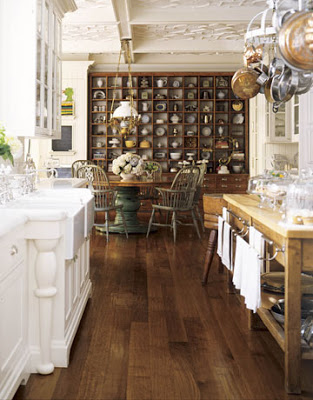 I think this is my favorite shot below. First off, I can't even tell you how much I love those (two!!) farmhouse sinks (she also has two dishwashers because "they entertain a lot." Wow.). And don't even talk to me about those perfect faucets. I can't even handle it. But look how absolutely stunning those counter tops are. If you look closely, you can see that she has double slabs of marble and goes to triple thickness for that higher tier behind the sink. For some reason, this makes me crazy. I. must. have. this.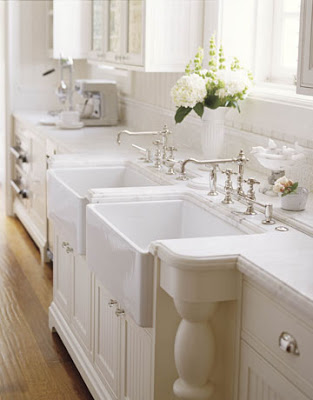 If we ever have money to redo a house, I pretty sure that most of our budget will be dedicated to the kitchen. Beautiful kitchens (obviously) make me really happy.