I think I ate at Cafe Rio something like three times a week while I was at BYU.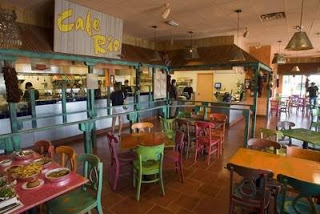 One of the best days of my life was when I heard that Cafe Rio was opening in Arizona (when we still lived there).
Another great day? When I finally realized I could google "Cafe Rio Chicken Salad" and that a ton of recipes would come up.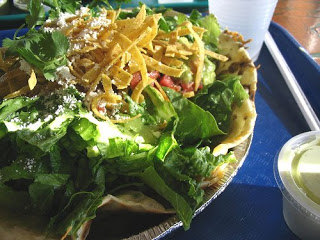 It seems like a lot of work to get this all together, but trust me – it's worth it!
Here's what I've been doing…
Creamy Tomatillo Dressing
1 Buttermilk ranch dressing packet (prepared as per package instructions)
2 large tomatillos (husks removed)
1/2 to 1 bunch of cilantro (depending on preference)
1-2 cloves garlic (depending on preference)
Juice of 1 lime
1 jalapeño with seeds (if you like it spicy) or a couple of splashes of green tobasco sauce if that's what you have on hand.
Blend well in a food processor. Refrigerate for at least one hour before serving.
Keeps up to two weeks when refridgerated.
Chicken
1 small bottle Kraft Zesty Italian Dressing
1 T chili powder
1 T cumin
3 cloves of garlic, minced
5 lbs chicken
Cook all together in a crock pot for 4 hours, shred meat and cook 1 additional hour.
Cilantro-Lime Rice
1 cup uncooked rice
1 teaspoon butter or margarine
2 cloves garlic, minced
1 teaspoon lime zest
1 can (15 oz) chicken broth
1 1/4 cup water
2 tablespoons freshly squeezed lime juice
2 teaspoons granulated sugar
3 tablespoons fresh chopped cilantro
In a saucepan combine rice, butter, garlic, lime peel, chicken broth and water. Bring to a boil. Cover and cook 15-20 minutes, until rice is tender. Remove from heat. In a small bowl combine lime juice, sugar and cilantro. Pour over hot cooked rice.
Black Beans
1 can black beans, rinsed and drained (or pinto, if preferred)
1 1/3 cup tomato juice
2 cloves garlic, minced
1 teaspoon ground cumin
2 tablespoons olive oil
1 1/2 teaspoon salt
2 tablespoons fresh chopped cilantro
In a nonstick skillet, cook garlic and cumin in olive oil over medium heat until you can smell it. Add beans, tomato juice, and salt. Continually stir until heated through. Just before serving stir in the cilantro.
Pico de Gallo
1 medium tomato, diced
1 onion, finely chopped
1/2 fresh jalapeno pepper, seeded and chopped
2 sprigs fresh cilantro, finely chopped
1 green onion, finely chopped
1/2 teaspoon garlic powder
1/8 teaspoon salt
1/8 teaspoon pepper
In a medium bowl, combine tomato, onion, jalapeno pepper (to taste,) cilantro and green onion. Season with garlic powder, salt and pepper. Stir until evenly distributed. Refrigerate for 30 minutes.
—
I use the Tortilla Land brand of uncooked flour tortillas from Costco. These are just like Cafe Rio's homemade version. I brown each side in a pan and melt some colby jack cheese on one side.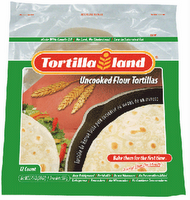 These tortilla strips from Shaws or Market Basket (really, it seems like any grocery store carries them) make the salad taste authentic.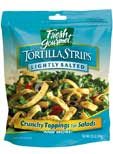 Here's the assembly order:
Tortilla with cheese
Rice
Beans
Chicken
Lettuce (Romaine)
Pico de gallo
Guacamole
Mexican cheese crumbles
Cilantro
Lime wedge [for the juice]
Tortilla strips
Cilantro Tomatillo Ranch dressing
Hope you enjoy it as much as we do!