This weekend was pretty amazing in my book. Not only did we get some much-needed R&R and family time, but we also added an air compressor to our collection of DIY tools (big deal!). We bought it to use with our new spray paint gun and I've been spraying basically everything in sight for the last 24 hours. Well, mostly just the doors in the house, but the baseboards are whispering my name. As are all the ceiling fans.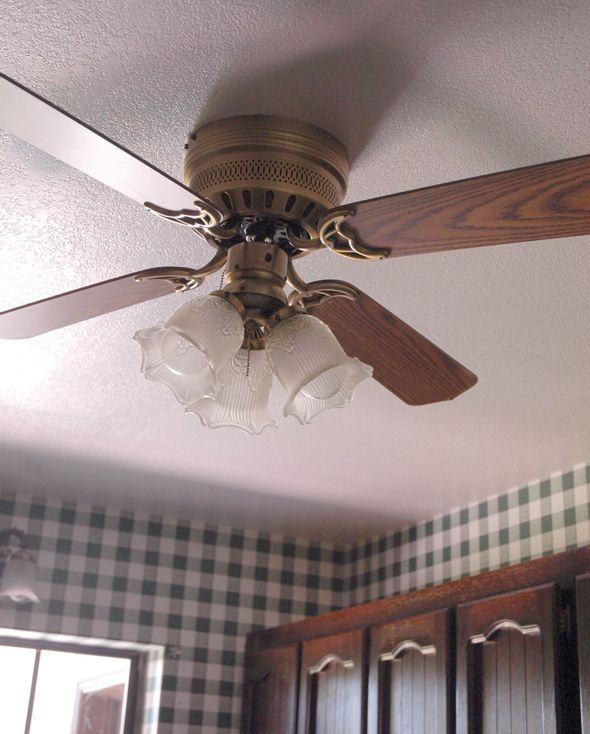 We spray painted the old, outdated fan in the laundry room a bright white in semi-gloss and I love how it turned out.
I think my new spray gun would do an even better job than the aerosol spray paint though. Good thing we have about 15 other ceiling fans in the house to paint! :)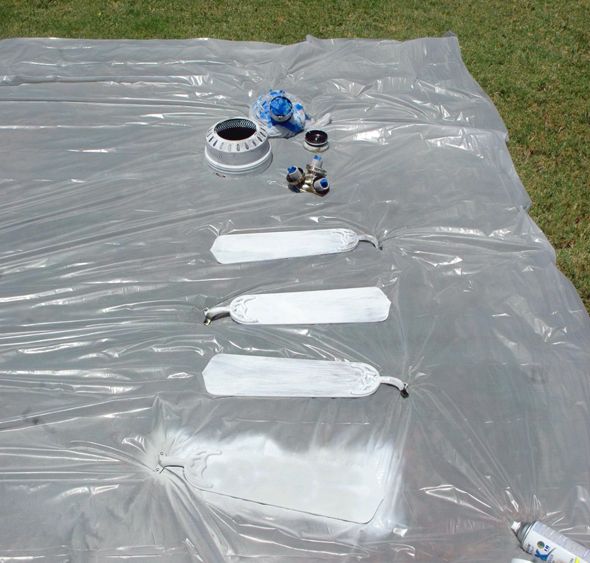 I think ditching the old glass globe shades and upgrading to big, round sputnik-esque bulbs really helped too. (More after the jump…)
I found these bulbs at the hardware store and thought they could be cool.
I confirmed they fit in the sockets before taking down the fan, taping off the electrical parts and giving the whole thing two good coats of white spray paint.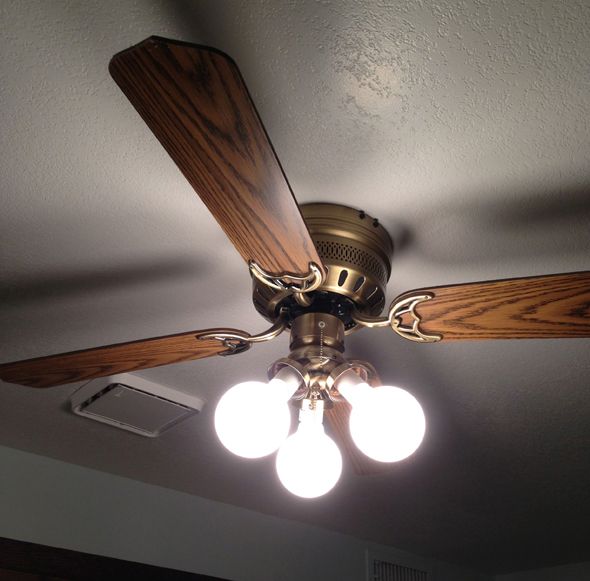 Ah! So fresh and so clean.
I'm trying hard to rework and salvage as many things in this house as we can now that most of the demo is done. It feels good to save the cash and to be less wasteful. Plus, have you shopped for ceiling fans lately? Not pretty. All-white at least sort of disappears into the ceilings.
This little light, however, was not salvaged (but chances are he's probably still available at our local ReStore if you'd like to use him in your house?). :)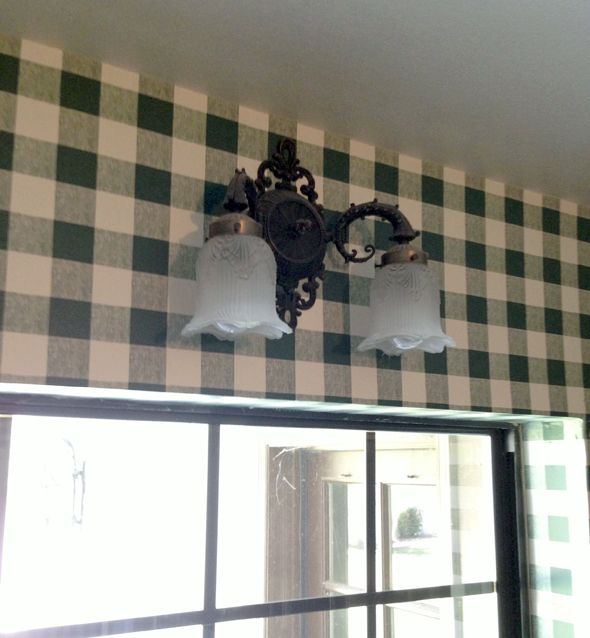 We sort of ran out of time when we were trying to figure out a new over-the-desk light fixture. We went to Home Depot hoping they'd
come through for me again
in the lighting department. I wanted something vintage feeling though, so I was pretty sure I'd be leaving empty-handed.
Just as we were getting ready to leave, I spotted this three-bulb light that had globes that reminded me of one of those school-house pendants.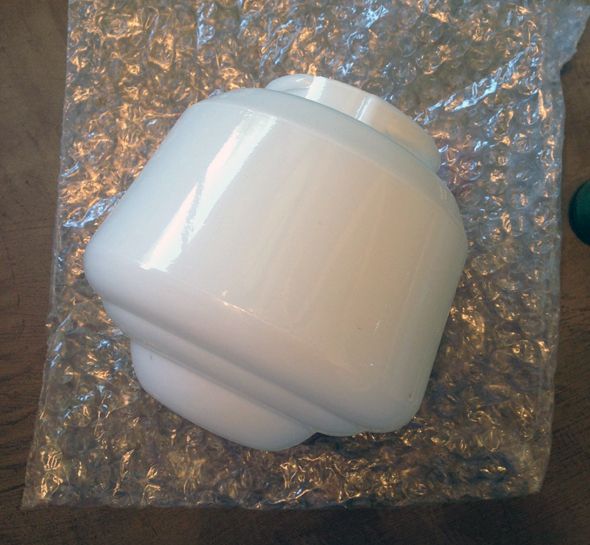 The globes felt a little bare though so I picked up some green nail polish that looked a little like the color of jadeite glass.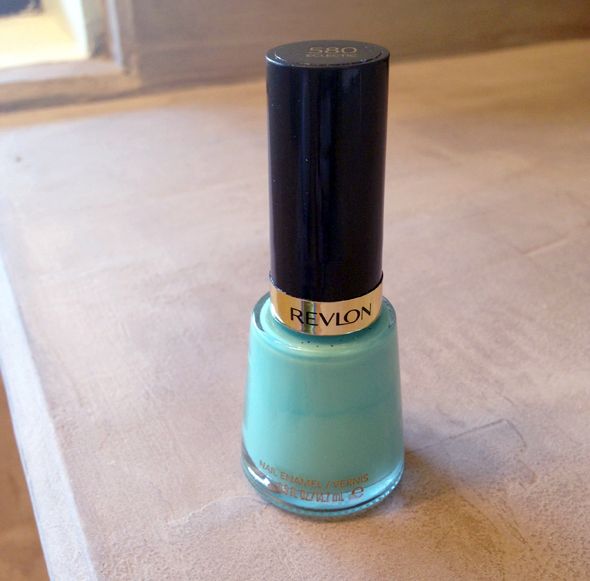 Then I taped off a 1/4″ band and got painting.
The lines aren't perfectly painted or even super-accurately taped, but I still really like the look. It's character, right?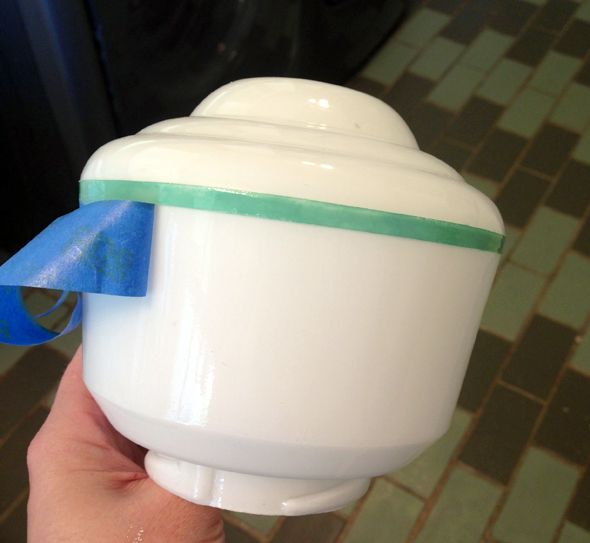 I like that the globes look unique now and the fixture doesn't scream "hardware store find!"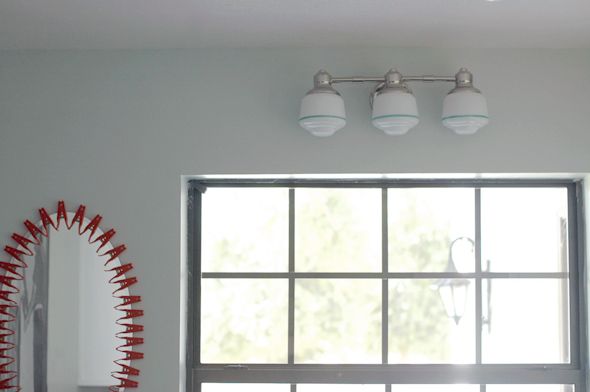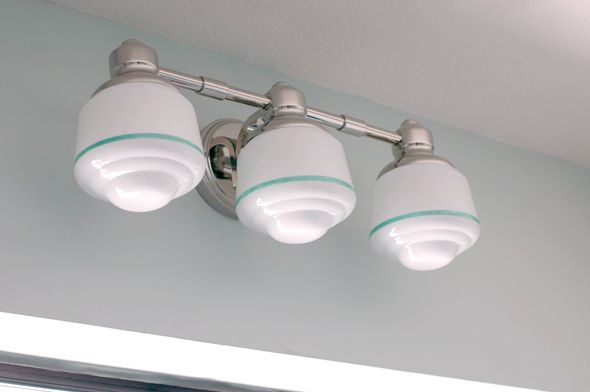 Back to my new-found love (the spray gun). All weekend long I've been wondering why on earth I took so long to buy one of these things!! Hopefully I'll have some photos to share of the painting process tomorrow.