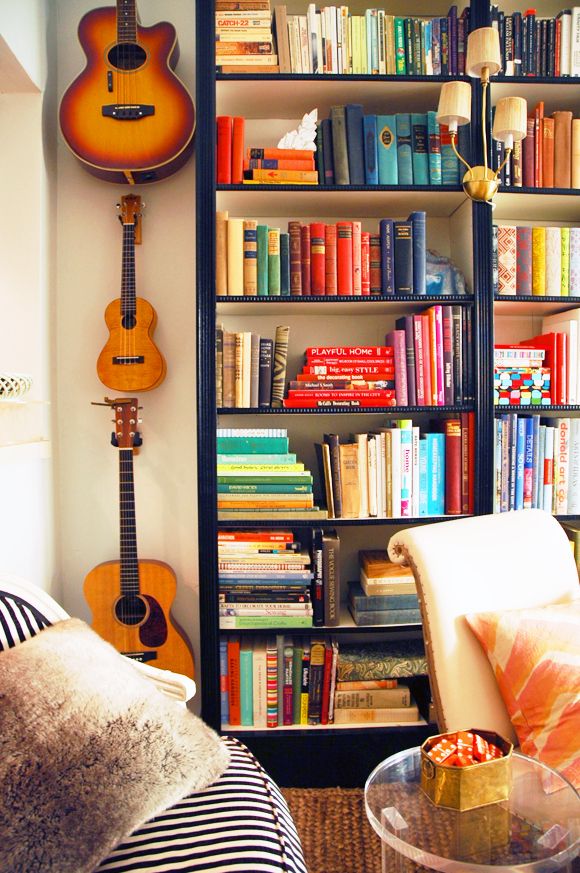 Thank you all for your kind words about the bookshelves! Some of you commented on how lucky we were that the Billys fit perfectly in the bump outs that flank the fireplace. The true story is neither side was a perfect fit. On the right side, we had to cut off two inches of the outer most bookshelf, so that a pair would fit in that nook.
And then the bump out to to left of the fireplace was too big for a pair to fit snuggly. There was about about 16″ of leftover space that I wasn't quite sure what to do with. I didn't want to add more shelves because of the opening to the kitchen. Luckily, it was right around Michael's birthday when we were trying to figure this all out. One of his presents was a vintage ukelele I ordered off eBay and when it arrived I thought the wood grain was so pretty that it was a shame to hide it. ((lightbulb!!)) So I grabbed a couple guitar hooks and a small one made for ukeleles at the music shop down the street, and while Michael was at work I installed the guitars on the wall in the nook space. His guitar, acoustic bass and the new ukelele fit perfectly, one on top of the other.
I told the girls to not say anything to Michael when he came home so that he would sort of stumble on the hanging guitars and it would be a great surprise. But of couse they pointed him right to the guitars, wildly giggling, as soon as he walked in the door. Kids are so awesome at keeping secrets.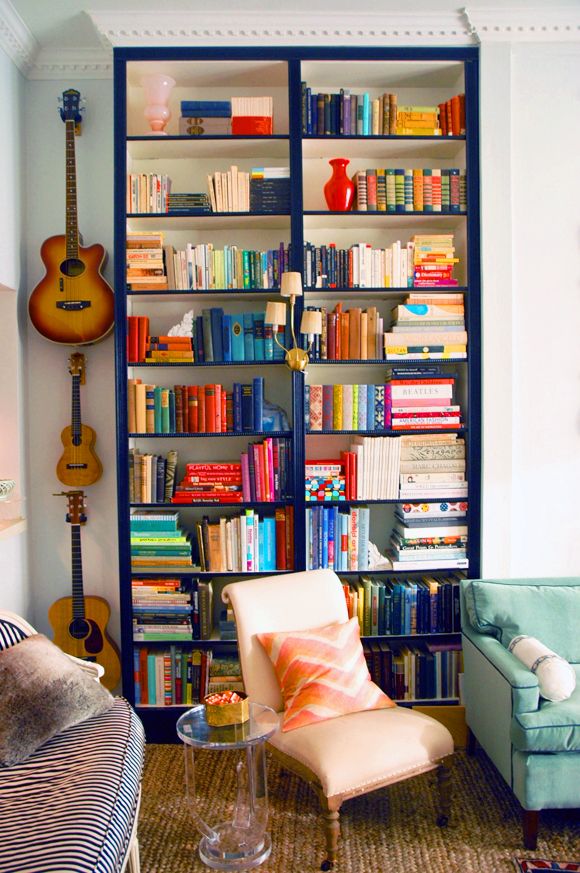 Michael is a really talented musician and I love having instruments around the house so he can keep up with his playing. This hook-hanging solution has been perfect because the guitars are protected, but they're still easily accessible.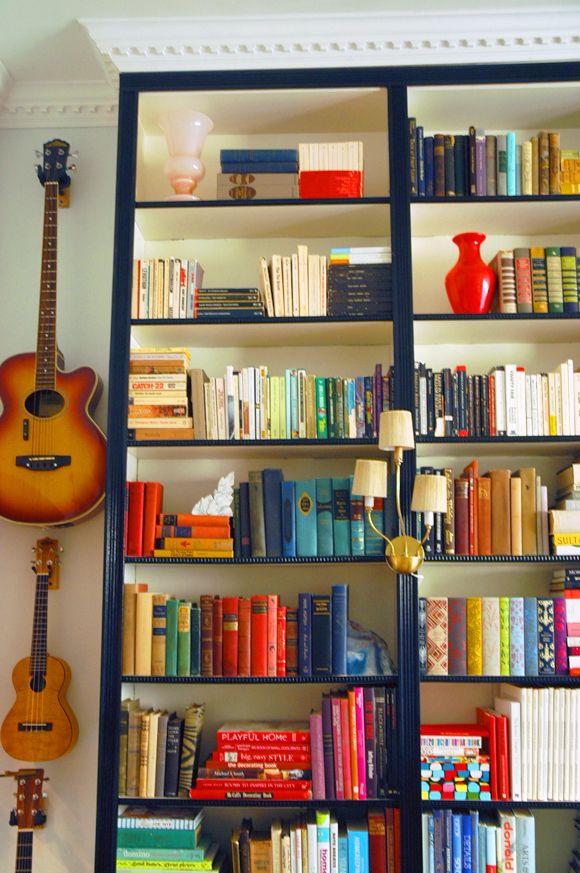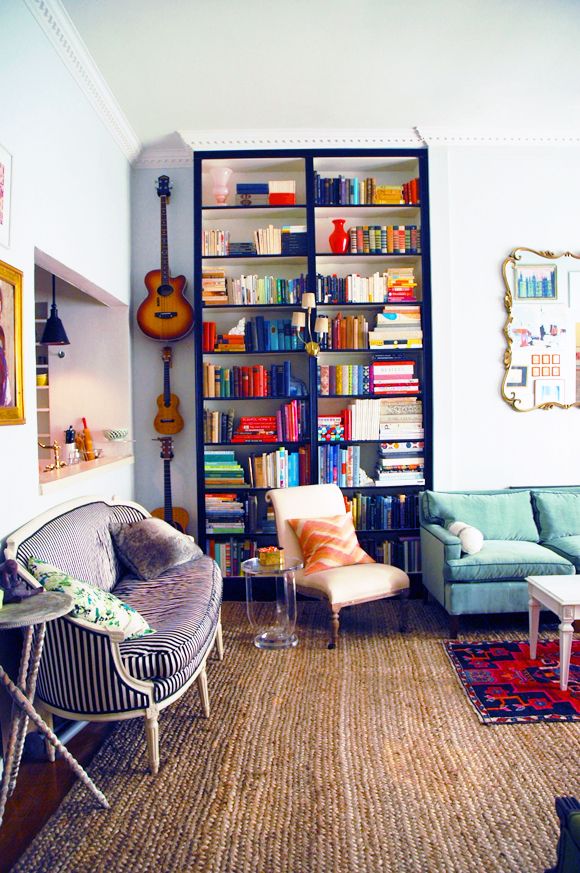 I also love how the three different depths here (the wall, bookshelf and fireplace) are outlined by the dentil moulding. I'm telling you, just putting up those 5.75 measly inches of cheapy crown moulding completely transformed this room. My mom and I both agreed that suddenly it felt like the house was an old brownstone and not a bad condo from the 70s. I'm dying to do the baseboards now and maybe some paneling like we talked about before. Also, I promise there's a crown moulding tutorial coming soon. There was a bit of a learning curve for me in this first room, but now I'm tackling the garden level and I feel like I have some good pointers to share.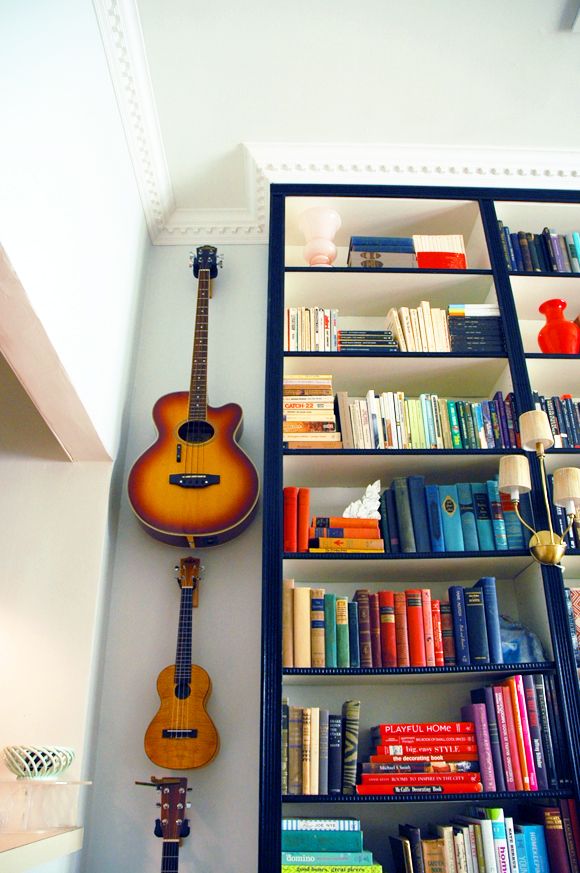 So, I'm really curious. If you have instruments, where do you keep them? I play the violin, and I'd love to have it out so that I would practice more, but the case is really bulky and it stays in my closet for now. If we ever have a big house someday, I'd take a music room over a media room in a heartbeat.